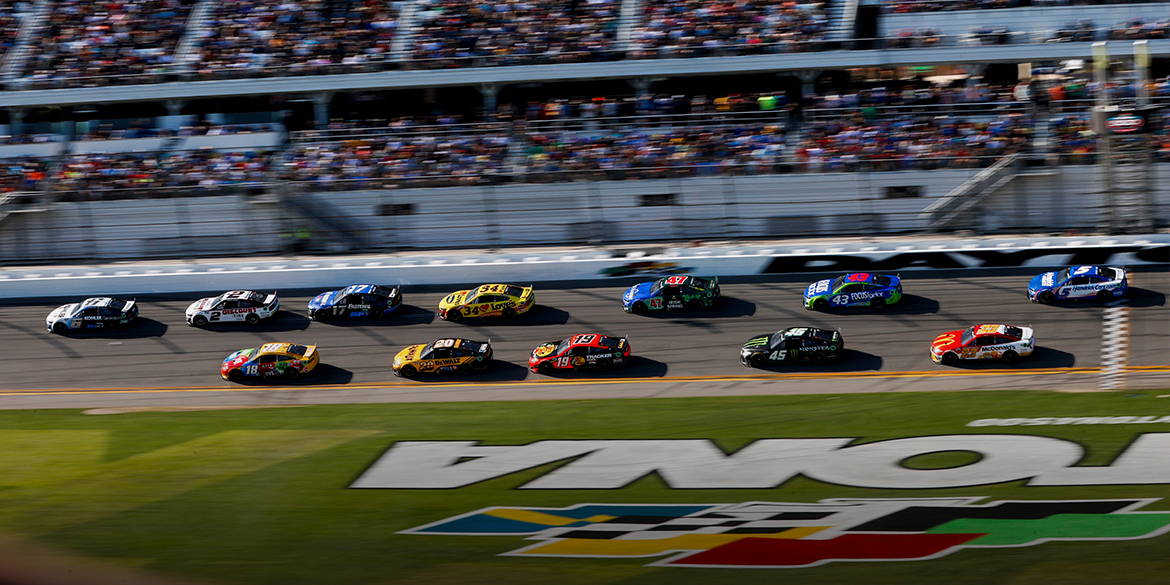 Daytona 500 - The Unforgettable Moments
---
With the start of the 2023 Daytona 500 just days away, here's Automobilist's take of the unforgettable moments to reflect on this most iconic of American motorsport venues.
By the time Sir Henry Seagrave pushed his Golden Arrow to set the world land speed record on the rock hard sands of Daytona Beach in 1927 and again in 1929, speed seekers had been pushing their cars to the limit there since 1909.
By the 1930's, speed record attempts had long faded away, replaced by speed competitions along the beach using a 3.2-mile course that combined both the beach sands and the pavement of Highway A1A (now 4511 South Atlantic Avenue, Ponce Inlet).
While the racing was fierce, getting paid was even worse. Frequently, racers discovered that when it came time to receive their cash prizes, dishonest promoters had already fled the track, taking the prize money with them.
Golden Arrow land speed record car, driven to 230mph by Henry Segrave in 1929 at Daytona Beach. Image Courtesy: Wikimedia Commons
---
Bill France had a better idea. France, a local mechanic, entered the inaugural race on March 8, 1936, and finished fifth. France occasionally raced for ten more years, became a promoter, and founded NASCAR in 1948.
By 1953, France had also recognized that beach erosion and business development would soon overwhelm the beach course—his solution - construction of the Daytona International Speedway- a 2.5-mile tri-oval with 31-degree banking.
The inaugural 1959 Daytona 500 immediately made it clear - to win at the speedway, you had to deliver your best; nothing less would do. NASCAR legend Lee Petty won by a mere two feet over Johnny Beauchamp.
So close was the finish NASCAR needed three days to review photos and film of the finishing order before ultimately declaring Petty and his 1959 Oldsmobile the winner. Petty's victory winnings - $19,050.
Five years after Lee's win, his son Richard would proclaim domination of Daytona for years to come. Petty would win a fantastic seven Daytona 500 races between 1964 and 1981, a record that still stands today.
Lee Petty No. 42 and Johnny Beauchamp No. 73 battle on the last lap of the 1959 Daytona 500.. Image Courtesy: Wikipedia
---
In 1960, Junior Johnson won, despite driving a slower, year-old car in a field of 68 cars, most in Daytona 500 history through the present day. His advantage? Johnson introduced the "science" of drafting, then a little-understood phenomenon, to run and pass the "quicker" leaders for victory.
After three years of being the best driver never to win at Daytona, "Fireball" Roberts lived up to his nickname at the 1962 classic. He won the American Challenge for winners of 1961 NASCAR events, the pole position for the Daytona 500, and the Twin-100-mile qualifier. He then dominated the race, leading 144 of the 200 laps to win his first and only Daytona 500.
In the 1976 500, Richard Petty was leading on the last lap when David Pearson passed him on the backstretch. Petty tried to turn under Pearson coming off the final corner, but they touched. Both drivers spun into the grass in the infield just short of the finish line. Petty's car wouldn't start, but Pearson kept his car running and limped over the finish line for the win. Many fans consider this finish to be the greatest in the history of NASCAR.
The 1979 Daytona 500 was the first 500-mile race to be broadcast live on national television, airing on CBS. With Donnie Allison leading the race on the final lap, Cale Yarborough attempted a slingshot pass at the end of the backstretch as Allison attempted to block him.
Yarborough refused to give ground and lost control after multiple contacts with Allison's car halfway down the backstretch. They finally crashed into the outside wall in Turn Three. Before the smoke had settled, Allison and Yarborough began to argue.
Tensions had cooled when Bobby Allison, who was lapped, stopped at the site and began defending his brother. A televised fight broke out.
Richard Petty, who was over half a lap behind then, went on to win. With the brawl in the infield, the US television audience skyrocketed. NASCAR, as a national sport, had finally arrived.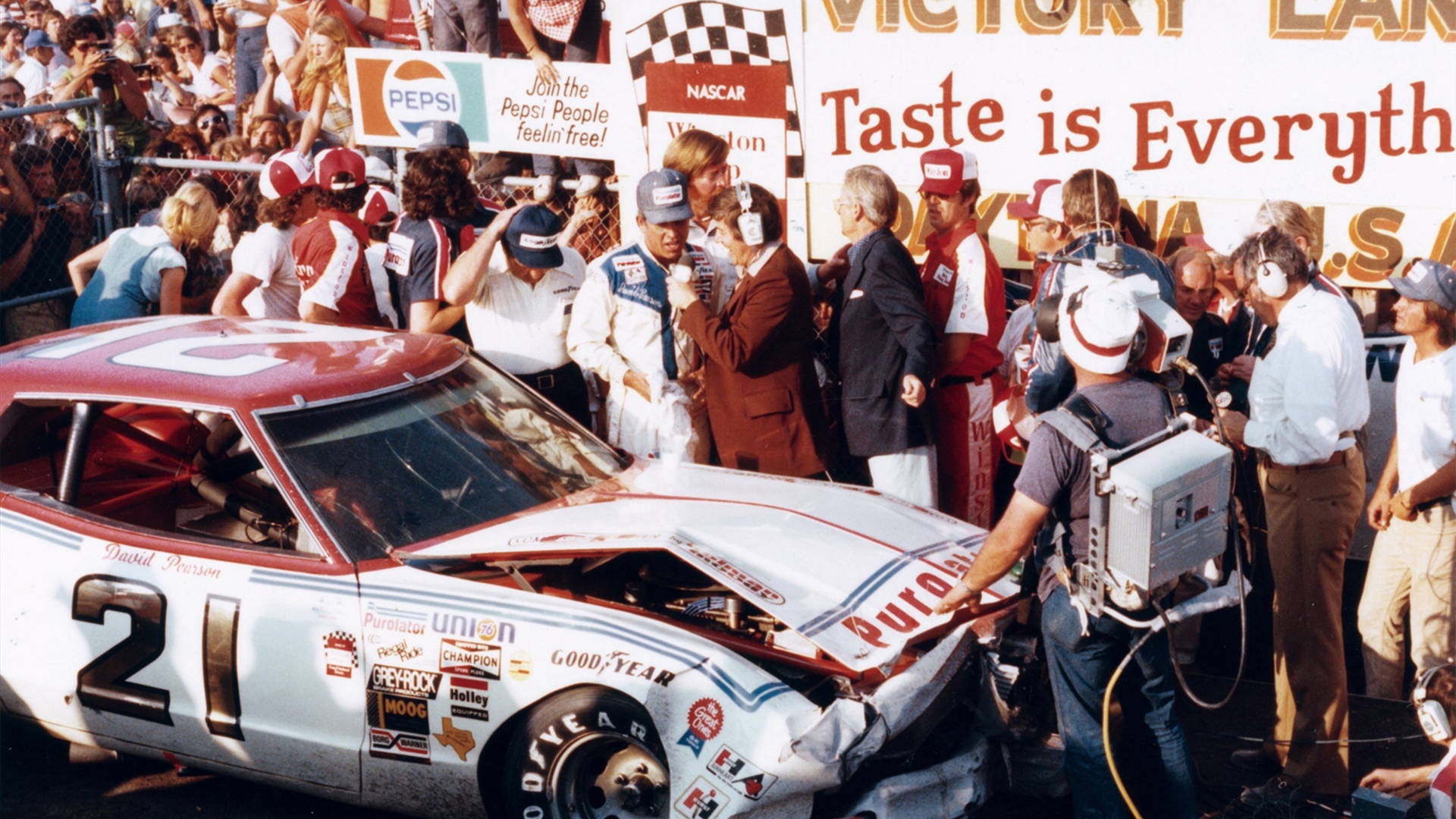 David Pearson explains how he managed to win the 1976 Daytona 500. Image Courtesy: NASCAR
---
During the 1984 race, Cale Yarborough's single lap of 201.848 mph officially broke the 200 mph (320 km/h) barrier at Daytona. He won the race for the second year in a row and the fourth time in his career, with the identical last-lap pass on Darrell Waltrip.
Bill Elliott dominated the 1985 race. By Lap 140, Elliott had nearly lapped the entire field except for second place. However, a two-minute pit stop dropped him to third. Elliott fought back, using a late race caution and a final lap restart to win his first Daytona 500.
Elliott returned in 1987, taking pole position at an all-time Daytona record of 210.364 mph (338.532 km/h) while easily winning his second Daytona 500.
In 1988, Daytona mandated restrictor plates to reduce the fierce high speeds at Daytona. Bobby Allison took the change in stride, becoming the oldest driver to win the Daytona 500 with his son Davey finishing one-two and celebrating together on Victory Lane.
Darrell Waltrip broke his jinx a year later, winning the 1989 Daytona 500 after 17 frustrating attempts. Waltrip conserved his fuel over the last 53 laps, running out of gas as he pulled into Victory Lane.
Dale Earnhardt had always been a fierce competitor at the Speedway, but mechanical problems, crashes or lousy luck had kept him from winning the race. In 1998, he finally won Daytona after 20 years of trying.
Earnhardt was leading when Lake Speed and John Andretti collided on Lap 198, causing the race to end under caution. After his victory, a joyous Earnhardt drove slowly down the pit road, where members of other race teams had lined up to give him handshakes and high-fives.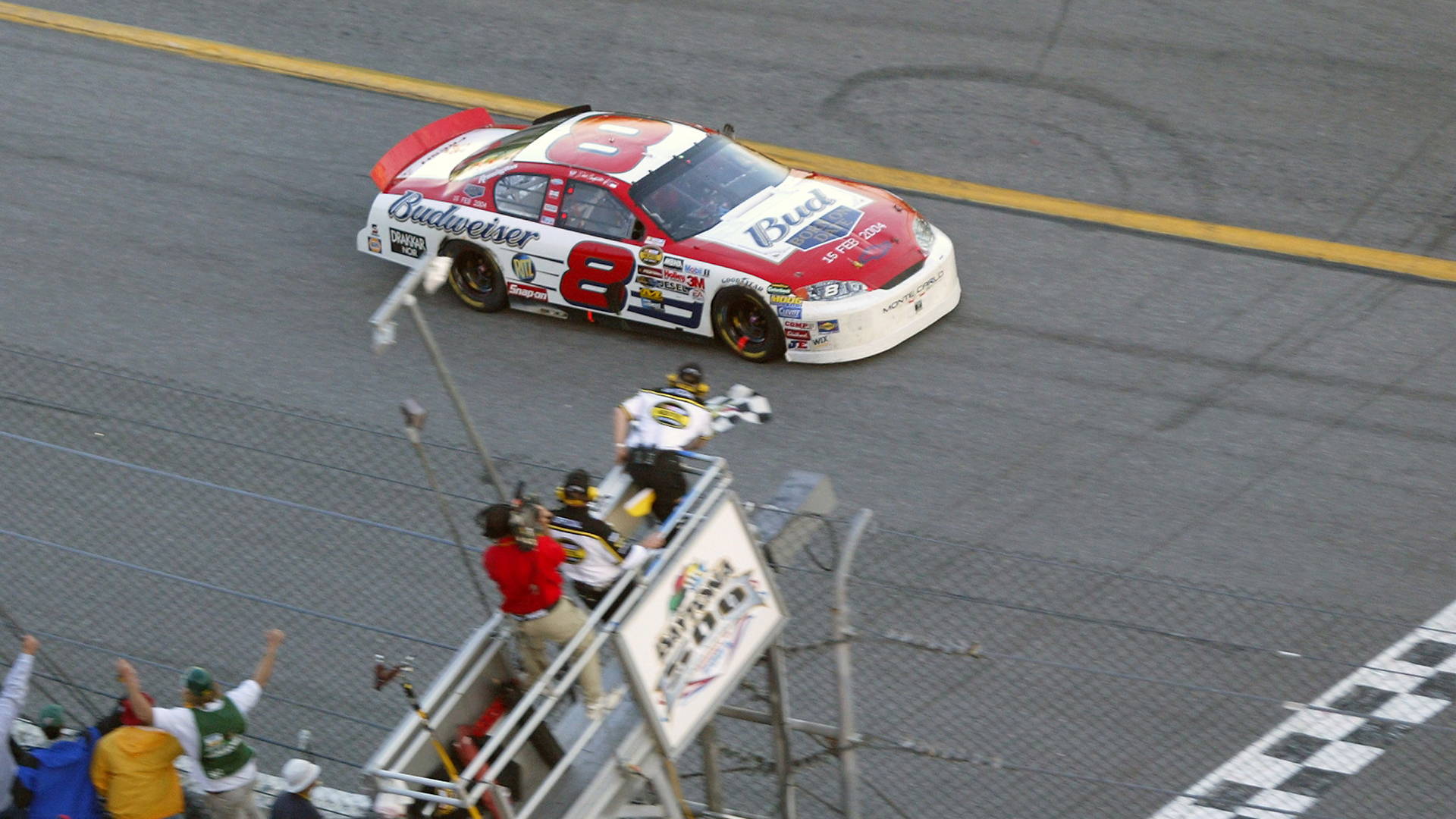 Dale Earnhardt Jr. takes the checkered flag at the 2004 NASCAR Daytona 500. Image Courtesy: Motorsport Images
---
Dale Earnhardt, Jr. and Tony Stewart overpowered the 2004 race, combining to lead 156 of 200 laps. With twenty laps to go, Earnhardt Jr. sliced past Stewart in Turn 3 for the victory precisely six years after his father's celebrated win.
In 2014, Dale Earnhardt Jr. held off Denny Hamlin, Brad Keselowski, and Jeff Gordon over the last two laps. A six-car crash in Turn 4 resulted in a yellow-chequer finish, giving Earnhardt his second Daytona 500, exactly ten years and one week after he won his first 500.
Rain tormented the 2020 race and abandoned after 20 laps, with a Monday restart. With less than twenty laps remaining, A Big One on the back straight eliminated Jimmie Johnson's chances of a third and final Daytona 500 victory.
Instead, Denny Hamlin defended his Daytona 500 win from the previous year and became the first driver to win back-to-back Daytona victories since Sterling Marlin in 1994–1995.
Daytona 2022 featured the first race with the Generation 7 "Next-Gen" car, where Austin Cindric held off Bubba Wallace at the finish line to win the 500 in only his 8th Cup start.
What surprises await Daytona 2023?