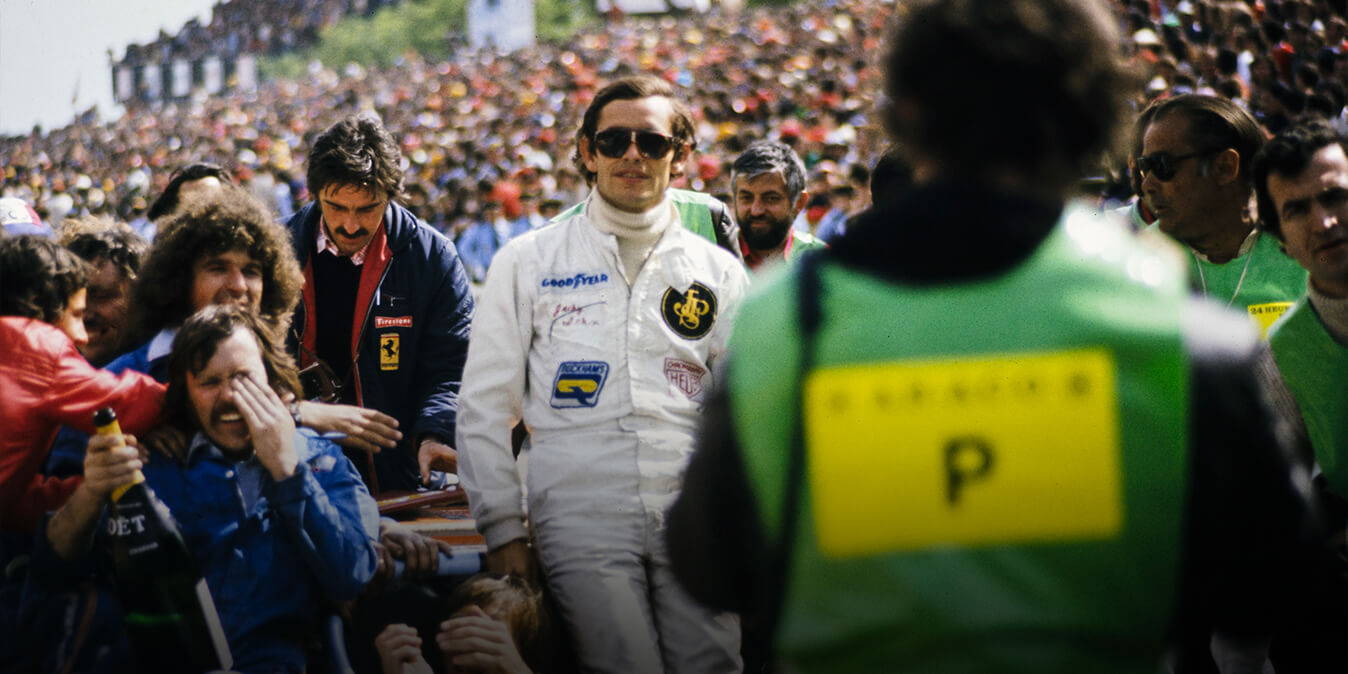 Le Mans' 1973-1982 decade began with the 50th anniversary of the first race at La Sarthe and ended with the 50th Grand Prix of Endurance, the fourth round of the expanding 1982 World Endurance Championship.
As well as a significant anniversary, this was a watershed year for Le Mans. The highly anticipated advent of the FIA's Group C regulations allowed an open engine formula but enforced a minimum weight for safety and a limited fuel allocation.
The 70's decade began with the legendary marques of Ferrari, Mirage Ford, Alfa Romeo, Corvette and Lola, but were replaced in the '80s with Rondeau, Mirage, Sauber, Lancia and WM/P82.
Through all the changes, not only had Porsche survived the tumultuous decade, it thrived due to engineering excellence and the spirit of racing heroes, personified by Jacky Ickx.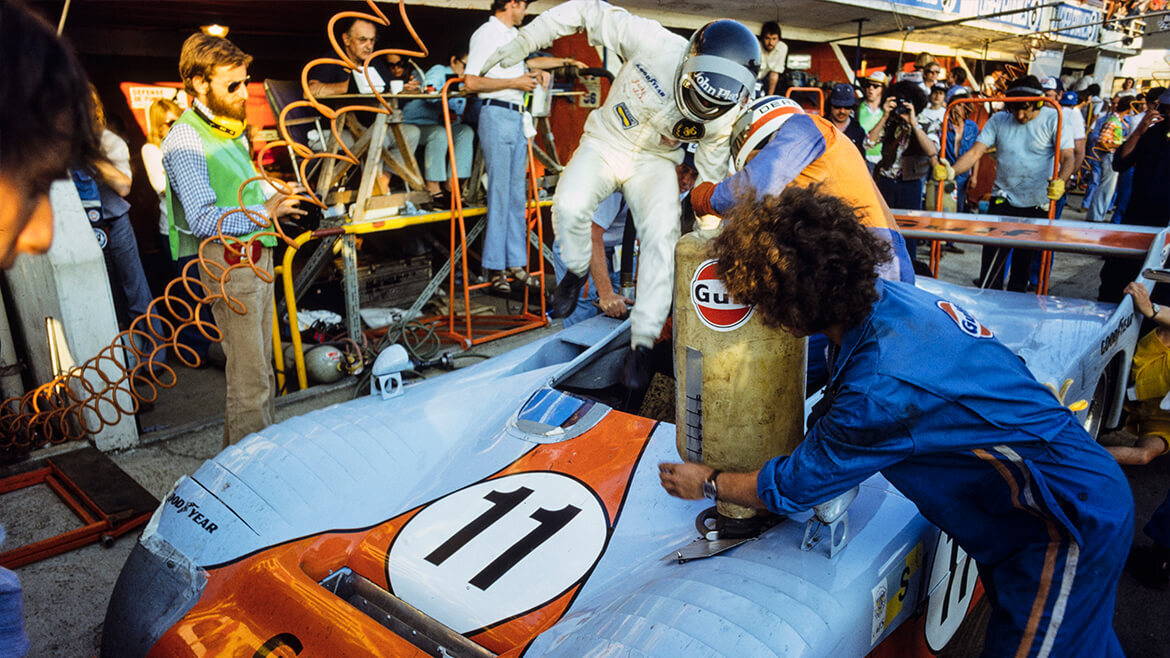 Jacky Ickx switching with Derek Bell in their Gulf GR-8 during a pit stop at the 1975 24h Le Mans. Image Courtesy: Motorsport Images.
---
In 1975, Ickx partnered with Derek Bell and claimed his second Le Mans win in their Gulf GR-8. It was the first victory for an all-British car since Aston Martin in 1959. Even though they ran at an 'economic' speed, the winners covered just one lap less than the winning car of the previous year.
Porsche had seen enough and signed Ickx as their factory driver for 1976. A year later, Ickx and teammate Gijs van Lennap immediately delivered on Porsche's bet with a relentless, unforgiving pace. A 30-minute stop to repair a cracked exhaust on Sunday morning left a luxurious 11-lap winning margin for the Belgian's third Le Mans victory.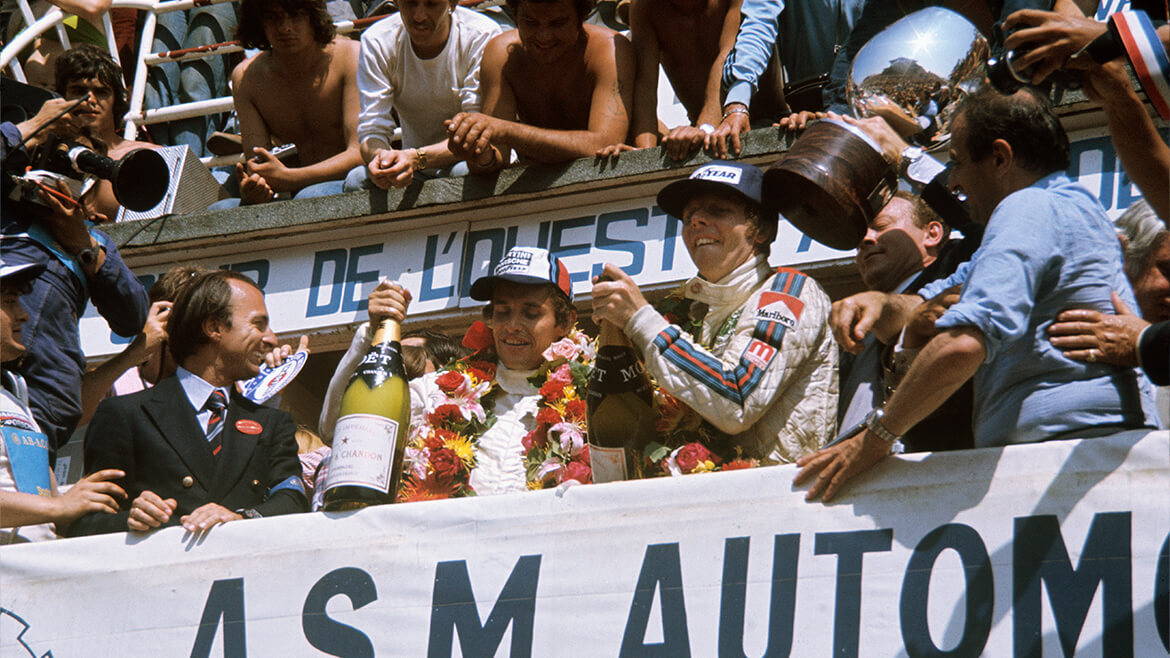 Jacky Ickx and Gijs van Lennep celebrating on the podium after winning the 1976 24h Le Mans. Image Courtesy: Motorsport Images.
---
If '76 demonstrated Ickx's ferocity, 1977 proved his mettle. That year Ickx shared the lead 936 Martini Porsche with Henri Pescarolo. With both having won three times, it was Porsche's most formidable pairing.
After three hours, they retired with a broken engine. Ickx became the relief driver for fellow Porsche teammates Jürgen Barth and Hurley Haywood 936. They, too, had a problem at the start and were mired in 41st place.
As Ickx remembers, for the first time at Le Mans, a Porsche team now had the "opportunity" to run flat out because we had nothing to lose. That evening it was raining, heavy rain, fog. The track went from being dry to half dry, then very wet with showers. It was the perfect scenario for glory.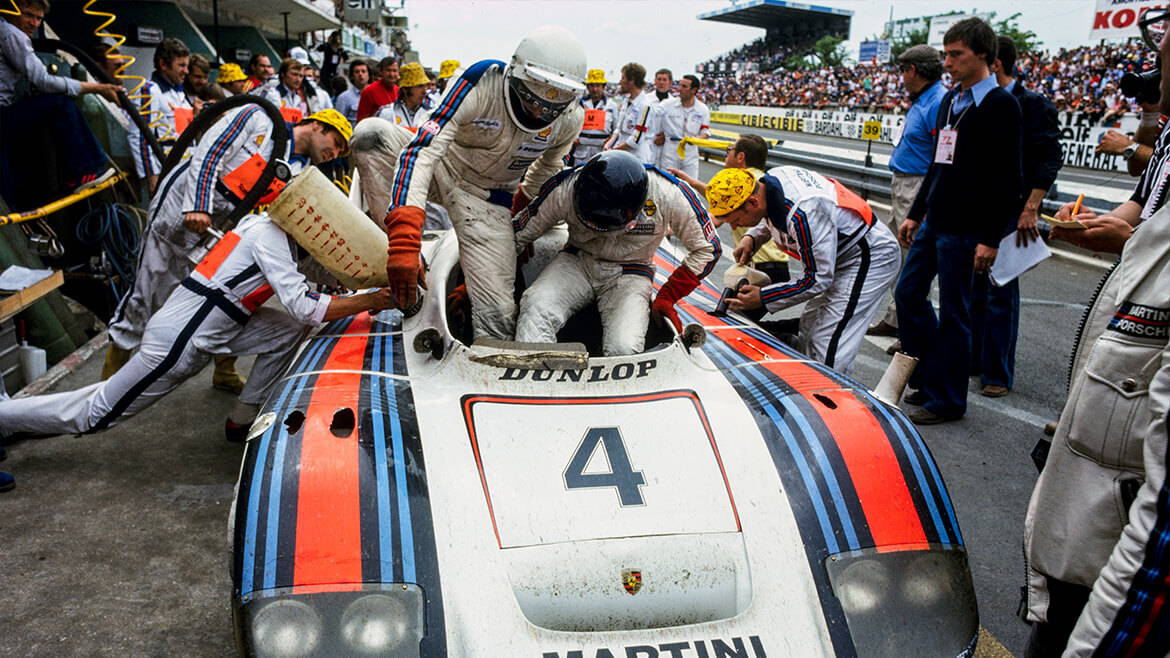 The Porsche 936/77 of Jürgen Barth / Hurley Haywood / Jacky Ickx making a pit stop during the 1977 24h Le Mans. Image Courtesy: Motorsport Images.
---
That night, Ickx drove two three-and-a-half-hour stints non-stop, and flat out, with just a one-hour break in between. At first, nobody in the team believed we could win from 41st place in those conditions.
However, hour after hour, Porsche gained positions: 30th, 20th, 15th, 13th, 12th, ninth and so on. By the time Ickx closed to six laps behind, the Porsche team felt it was still possible to win at that time.
Ickx recalled stopping in the pits and his engineer asking, 'Do you want to change driver?' Ickx said no because he just felt he was unstoppable.
Ickx finished his marathon effort after eleven hours behind the wheel. Barth and Haywood kept up his pace, and when the last Renault retired just another midday with another burnt piston, they could ease off with a colossal 19-lap lead over the Mirage of Schuppan and Jarier.
However, Barth pitted, running on five cylinders, with only three-quarters of an hour to go. The Porsche mechanics disconnected the ignition cable and waited. With just ten minutes remaining, Barth rolled back onto the circuit to complete two final laps.
Despite the delay, the Ickx, Barth and Haywood Porsche still finished 11 laps ahead of the Mirage, the most considerable winning margin of the decade.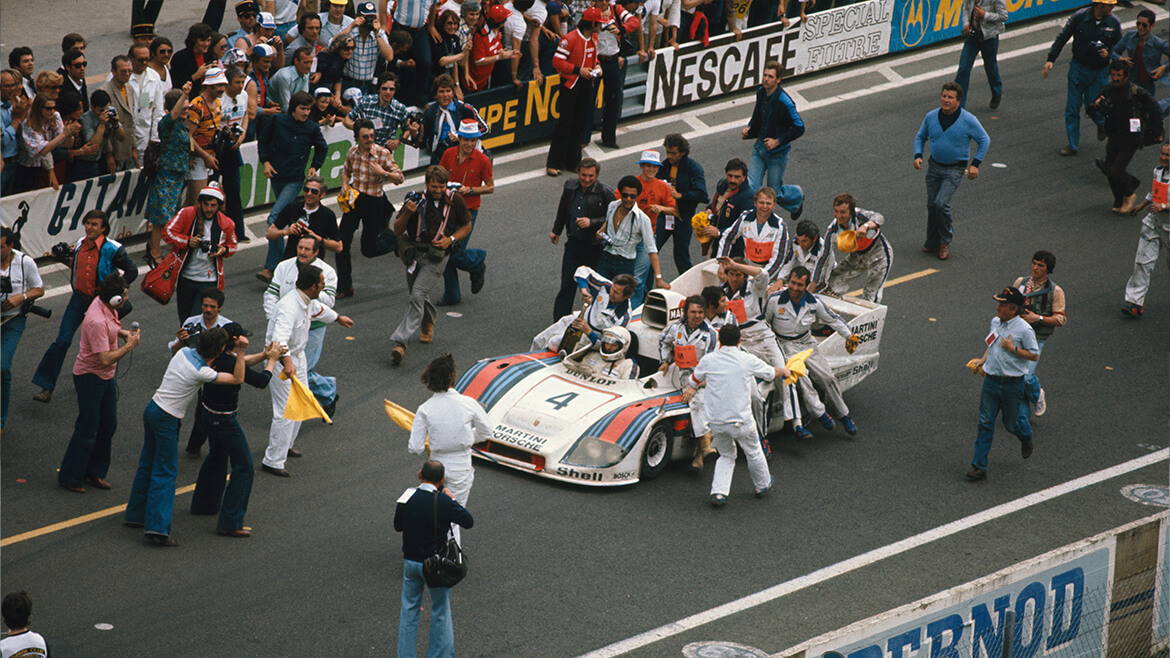 The Martini Racing Porsche System celebrating on the track with fans after winning the 1976 24h Le Mans. Image Courtesy: Motorsport Images.
---
Years later Ickx recalled, "There are still people in the Porsche team that live that race. They had the same feeling as me, they were great".
"I think it is one of the races that I drove the best in my life," said Ickx later. "You just can't explain why at some races you have that little bit more.
"Probably it is so because I was supported: by the surroundings, the mechanics, their joy at watching the car climbing up, and the joy of the co-drivers. Because Le Mans you don't win alone. It is a team effort."
Ickx's comeback drive was just the beginning of Porsche's new streak. There was the potent Porsche 956 in the wings.
In 1982, Ickx and teammate Derek Bell moved their 956 into the lead at Le Mans just after midnight and kept it for the rest of the race, winning by three laps over their fellow teammates Jochen Mass and Vern Schuppan.
The 1982 win gave Ickx an unprecedented sixth outright victory at Le Mans, and Porsche had its most dominant race yet, sweeping the top five places, including a 1-2-3 for the works team.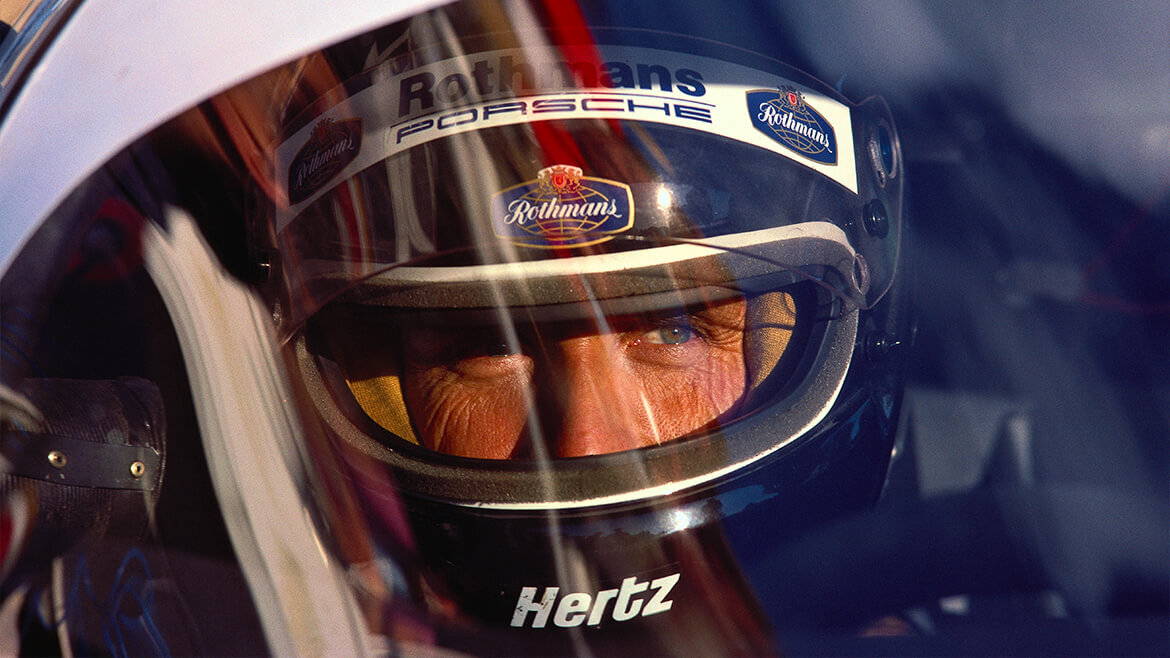 Jacky Ickx at the 24h Le Mans. Image Courtesy: Motorsport Images.
---
"People always talk about the 917, that it was a revolution, and it was, clarified Ickx. But, in many ways I believe the 956 was an even greater example of Porsche's technical ability, of their constant desire for new technologies, and new ways to win."
Click the button below to read more stories from the 100 years of 24h Le Mans and discover our celebratory poster collection in cooperation with the Automobile Club de l'Ouest.