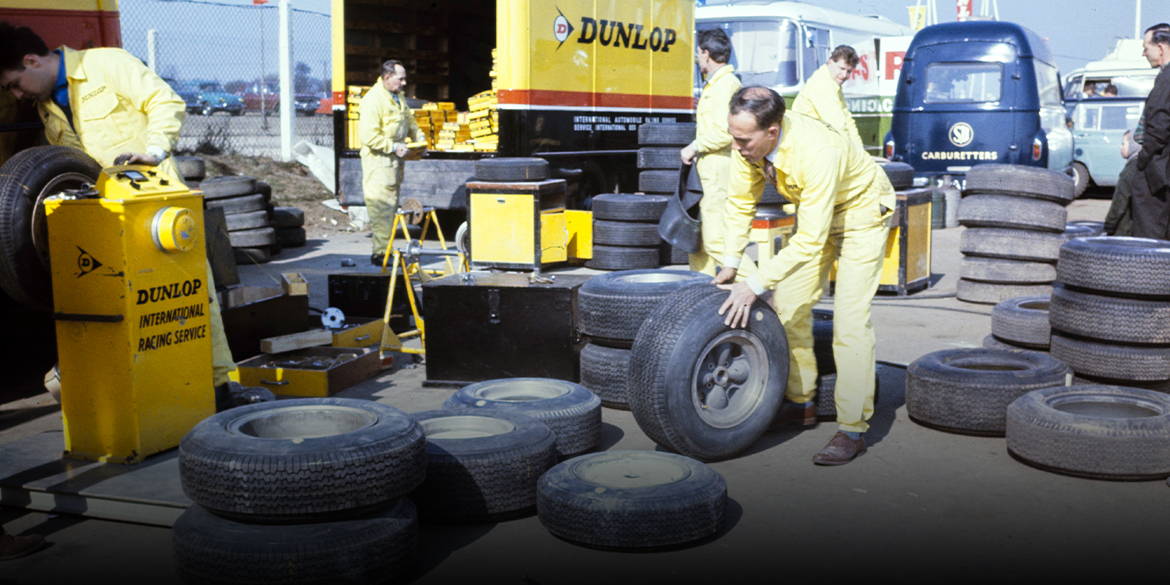 At the dawn of Formula 1 in 1950 tyres were simply treaded round black objects, albeit generally larger than those on road car but about as unsophisticated. Skim through some movie footage from those early days and the number of tyre failures is startling, often resulting in serious injuries or even worse.
As F1 cars morphed away from their pre-war engineering so they became lighter, nimbler and, eventually, mid-engined, enabling tyre sizes to shrink - but still those round objects resembled their production brethren. Indeed, back then F1 cars were regularly driven on public roads for testing or commuting from garages in some village close to the start line so needed to cope with all surfaces and, crucially, in all weather.
During the 1960s the cotton plies wound around carcasses for reinforcement were replaced by synthetics, a development that was incorporated in road tyres in a first sign of racing improving the product. The next major step came when treads were discarded entirely - legend has it after Firestone despatched a set of 'uncut' tyres to Ferrari for testing, with plans for a master technician to hand-cut treads at the circuit.
Said employee was delayed so the team went ahead with its programme using smooth 'slicks' – which proved faster by offering greater contact surfaces and having no tread distortion, which adversely affected traction, steering and braking. It was a eureka moment: Ferrari's Jacky Ickx finished second in the next race, the 1971 Spanish Grand Prix, and won the Dutch round two races later. Slicks were clearly the way to go.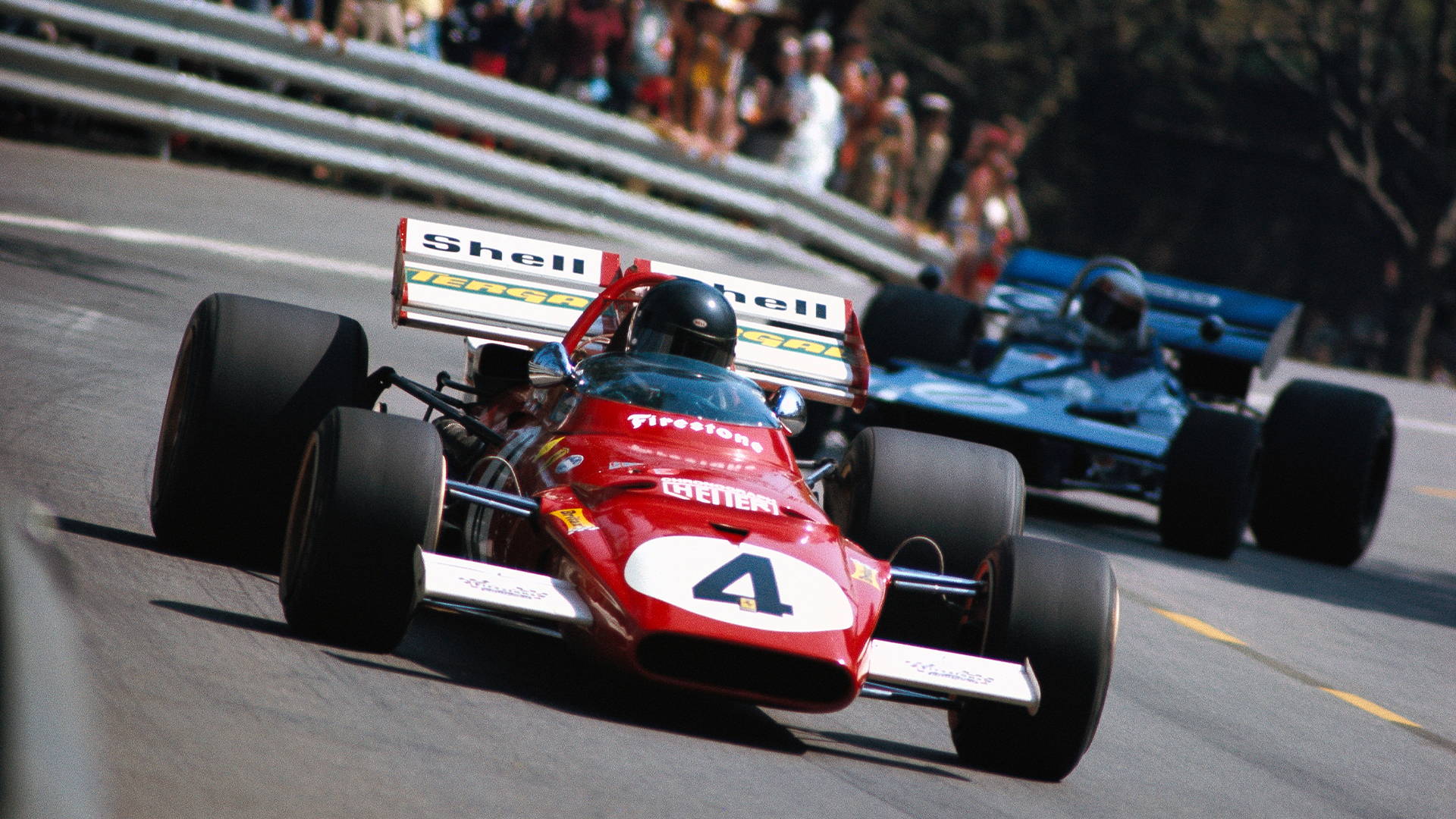 Jacky Ickx in the Ferrari 312B leading Jackie Stewart in the Tyrrell 003 Ford at the Spanish Grand Prix Image courtey Motorsport Images
---
Crucial to slick development was chemical bonding between the rubber compound and track surface; therefore different 'brews' were developed to suit specific circuits, plus, of course, slicks were absolutely useless - lethal even - when the going got wet. Thus, treaded tyres continued to be supplied for so-called 'intermediate' and 'wet' conditions, with 'monsoon' tyres, able to disperse 80 litres per second, following.
Another step up was taken by Michelin in 1977 with the introduction of radial ply construction – where previously carcass plies were wrapped at 90° to the direction of travel, these were angled at 45°, providing greater stiffness – and forcing the opposition to follow suit. Open warfare followed, with the French brand, Goodyear (USA) and Pirelli (Italy) developing 13-and/or 15-inch tyres at furious rates.
To contain costs the FIA introduced maximum rear tyre diameters of 26 inches, simultaneously insisting on 13-inch wheel rim sizes – front tyres were typically 10 inches wide and rear counterparts 15 inches – with a maximum width of 18 inches to allow for bulging. These dimensions stayed in place through to 1993, when the overall tyre width was reduced to 15 inches.
Five years later the FIA mandated tyres with three/four longitudinal grooves front/rear respectively – later four all round - to slow cornering speeds (then-FIA-president Max Mosley admitted to recalling his 1960's racing experiences with treaded tyres…), prompting Goodyear's exit - Michelin and Pirelli had defected in the mid-eighties – and leaving 1997 incomer Bridgestone as sole supplier.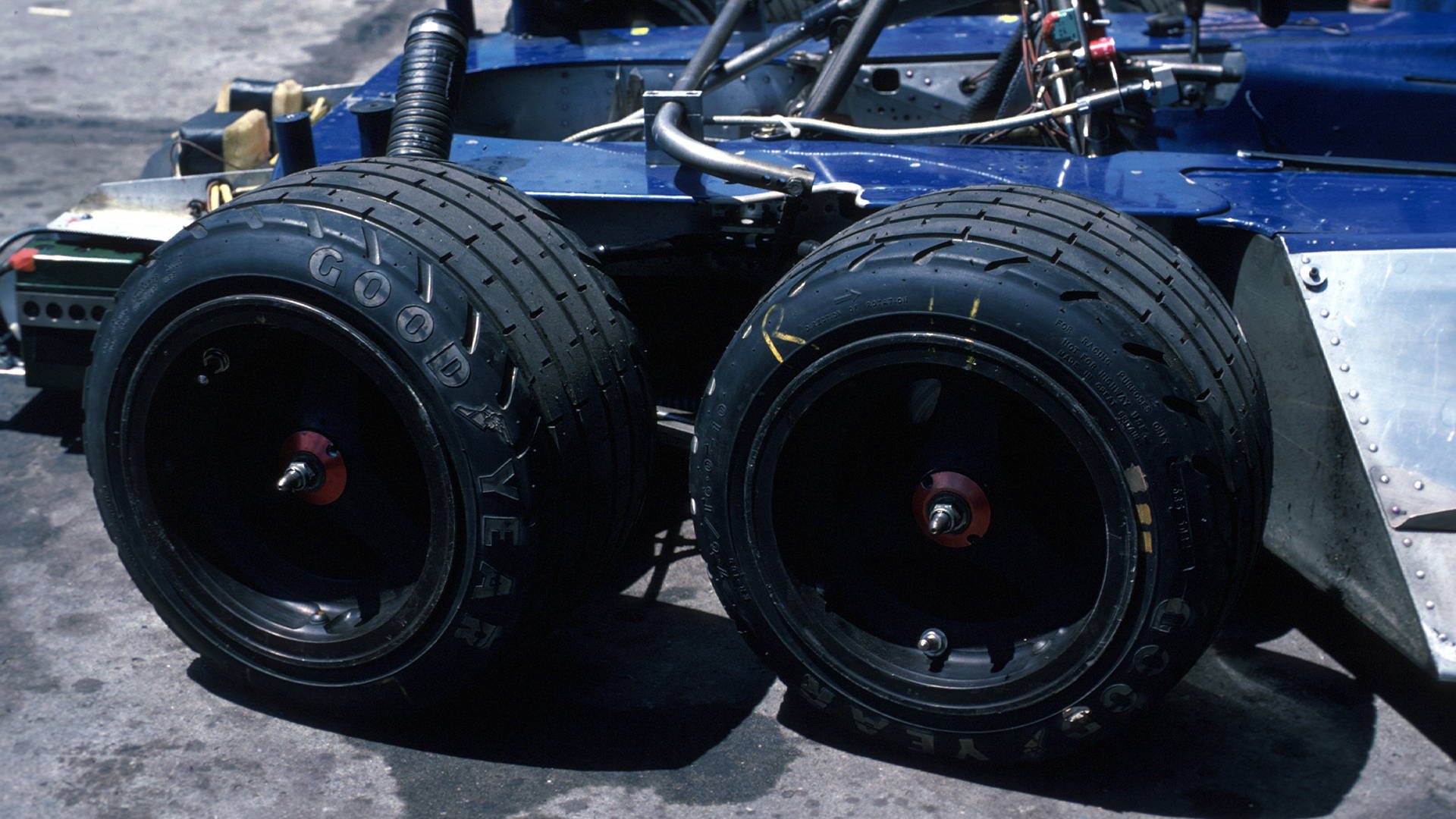 Goodyear tyres on the Tyrrell P34, the only 6-wheel car in Formula One history. Image courtesy HOCH ZWEI
---
Not for long: Michelin returned in 2001, sparking another tyre war. Grooves or not, lap times tumbled but it was clear that the rubber had reached its its limits, what with V10 power and masses of torque being forced through tyres whose contact patches had been vastly reduced by grooving.
The nadir came during the 2005 US Grand Prix at Indianapolis: Michelin admitted it was unable to guarantee the safety of its products, so advised its partner teams to withdraw, which they did after the parade lap. Just six (Bridgestone-shod) cars took the start proper to contest the most farcical grand prix in the history of F1.
F1 reverted to full slicks from 2009. Michelin had walked at end-2006, leaving Bridgestone as de facto sole supplier - and officially three years later when regulations calling for specification tyres provided by a single supplier were introduced. However, in 2010 the Japanese company departed, clearing the way for Pirelli's return with a brief to supply rubber with planned degradation to 'spice the show'.
Dimensions remained, though, as per 1993: A succession of tyre suppliers fought robustly against any switch, arguing huge money would be spent for no advantage as whatever the prevailing dimensions, these applied to all. Thus F1 raced on tyres with taller profiles - expressed as the ratio between sidewall height and tyre width – than those fitted to the trucks that carried the cars...
David Coulthard coming into a pit stop in his McLaren MP4-17. Image courtesy HOCH ZWEI
---
However, it was all change for this season after F1's balloon-looking were consigned to history: the FIA rather robustly specified a switch to 18-inch rims, arguing that road cars had long moved to low profiles, forcing F1 to follow suit. Hence the 2022 cars offer a cutting-edge appearance at each corner after F1 eventually joined the 21st Century, tyre-wise…