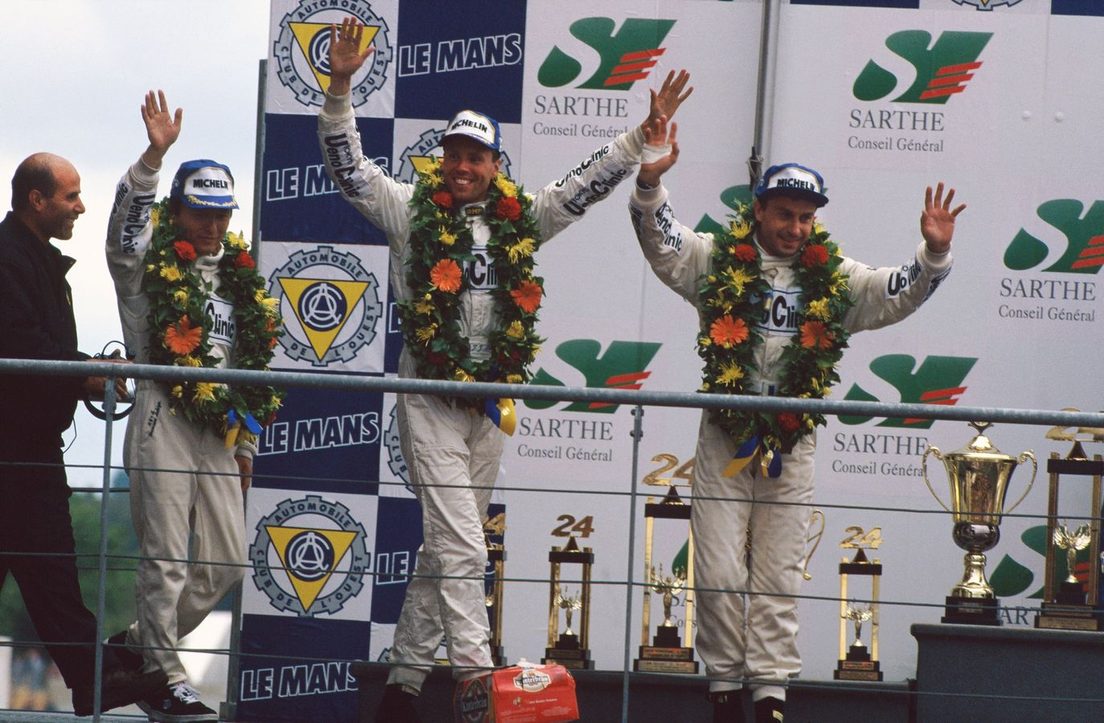 Down Memory Lane
When the Underdogs became Champions - How the McLaren F1 GTR won the '95 Le Mans
Before the McLaren GTR shook the 1995 Le Mans, no other team had ever captured four of the top five places on a debut appearance. Read how "the ultimate road car" was turned into a race car that shocked the world.
Before the Race:
In January of 1995, just six short months before the 63rd Annual 24h Le Mans, Gordon Murray reluctantly agreed to turn the wildly popular McLaren F1 into a proper racing car. Tasked to make this transition from "the ultimate road car" to racing car was the head of GTR Race Development Team James Robinson. Once it was all said and done, 5 teams racing 7 GTR's were ready to be entered into Le Mans.

While Gulf Racing entering two GTR's, numbers 24 and 25, the original chassis #01R which had been used for McLaren testing, #59, was entered for the Kokusai Kaihatsu Racing team. GTR #51 was entered by Mach One Racing, while #50 was entered for Giroix Racing Team.* Entering these modified street cars into Le Mans meant the F1 GTR would be competing alongside the normal GT competitors, as well as cars that were specifically made for Le Mans, the WSC prototypes. In other words, both McLaren and everyone knew who the underdogs were.
Qualifying:
First-time Le Mans-er and Team Principal Paul Lanzante of the #59 The Kokusai Kaihatsu Racing Team, knew these odds as well. Lanzante was backed his team's lead driver, veteran Yannick Dalmas to help come away with a strategy, while his other two drivers; Masanori Sekiya, known to be reliable, and J.J. Lehto, former F1 driver, were to deliver. 
At qualifying, Lanzante instructed his team not to push too hard, but to get to know both the car and track. Though during this time, Lehto over-revved the McLaren's BMW V12 engine. With BMW techs already on-site for such drivetrain dilemma, replaced the engine with the only extra one, and advised not to go over 9,000rpms.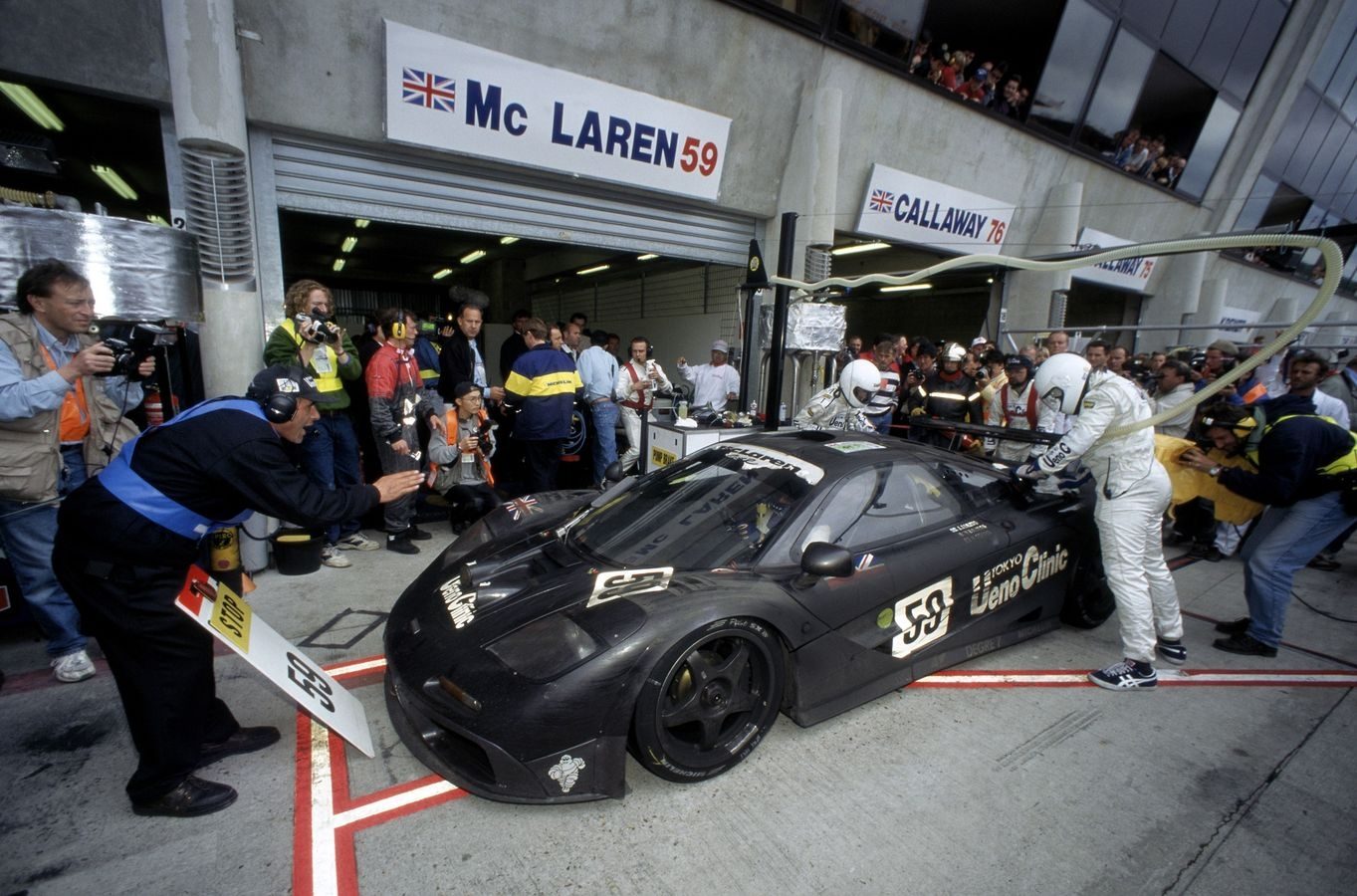 The Race:
As the race started and went on, many of the WSC cars succumbed to technical difficulties and dropped down and out in the standings, while the GT1 class cars continued on. With heavy rain beginning to fall, it forced other cars to spin out and retire. 17 hours of steady rain made it one of the wettest races in the event's history; the whole while Kaihatsu's driver Lehto, in the late hours of the night and early morning with his Formula One background, proved a worthy enough when he set the car's pace.  
In the closing hours of the race, only five McLaren F1 GTRs and three WSC cars remained, including Courage Compétition's Mario Andretti in his Porsche Prototype. With just three hours remaining, a close battle between the Kokusai Kaihatsu McLaren, Mach One Racing, and  Courage Compétition, broke out. As Lanzante realized the possibility of a win becoming closer and closer, his strategy he had from the very start of: "always to get the car back in one piece," now looked like that could pay off. Originally, Murray stated that he would be happy with a class win, it turns out he would get that and more.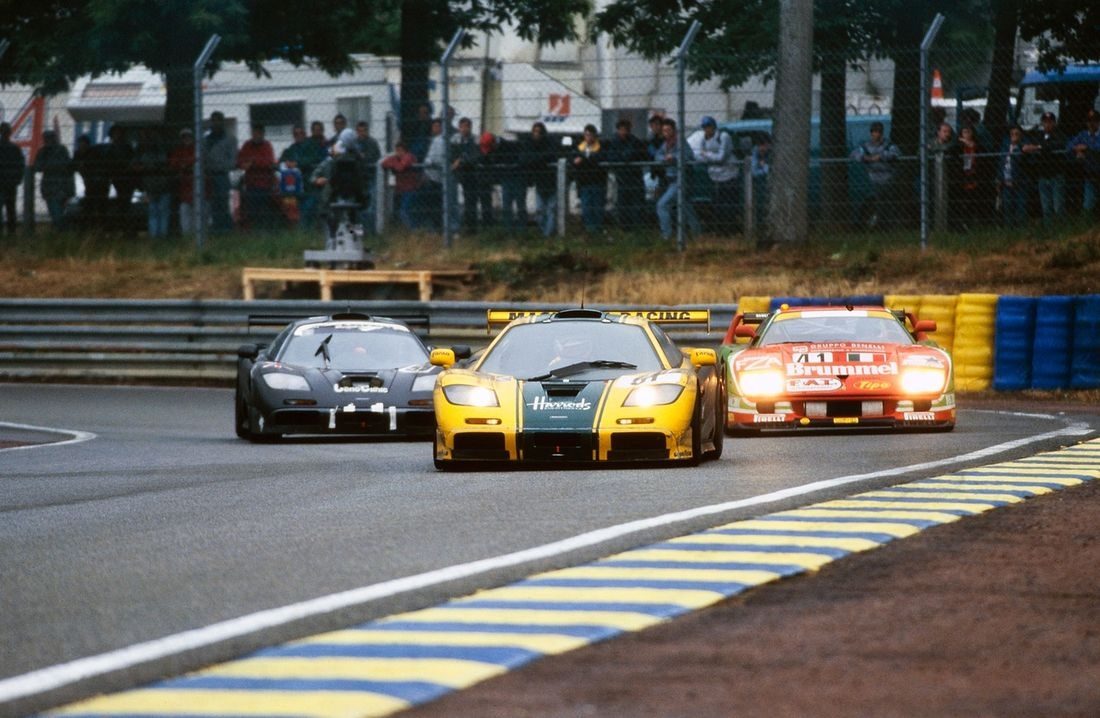 With the last half hour remaining, Yannick Dalmas of Kaihatsu lead the way with Andretti hot on his tail. To everyone's shock, a team put together at the last moment, in a car unproven in an endurance race such as Le Mans, pitted against much faster cars, crosses the finish line with the overall win in one of the shortest distances covered since the 1950s. This was McLaren's first win, at its first attempt, as well as the first Le Mans win for drivers from Finland and Japan. 
Of the original 7 GTRs entered at the 1995 Le Mans, two DNF, while the other five placed 1st, 3rd, 4th, 5th, and 13th. This was the most successful debut in history of Le Mans.
Related Products:
*McLaren GTR's Entered in 1995 24h Le Mans:
#59 Kokusai Kaihatsu Racing (GB) Driven by: Yannick Dalmas (F) / Masanori Sekiya (J) /J.J. Lehto (SF) - WINNER, 1st place
#51 Harrods/MACH ONE RACING Driven by: Andy Wallace (GB) / Derek Bell (GB) / Justin Bell (GB) - 3rd Place
#24 Gulf Racing (GB) Driven by: Mark Blundell (GB) / Ray Bellm (GB) / Maurizio Sandro Sala (BR) - 4th Place
#50 Giroix Racing Team (F) Driven by: Jean-Denis Delétraz (CH) / Fabien Giroix (F) / Olivier Grouillard (F) - 5th Place
#42 Société BBA Compétition (F) Driven by: Jean-Luc Maury-Laribiére (F )/ Marc Sourd (F) / Hervé Poulain (F) -13th Place
#49 West Compétition (GB) Driven by: John Nielsen (DK) / Jochen Mass (D) / Thomas Bscher (D) DNF
#25 Gulf Racing (GB) Driven by: Pierre-Henri Raphanel (F) / Philippe Alliot (F) / Lindsay Owen-Jones (GB)  DNF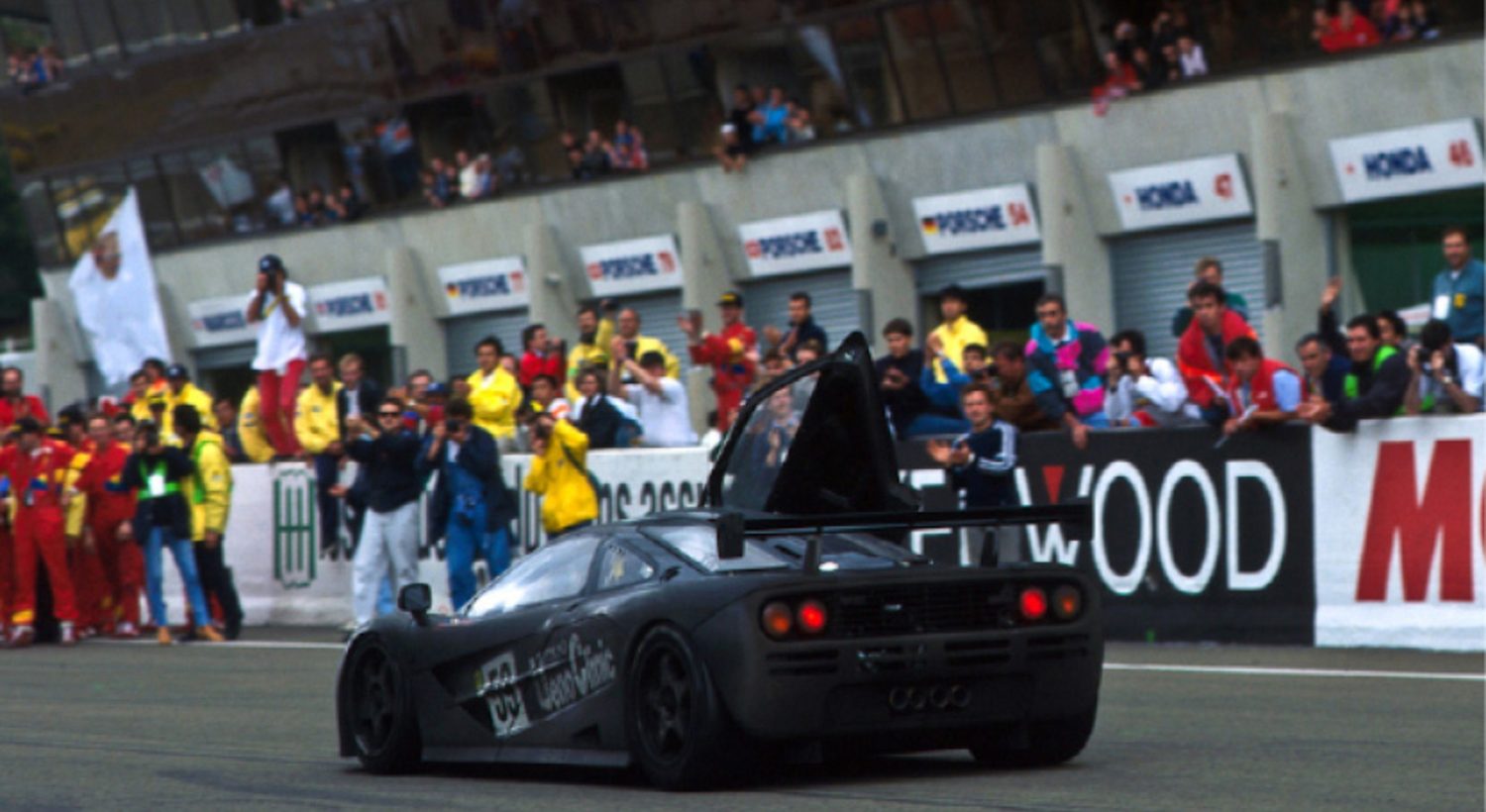 All images curtesy of McLaren.