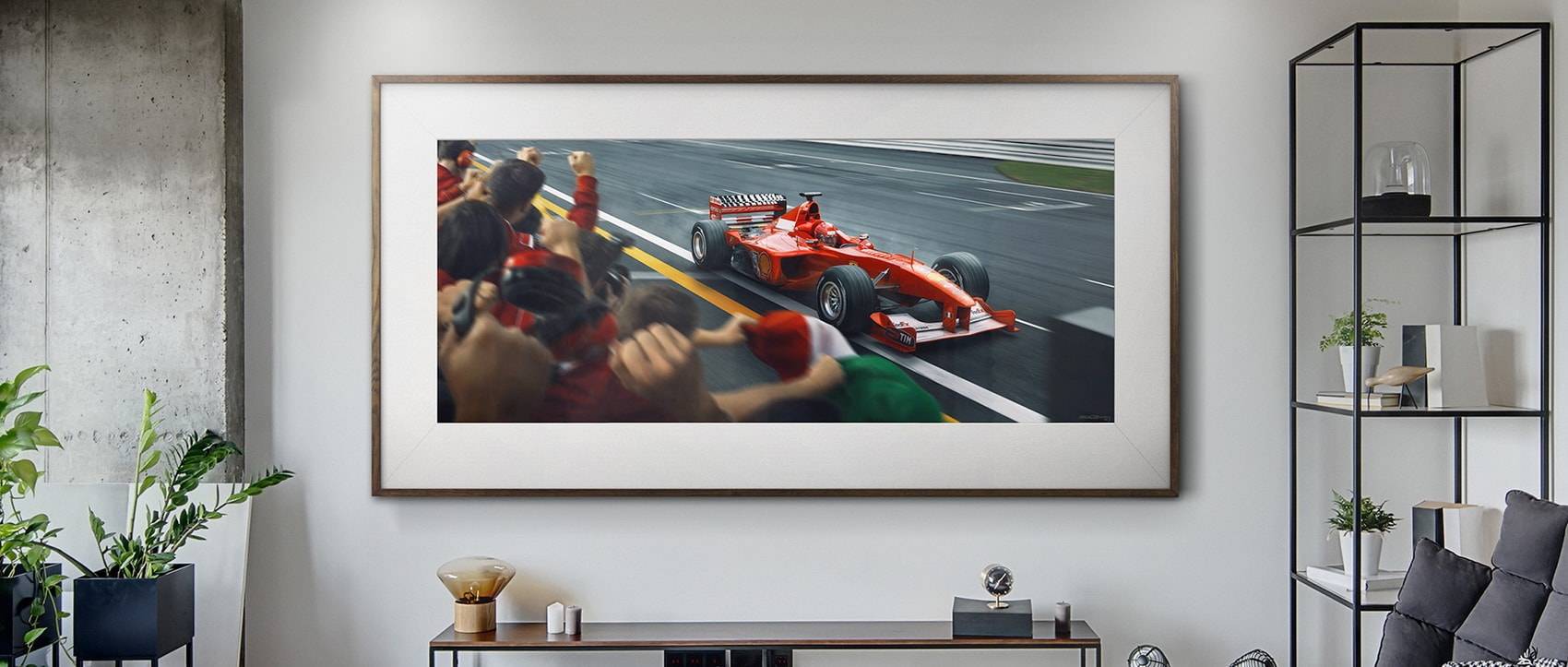 Automobilist is honoring Michael Schumacher's 50th birthday with unique Ferrari artworks
---
Automobilist is honoring Michael Schumacher's 50th birthday with unique Ferrari artworks
---
Unique collection of fine art prints and posters commemorate Michael Schumacher's first championship title win with Ferrari at Suzuka in 2000 for his 50th birthday.
• Automobilist has created a series of unique fine art prints and posters for Scuderia Ferrari and the Keep Fighting Foundation
• Created to honour Michael Schumacher's 50th birthday on January 3, 2019
• Commemorates the legendary racing driver's title-clinching victory at the 2000 Japanese GP
• Limited-edition artwork and range of premium posters were made using state-of-the-art techniques of composing 3D models and digital photography in a process that took months, and included 3D-scanning Michael Schumacher's F1-2000 F1 car and helmet
• Fans of Formula 1 around the world can now own a piece of a history and along with it, contribute a donation to Michael Schumacher's family Keep Fighting Foundation that continues with his charitable social and cultural endeavours
December 30, 2018 - Automobilist, automotive fine art maker and gallery, has partnered with the Scuderia Ferrari F1 team and Keep Fighting Foundation to recreate one of the most historic moments in Formula 1, Michael Schumacher's title-clinching victory at the 2000 Japanese GP, using Automobilist's signature techniques and approach to meticulously designing artworks by leveraging computer-composed 3D models and digital photography.
Honouring Michael Schumacher's 50th birthday on January 3, 2019, the limited-edition fine art print is a unique reminder of his unparalleled career. The emotional win in Japan brought tears of joy to fans all around the world, as they celebrated Michael's first triumph with Ferrari, his favourite and most crucial victory, and also the team's first driver's championship title since Jody Scheckter's 1979 win.
Automobilist faithfully recreated this historic scene in meticulous detail to produce a unique artwork in its signature manner that blends 3D models and digital photography to achieve a computer-generated image of awe-inspiring quality. The process took the team of specialist artists, technicians and designers several months, and included the 3D scanning of Michael's Ferrari F1-2000 car and helmet at Michael Schumacher's Private Collection in Motorworld Cologne.
In addition to the hero artwork that forms part of Automobilist's signature Unique & Limited Edition of individually numbered fine art prints – available in 3 sizes – is a series of five posters tied to the scenes in Suzuka that day. One of them, depicting a pit-stop in bird's eye view, is also a numbered Unique & Limited Edition.
The 2000 title marked the beginning of an unprecedented five-year golden era for the Scuderia Ferrari team, with record-breaking Michael Schumacher behind the wheel. And his legacy with Ferrari lives on, because his family perseveres with charitable actions in his name via the Keep Fighting Foundation. A one-off extra-large artwork is to be auctioned by the foundation to help its causes.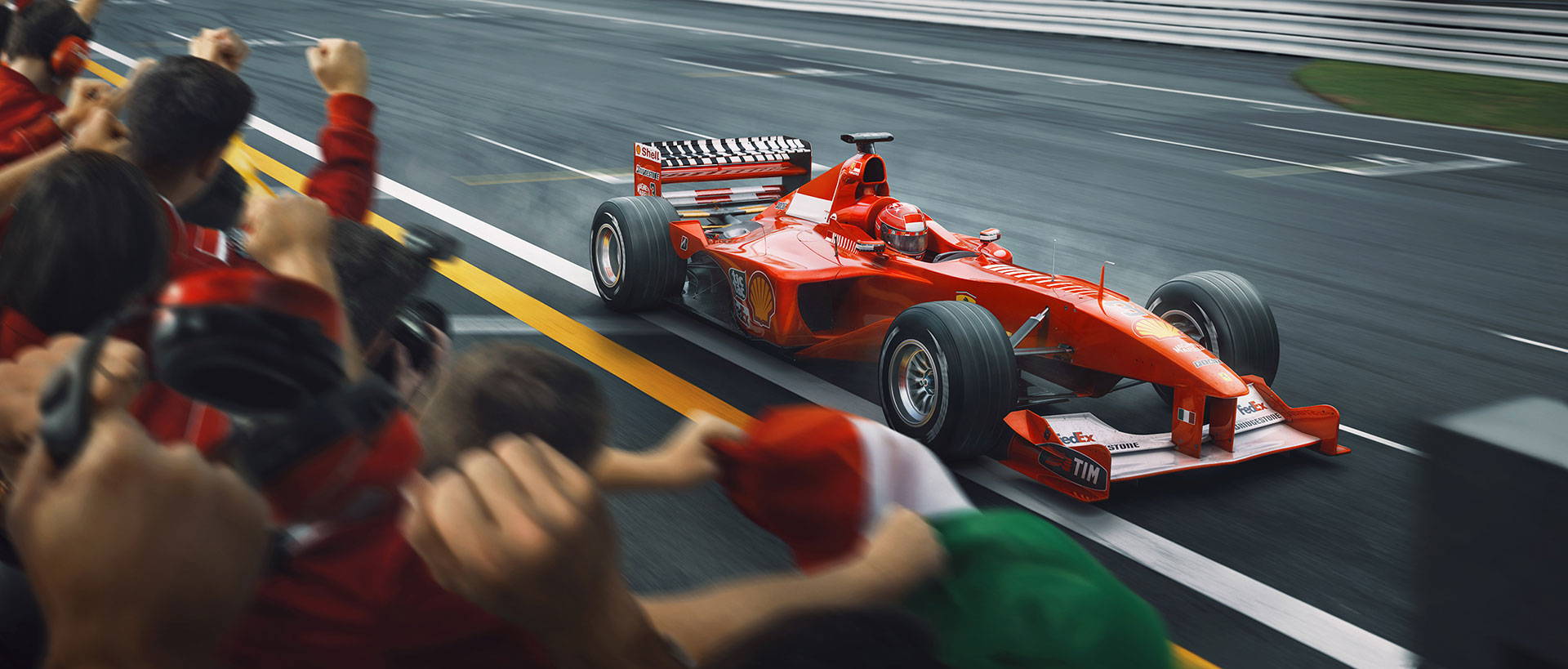 More information on links
Detailed "Crossing The Line, Raising The Bar" artwork info
Artworks and posters Automobilist Store link
Downloadable hi-res gallery: contact us at e-mail below
All F1 artworks
Press contact
media@automobilist.com
Website
https://automobilist.com
Follow us on social media
Facebook
Instagram
Twitter
YouTube
LinkedIn
About Automobilist
Automobilist is a team of artists and creative thinkers, automotive enthusiasts, and perfectionists.
Automobilist is the lifestyle design brand for every car aficionado, continually leading the way to the most stylish automotive products from our signature, limited fine art prints and design posters to other automobilia items.
Our mission is to re-energize inspiring motoring stories by using modern technology to create premium artworks, in partnership with iconic automotive personalities and brands.
About Keep Fighting Foundation
Carrying on with charitable spirit of Michael Schumacher, Keep Fighting Foundation is a registered charity that is celebrating his 'Keep Fighting' and 'Never Give Up' attitudes. Founded by Michael's family, the organization aims to spread the positive energy of his supporters as a force for good in the world in achieving cultural and social benefits.
The charitable purposes of Keep Fighting Foundation include culture; education and development; science; public health; and motivation. Activities include organizing charity sports matches, awarding the Keep Fighting Award, developing innovative initiatives to promote road safety awareness and action, projects in support of neuroscience and neurological research and innovation in the field of head protection.
3D scanning Michael Schumacher's F1-2000 and helmet
---
Breakdown: Ferrari F1-2000 - Michael Schumacher - Pit Stop - U&L Edition Poster
---