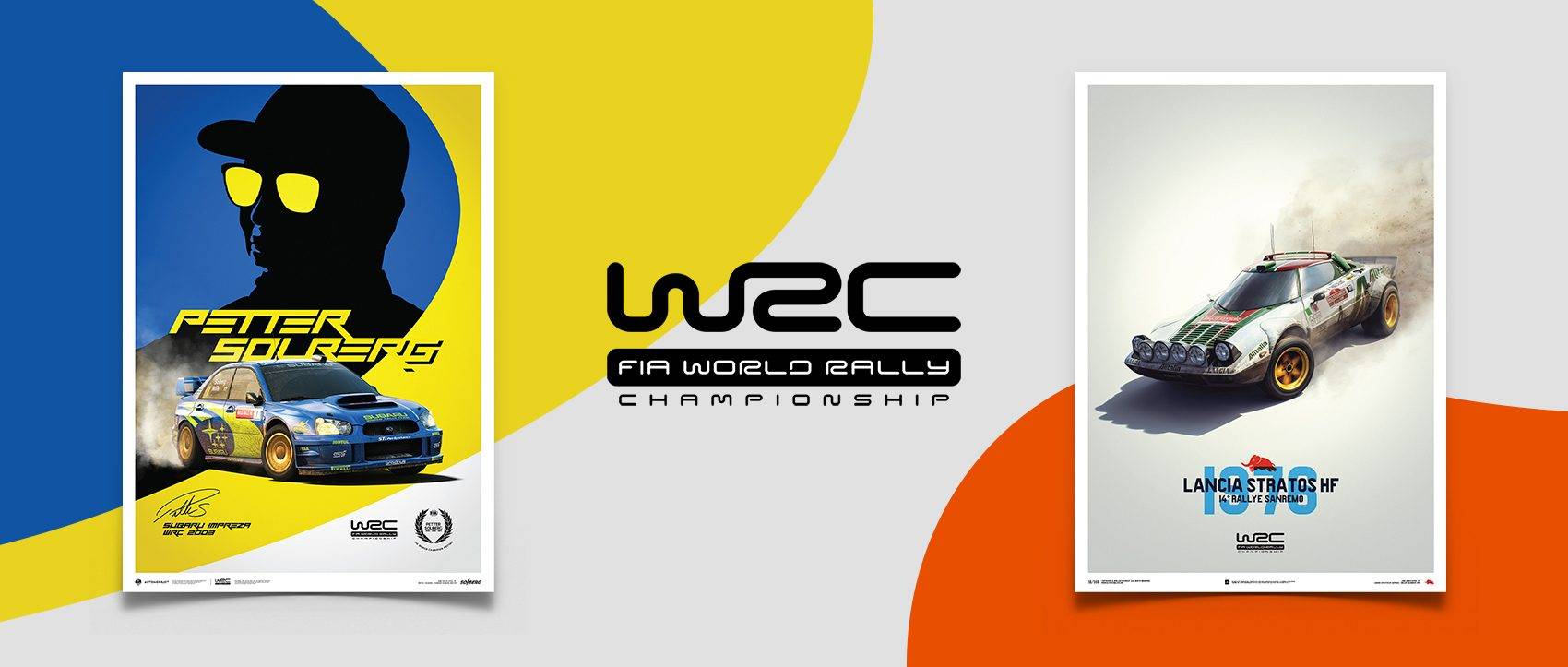 New horizons as Automobilist partners with the FIA World Rally Championship
---
New horizons as Automobilist partners with the FIA World Rally Championship
---
Automobilist continues to expand its partnerships with important players in the world of motor sport and it is now collaborating with the WRC, the FIA World Rally Championship.
In an exciting move, Automobilist joins forces with the FIA's premier rally championship, building up to the 50th anniversary of the WRC in 2022. Immediately on offer for fans of rallying are two upgraded design posters from the Automobilist collection - a Petter Solberg-silhouetted edition which celebrates the Norwegian's Championship win in 2003; and a Lancia Stratos HF, a car that dominated rallying in the 1970s. At the end of this year, Automobilist will produce a teaser poster for WRC in a run-up to their Golden Anniversary year, details of which remain closely guarded but let's just say, it will be a special tribute to the mean machines.
To date, Automobilist's range of work has included several competitive motorsport formats, including Formula 1, Le Mans, Targa Florio and even Indy Racing. In the month of May, the design studio released a set of Collector's Edition posters to celebrate the 70th Anniversary of Formula 1.
Artwork produced by Automobilist re-energizes moments in automotive and motorsport history, capturing a specific and significant moment in a motor sport event or paying tribute to the glorious history of competitive racing.
Quotes follow:
Automobilist is the leading source of exquisite fine art and prints in motorsport and we've already seen its work in rallying with beautiful artwork celebrating Petter Solberg's world championship win in 2003 and the iconic Lancia Stratos. The detail in Automobilist's art is meticulous and we're excited about future poster projects showcasing the WRC as the championship moves towards its landmark 50th season in 2022."
-- Oliver Ciesla, Managing Director, WRC Promoter
"I am particularly happy about this new relationship with the WRC that epitomises the spirit of adventure that we aim to convey in our artworks, quite like rallying. The wide variety of terrains that make up the WRC will doubtless provide plenty of inspiration for some great posters and we look forward to providing rally fans with a truly unique take on their sport, building up to rallying's 50th anniversary in 2022."
-- Pavel Turek, CEO, Automobilist
To view and download the Press pack, Click Here
To read more about historical rallies, visit our magazine here: