Maserati 250F - Emblematic of an Era of Racing
---
Maserati 250F - Emblematic of an Era of Racing
---
Torpedo-shaped, with a low-slung, wide-mouthed grille and with finely tapered inverse winglets sprouting with almost organic purity from each side of a fiery red body, the Maserati 250F is the poster child of the dawn of the Formula 1 age.
In a world recovering from post-war system shock, the 250F was the racing car as imagined by an excited schoolboy. A svelte, muscular racing reflection of the age of the bikini and the bomb, the era of Elvis and Marilyn Monroe, it was the racing car that perhaps best embodies the '50s desire to leave behind the grey austerity of rationing and brutalist reconstruction schemes and power towards a more glamorous, Technicolor future. And with a competitive career encompassing 60% of the 1950s it's the grand prix car that better than any other, defines the first decade of Formula 1.
At the start of the decade, Maserati yearned to compete at the highest level with machinery designed for a top level formula. The opportunity arrived when the Formula 1 regulations were rewritten for 1954, specifying supercharged 750cc powerplants or 2500cc naturally aspirated engines. Maserati lured Ferrari's chief designer, Gioacchino Columbo and engineer Valerio Coletti from Maranello to Modena to build a car capable of challenging Ferrari. The result was stunning.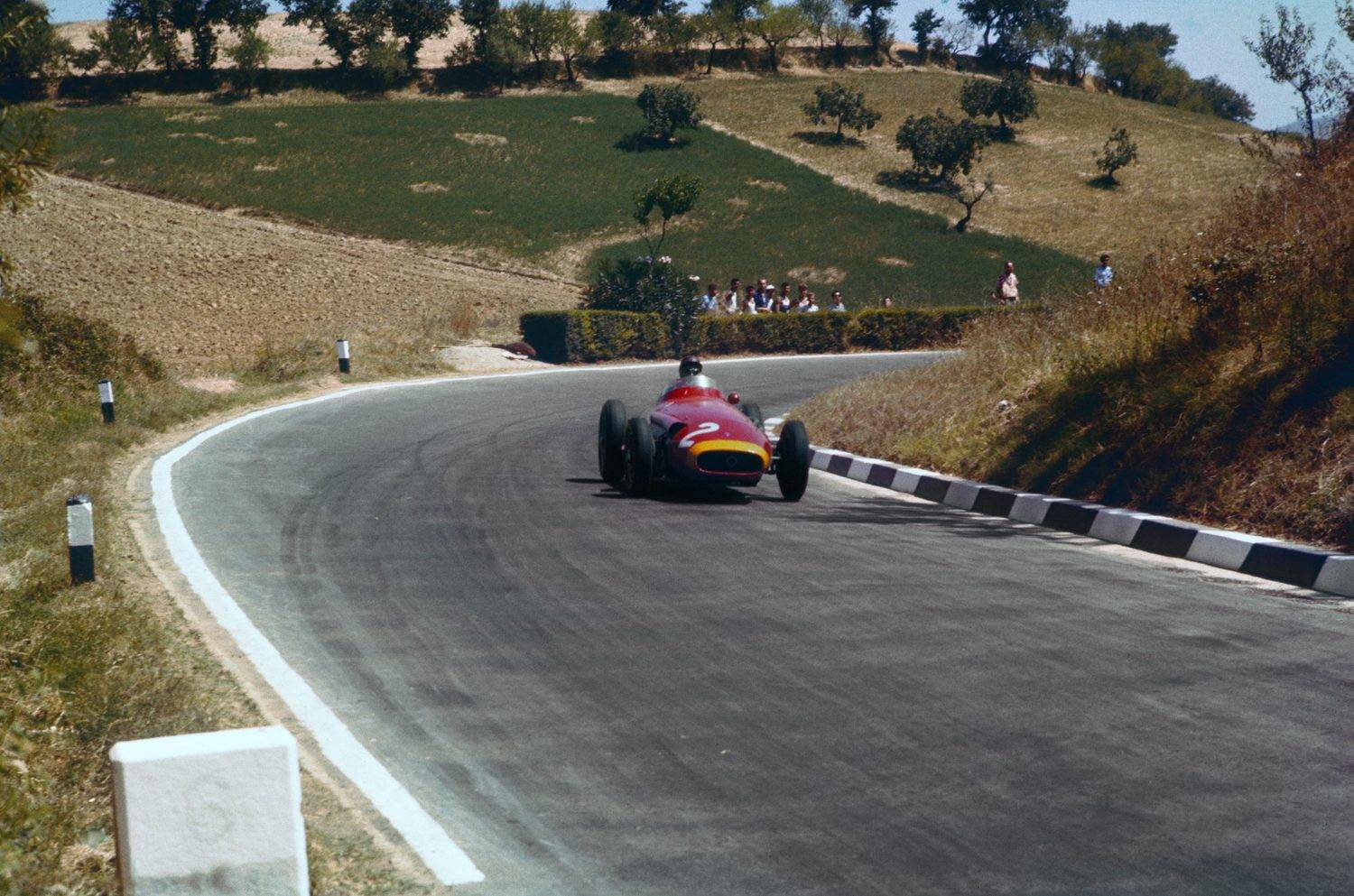 Surprisingly simple, the 250F featured a tubular space frame chassis wrapped in aluminium panels and powered by a naturally aspirated 2.5-litre straight six. And in keeping with the F1 maxim that says 'if it looks fast, it probably is' the 250F proved competitive from the start. A works squad featuring Fangio and the double world champion's young protégé Onofre Marimon was formed ahead of the 1954 season-opener, January's Argentine Grand Prix.
There, in front of an adoring home crowd, Fangio, demonstrating the poise and balance the 250F would become famed for, slithered to a remarkable win in a tough-to-judge race twice affected by heavy rain. Fangio racked up a second win at the following round in Belgium. By that time, however, Mercedes had finalised its plans for its return to grand prix racing, and Fangio was central to them. The Argentinian moved to the Stuttgart squad to drive what would become an equally iconic '50s F1 racer – the W156.
The vacuum at Maserati was quickly filled by Stirling Moss and it was to be match made in heaven. After an early F1 career spent in a series of uncompetitive machines, the Englishman regularly credited the 250F as the car that allowed him to properly demonstrate his talents. "In Bremgarten in Switzerland it was wet and I managed to put my privately-entered 250F on pole ahead of the works Maseratis and Mercedes, ahead of Fangio and Ascari," he said. "Neubauer (the team boss) at Mercedes signed me up that night. So a tremendous amount of my career is down to that Maserati."
Moss and Fangio effectively wrote the Maserati's F1 legend.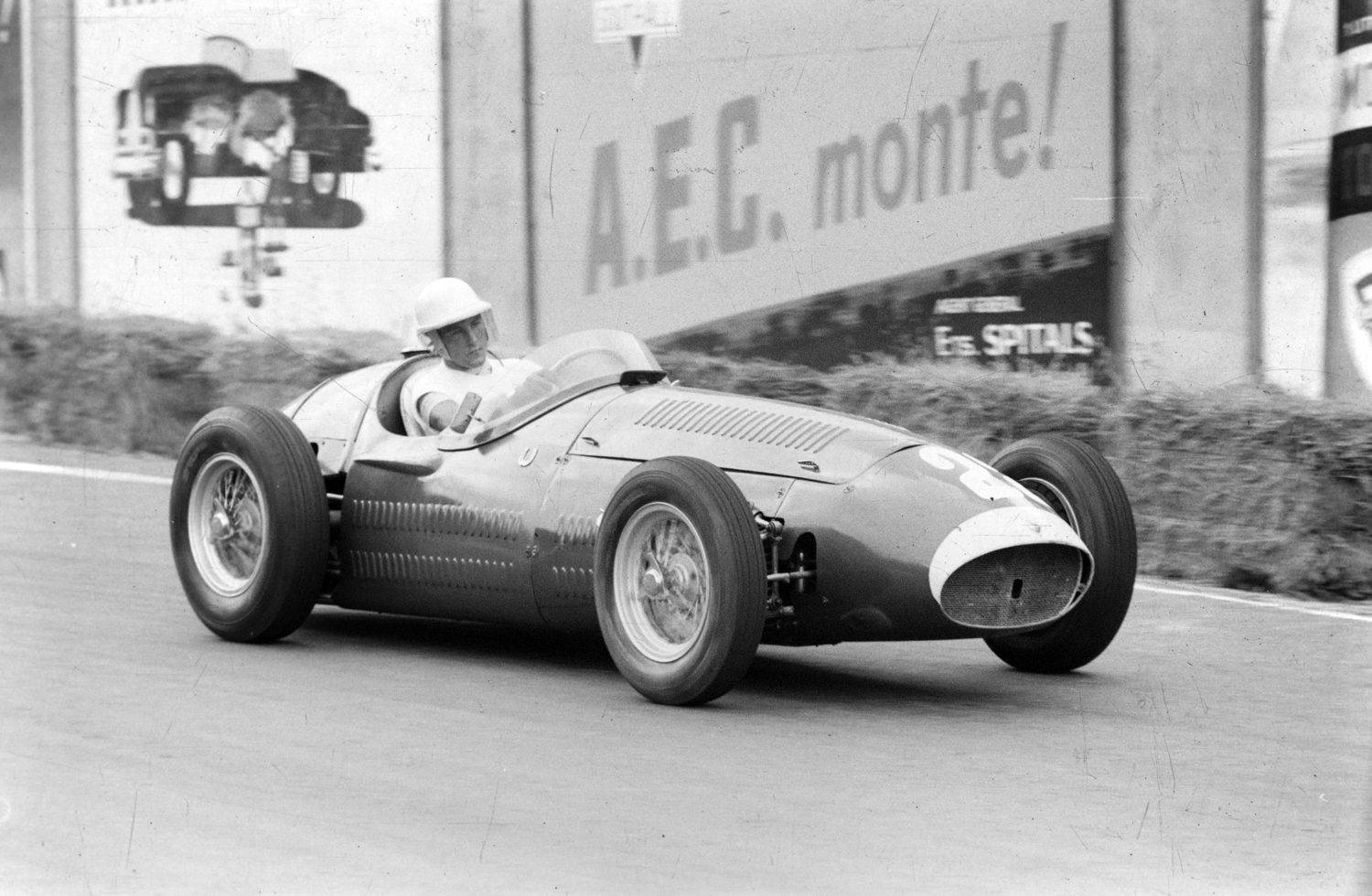 It was a tale defined by Moss' heroics in keeping Fangio at bay at the 1956 Monaco Grand Prix, but even more so by Fangio's extraordinary drive to victory in the 1957 German Grand Prix as he took the 250F to what would be his final title. A botched pit stop left Fangio 50 seconds behind Ferrari's Mike Hawthorn, but in an incredible display at the wheel of the 250F, Fangio powered to nine new lap records at the daunting Nürburgring closing on Hawthorn by as much as 15 seconds per lap to eventually pass the Ferrari driver and claim victory. "When it was all over I was convinced I would never be able to drive like that again – never," Fangio said. "I had reached the limit of my concentration and will to win."
It wasn't just Fangio and Moss who contributed to the 250F story, however. Renowned in Moss' words as a "user-friendly, well balanced" car the Maserati quickly became the charge of choice for a coterie of not just gentleman racers such as Prince Bira and Harry Schell and but also a lady competitor, with Maria Teresa de Fillipis becoming the first woman to compete in Formula 1.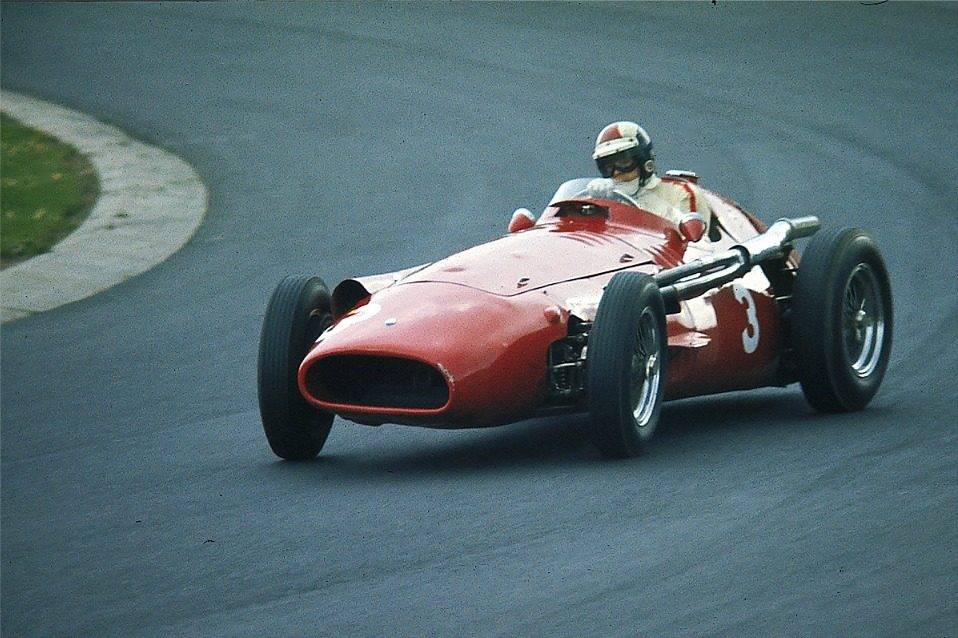 In 1957, following a change in its ownership and in the wake of a tragic crash at that year's Mille Miglia, Maserati chose to close its racing department. The 250F, however, continued to race, with a cast of privateers. Fangio even had a final fling with the 250F, driving it to fourth place in Argentina and France in 1958. By 1959, however, it was flagging and despite possessing a silhouette as appealing as that of Gina Lollobrigida, the 250F was no longer the shape of things to come and as a new decade approached so too did a new era of F1 – leaner and lighter, smarter and sharper, but perhaps missing the torpedo-shaped, rocket-red bloodedness that helped power a new age of grand prix glamour and fuelled a million schoolboy racing fantasies.
Images courtesy Motorsport Images / Lothar Spurzem