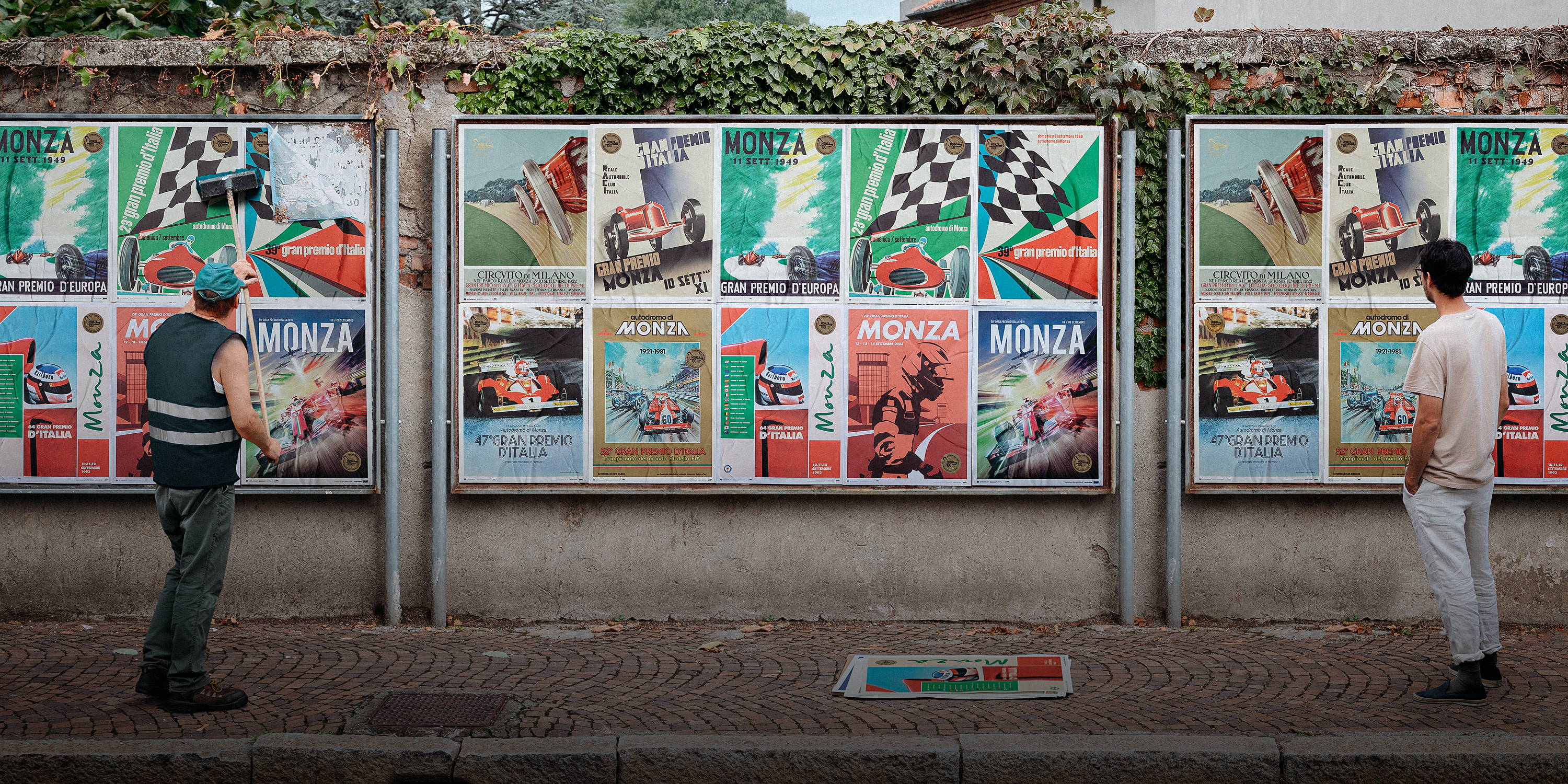 Monza 100 Years Anniversary
---
Monza - has ever a circuit had a 'faster' name? In whatever language, whichever pronunciation, the two syllables conjure up images of daring, glamour and, above all, incredible speeds. Indeed, Monza has variously been referred to by some as the 'Altar of Speed' and even 'Motor Racing's High Temple'.
Named after the ancient wooded Parco Monza situated 20 kilometres north-east of Milan, Monza this year celebrates its centenary, making it the oldest Formula 1 circuit in current use. Indeed, Monza predates the championship by almost 30 years, and holds the distinction of having hosted a record 71 rounds of the F1 world championship - founded in 1950 - non-stop between 1950 and 1979, and again from 1981 to 2021.
That single interruption was caused by necessary refurbishment to a venue then almost 60 years old. So conspicuously absent from Monza was, though, the 1980 Italian Grand Prix that all subsequent attempts by a raft of Italian circuits to 'hijack' the country's national race were robustly rebuffed.
Indeed, such is the timing of this year's Italian Grand Prix that Saturday qualifying neatly celebrates the date of Monza's first race, 1922 Italian Grand Prix held on 11 September 1922, while race day signifies the start of the circuit's next century. F1's 2022 calendar could hardly have planned it any better.
Financed by the Milan Automobile Club, construction of the original autodrome – only the third permanent circuit in the world at that stage, following on from Indianapolis and Brooklands (UK) - proved a mammoth task: 3500 workers toiled for 100 days to build two interlinked circuits, completing an outer 4,5km loop not unlike the US Speedway and a 5,5km road circuit on 3 September, ready for the inaugural race a week later.
Monza's two historic banked 'Indy' sections – 21 degrees at their steepest – are still partially visible through encroaching undergrowth, having fallen into disuse during the sixties. However, today these concreted constant radius curves stand as enduring monuments to that dangerous era.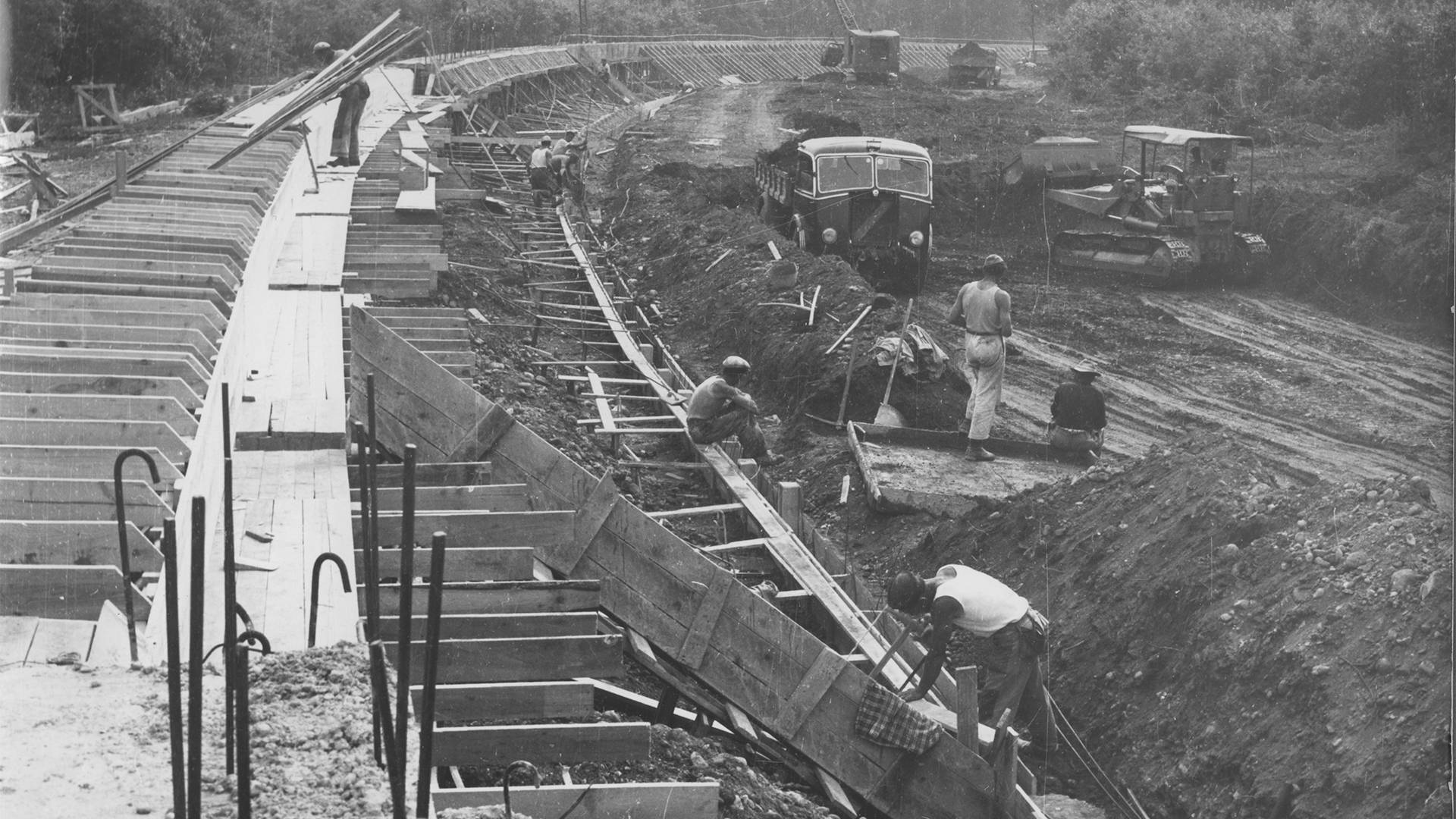 Construction of the high speed ring. Image Courtesy Autodromo Nazionale Monza
---
During the past 100 years there have been 11 different circuit layouts, ranging in length from 4,5km to 10km - the latter a combination of oval and road courses, and used by F1 in 1955/56 and 1960/61. Thereafter the long circuit fell into disuse after a fatal accident during the 1961 Italian Grand Prix involved Count Wolfgang von Trips and 15 spectators after the German world championship leader collided with Jim Clark.
However, the combined circuit is arguably best remembered for having twice previously hosted the 'Race of Two Worlds' (aka known as 500-Mile Monzanapolis), effectively a test match series between the USA and Europe, the former using Indianapolis machinery and the latter's teams racing with F1 cars. The Americans controversially won both rounds.
Exit of the old banking joining together with the Curva Parabolica. Image Courtesy Autodromo Nazionale Monza
---
Monza is, though, invariably recalled by ardent F1 fans for the duels and victories facilitated by its unique boomerang layout, which currently incorporates both highspeed straights and long curving arcs punctuated by chicanes (known as 'variante') designed to slow down the cars. Still, during the 2021 Italian Grand Prix the F1 field was regularly timed at top speeds exceeding 360km/h, some even nudging 370km/h.
The outright pole position lap record, set in 2018 by Lewis Hamilton (Mercedes), stands at 264.362km/h. However, so in-demand is Monza by all racing series that the circuit currently lists over individual 40 lap records, covering categories from afore-mentioned F1 through feeder singe-seater categories such as F2, F3 and F4, WEC and European sports cars, GT, touring cars, historic racing and MotoGP and Superbikes.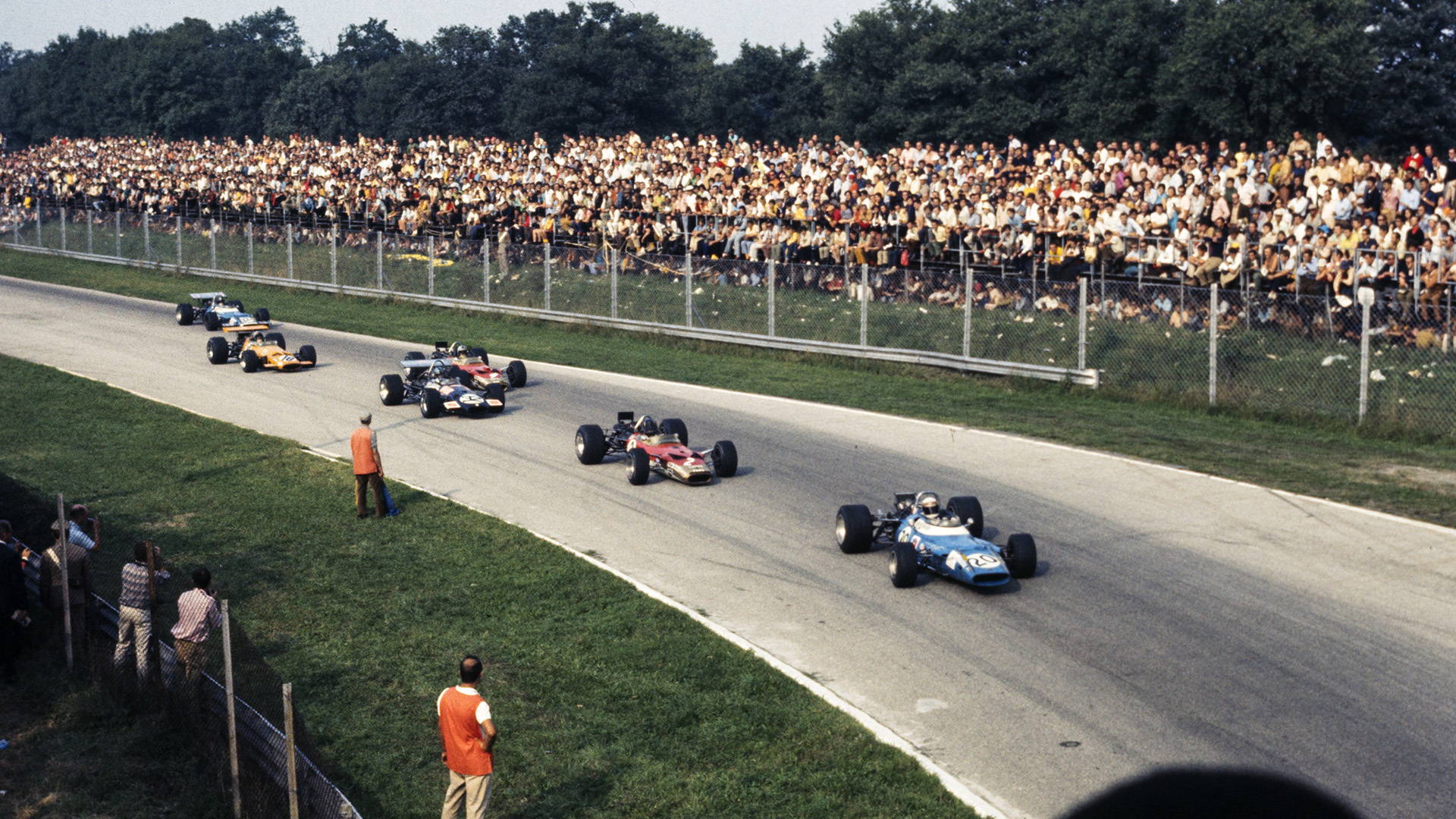 Jackie Stewart, Matra MS80 Ford, leads Graham Hill, Lotus 49B Ford, and Piers Courage, Brabham BT26A Ford. Image Courtesy Motorsport Images
---
An intrinsic part of Monza's global appeal is that it is Ferrari's de facto home circuit, scene of many conflicts between those red cars and foreigners, be they Auto Unions and Silver Arrows of the 1930's taking on Enzo Ferrari-run Alfa Romeos or the likes of Lotus, Brabham and McLaren tussling with the Commendatore's eponymous cars from the fifties through 2000s, with Mercedes more recently taking on the Scuderia.
Throughout the past century a constant has been the tifosi, those rabid Italian fans named after a particularly virulent strain of typhoid who cheer on their beloved red cars until hoarse in voice and struck by sunstroke. Regardless of whether the objects of their obsession are fighting for victory or straggling, tifosi worship simply knows no bounds.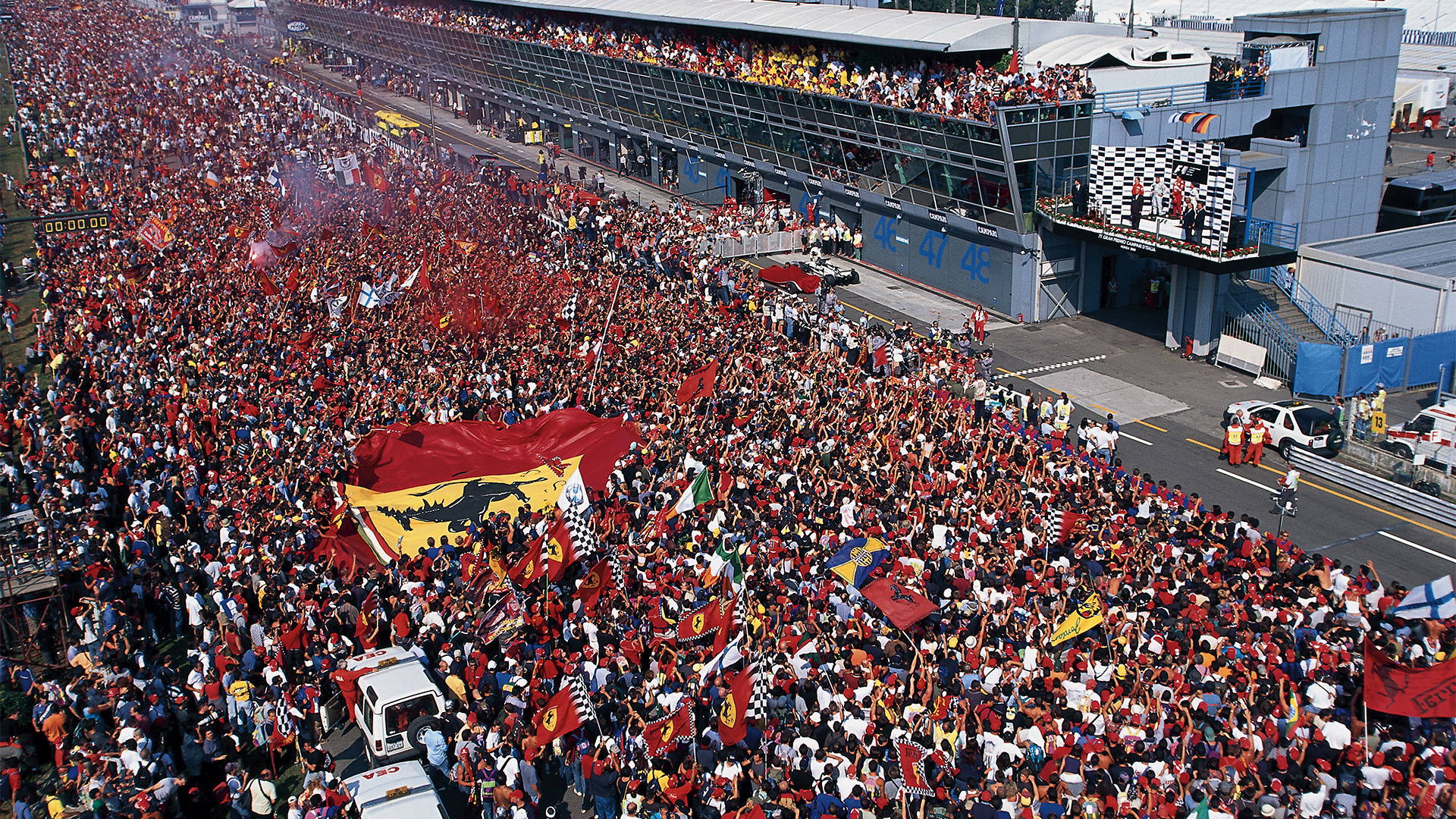 Ferrari fans invade the circuit after the race. Image Courtesy Motorsport Images
---
Monza has, of course, known soaring triumphs and some terrible tragedies during its 100 years, with numerous drivers paying the ultimate price for their pursuit of speed at this circuit. Notables include Count Louis Zborowski (of Chitty Chitty Bang Bang fame), pre-war Alfa Romeo hero Guiseppe Campari, Alberto Ascari, 1970 posthumous champion Jochen Rindt, F1 star Ronnie Petersen and MotoGP star Jarno Saarinen.
On the brighter side, Monza's rich history includes a catalogue of classic races and heroic victories, events that passed into sporting lore so memorable were the battles fought by the bravest of the brave as they conquered opponents through speed and skill on arguably the most unforgiving closed circuit of all.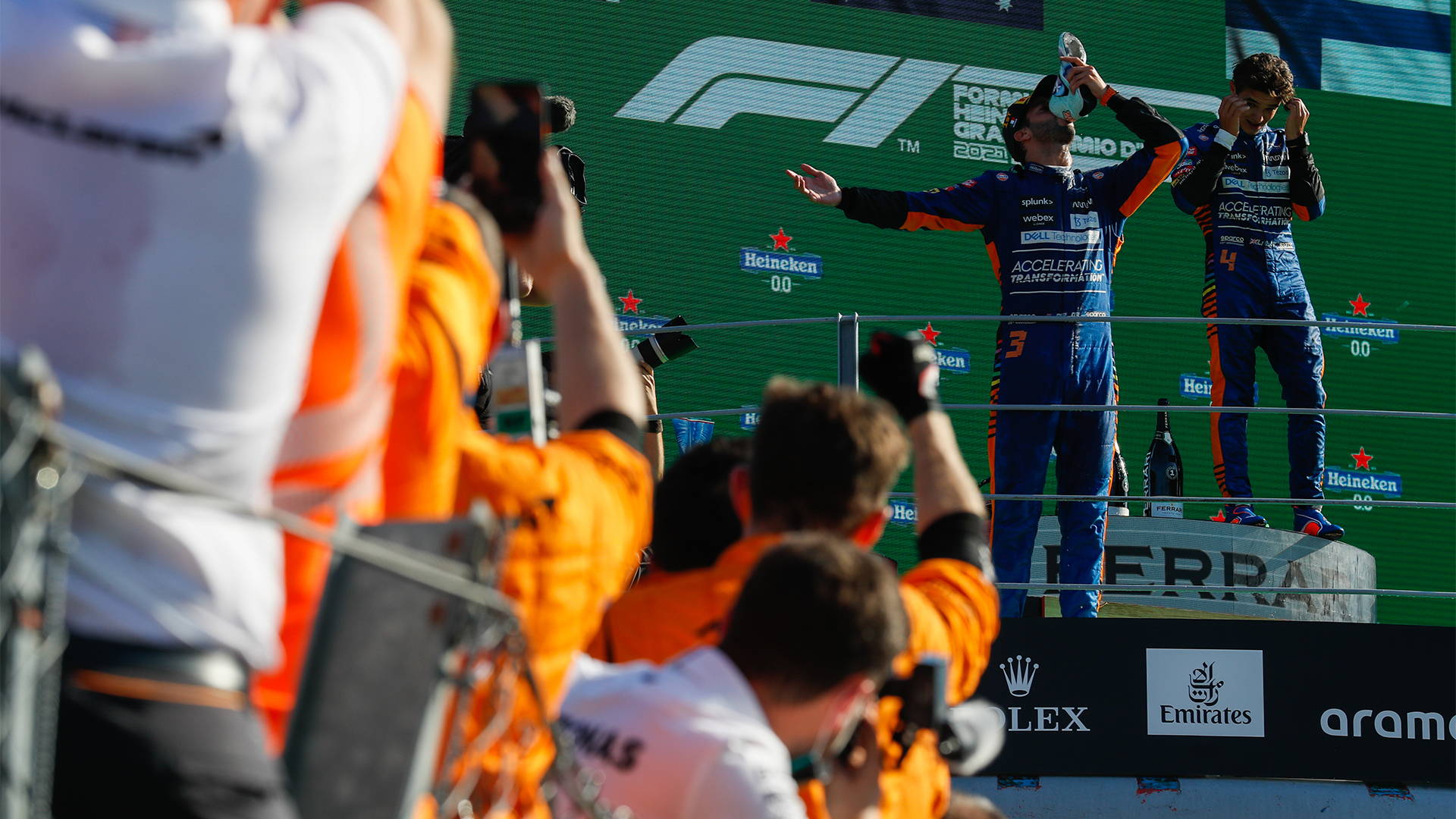 Daniel Ricciardo, McLaren, 1st position, performs a shoey on the podium. Image Courtesy Motorsport Images
---
Each passing race, whether at the highest level or a clubman's event, whether on two wheels or four, burnishes the legends and traditions of Monza. Here's to an even faster Monza for the next 100 years!