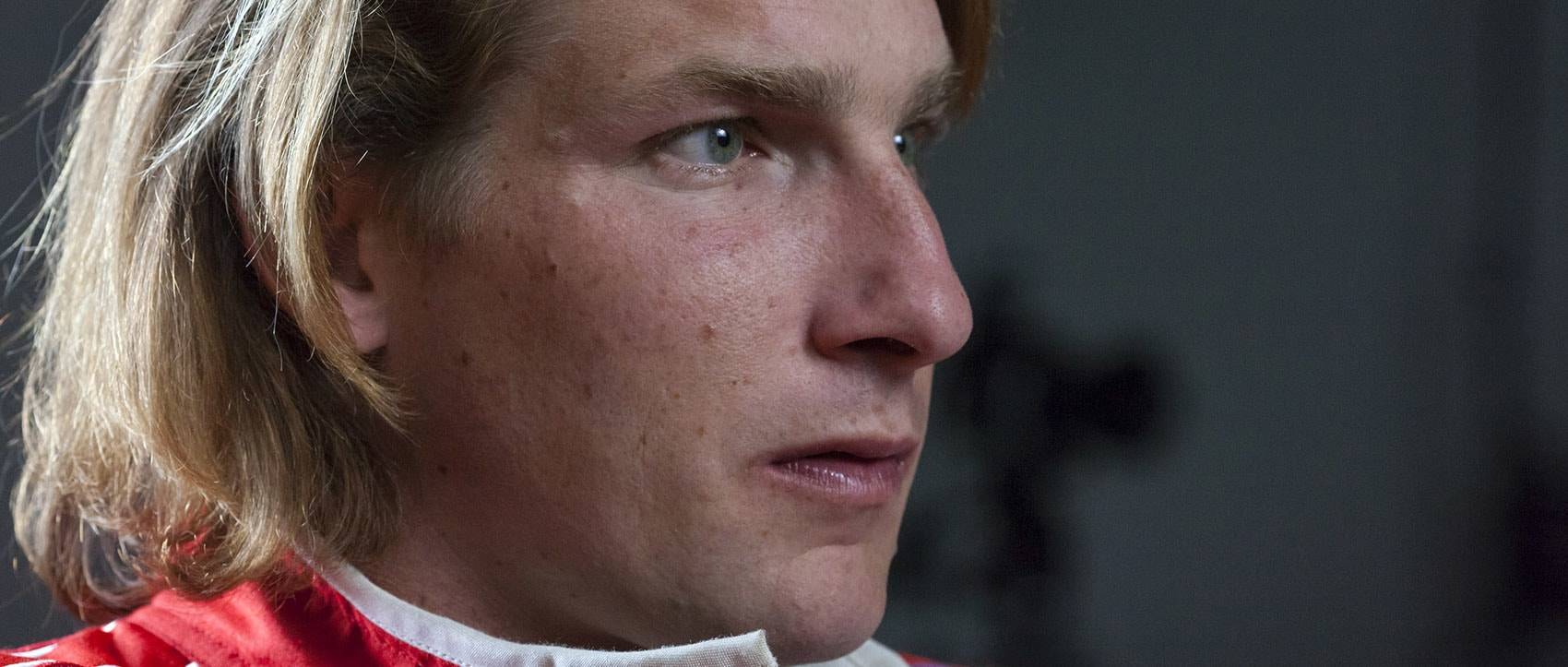 Myth-busting the 1976 F1 season with James Hunt's son Freddie
---
Myth-busting the 1976 F1 season with James Hunt's son Freddie
---
James Hunt's last-gasp victory at the 1976 Japanese Grand Prix was the culmination of one of the most dramatic and controversial seasons in Formula One history. Four decades later, rose-tinted memories and Hollywood histrionics have skewed the narrative – but few are in a better position to put it straight than James' son Freddie Hunt.
'My father finishing third in that final race of the season was remarkable to the untrained eye, but actually he made a complete pig's ear of that race and he was lucky to finish third,' says Freddie. His father's third-place finish famously allowed him to take the Drivers' Championship title by a single point ahead of Niki Lauda, who had been badly injured in a crash earlier in the season. 'Mario Andretti won that race on only one set of tyres, reason being that on the straights when the track is drying out you need to drive through the puddles to cool your tyres down and prolong the life of them. My father never did that, God knows why because I'm sure he knew about that technique.'
Radio communications between the team and their star driver had failed. 'The McLaren team was holding out the pit board saying "cool tyres", and he was getting angry at them for not telling him what to do, whether to come in or stay out. He burnt out his tyres – both fronts were completely flat and punctured, they couldn't even get the jacks under the car, they had to lift the car by hand. That's why it was such a long pit stop.' The delay had set the scene for some of the most intense Formula One laps ever witnessed.
'They put the tyres on and he went out, I think in fifth or sixth place, he didn't know what position he was in and no-one really knew what was going on and, in his words, he just had to pass as many cars as he could. Any car that came in front of him he just had to drive past it. Then when he finished, he didn't know what position he was in – all he wanted to do was strangle Teddy Mayer the team manager!'
The communications setback was far from the first challenge Hunt and the team had encountered that season. They were penalised at Brands Hatch for a restart technicality, sent to the back of the grid at Monza for supposedly illegal fuel, and disqualified again in Spain – although that was later overturned on appeal. Says Freddie, 'When the points from the Spanish Grand Prix were reinstated, I think that's when they realised that they had a chance in the championship and that gave them an extra spurt of energy. Before then I don't think he believed he had a chance of winning it – I'm sure he had confidence that he had a pretty good chance of winning it in his career but I think it was very much a surprise to him even up until the last minute when he won it.
'I just want to clear one thing up – the fuel regulations that put my father and his teammate to the back of the grid at Monza for the Italian Grand Prix, there was nothing wrong with the regulations and nothing wrong with the fuel. The problem was, from what I gathered from my father, was that the custom officials at border control took it upon themselves to declare the fuel illegal even though it wasn't. They were being patriotic Ferrari fans and they said the fuel was illegal, so they reported that to the officials, who put them to the back of the grid. After the race they admitted their mistake.'
The rivalry between Ferrari and McLaren was mirrored by their star drivers Hunt and Lauda on track, to the point where they were painted as bitter enemies. But Freddie says the opposite was true: 'Dad and Niki were good friends growing up through the ranks in racing – they went from Formula 3 to Formula 2 then into Formula 1, and they were always very competitive with each other. When dad got into the McLaren, a more competitive car, and he could really fight with Niki, they pushed each other a lot and I think they both drove harder and better than they would have done without that extra competition. Dad sent a telegram to Niki when he was in his hospital bed saying, "don't you dare die, I need you to come back and race me." It meant a lot to dad to have that rivalry.'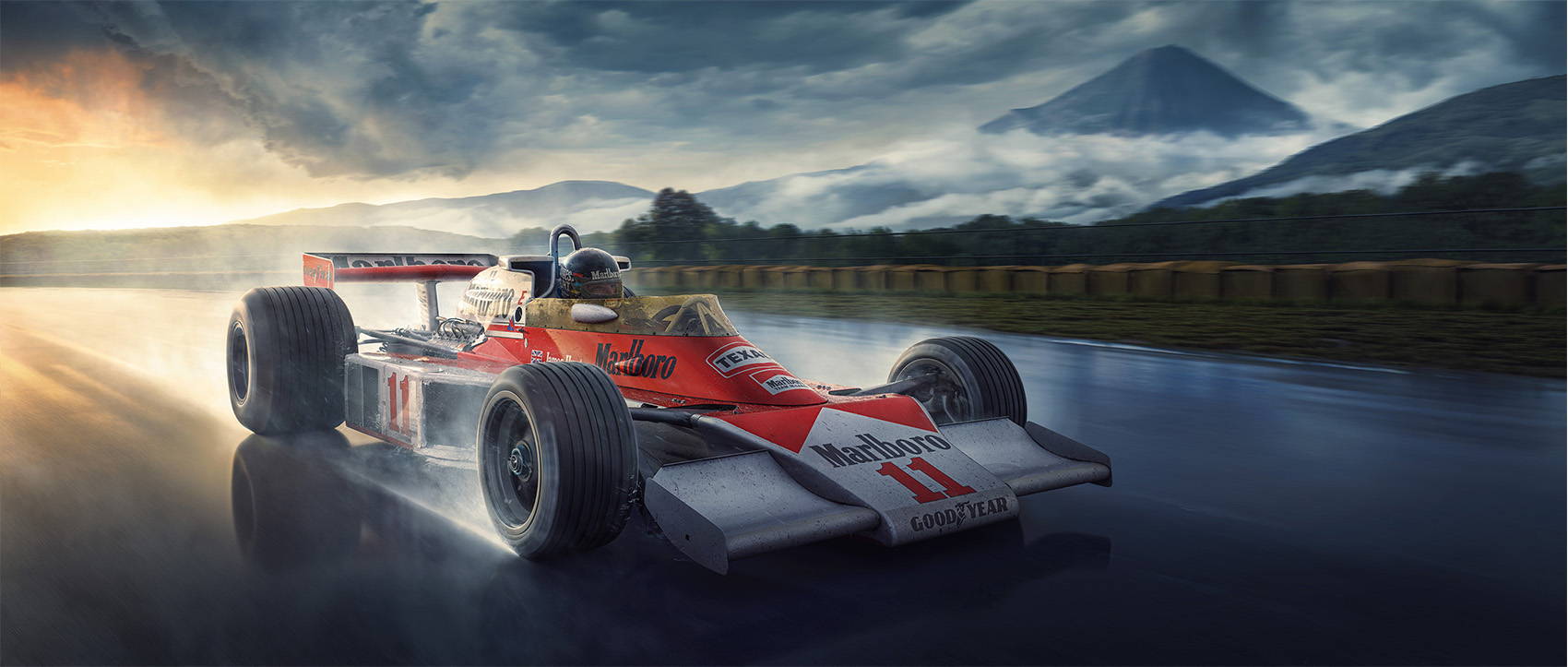 No matter the situation, James Hunt always had a matter-of-fact outlook. 'When he was 17 or 18 he came home after watching his first motor race and said to his parents, "sorry Mum and Dad, I'm not going to be a doctor I'm afraid, I'm going to be a racing driver – and I'm going to be World Champion. Later, when he was in contract talks with McLaren, they wanted him to wear a suit and a tie and he said "well you can take that out straight away because it's not happening." I think that's why people loved him so much, because he was a nonconformist. I'm so proud of him for what he did and how he did it. What made him great as a person was that he was determined to be himself and do it his own way.'
Indeed, the frenetic yet masterful way Hunt brought his McLaren home to take the title at Fuji has been immortalised from a new perspective as a Unique & Limited fine art print entitled 'Hunting for Victory', which captures his M23D in a torrent of drama and treacherous weather against the stunning backdrop of Mount Fuji. 'I think recreating historic events in this manner is great because it keeps the moment alive and refreshes it,' says Freddie. 'The old photos are low-res and faded, so this brings these events back to life.'
Interview - Freddie Hunt - James Hunt & McLaren
---
Interview - Ray Grant - James Hunt & McLaren
---