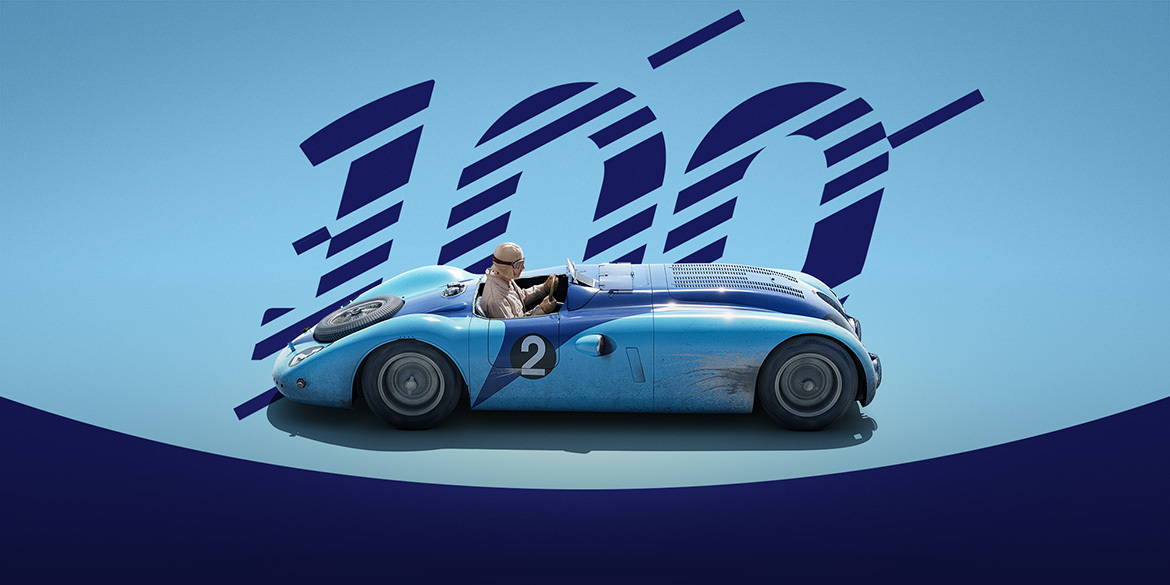 There Is No Stopping the "Tank"

---
Few early Le Mans marques fused more brilliant aerodynamic innovations with clear racecraft than the combined minds of Ettore Bugatti and his son, Jean. Ettore was also among the first to utilise racing as a platform to demonstrate the true greatness of his cars by showcasing them in front of encapsulated crowds of spectators.
Bugatti's Type 35 had won around 2,000 races by the early 1930s, making it the most successful racing car ever. Now, it was time for a new challenge.
They arrived at the 1936 Le Mans test with four Bugattis, among them a stunning hybrid of the T57S chassis, matched with the T50B engine reduced to 4 litres, covered with a "Tank" body. It was most likely the same as the T57S40 "Tank" which later raced at the 1937 Monthlery Grand Prix of the Automobile Club de France.
Unfortunately, the 1936 Le Mans event was cancelled in the wake of recent general strikes following French elections.
Stanisław Czaykowski / Ernest Friderich and their Bugatti T55 during a pitstop at the 1932 24h Le Mans. Image Courtesy: Motorsport Images
---
For 1937, the "factory" upgraded cars again. In order to ensure the lowest possible centre of gravity, it was decided to combine the standard type 57S chassis with the Bugatti 3.3-liter row eight cylinder and a wheelbase of 2.98 m.
The 57G "Tank" engine delivered approximately 200 hp and, thanks to the aerodynamically designed body, could quickly reach higher speeds than the competitors. Therefore, Bugatti's aero made the cars faster (especially on the straights), thus reducing fuel consumption and leading to faster pitstops.
For the 1937 Le Mans 24, Bugatti registered two entrees. The first car was driven by test drivers Pierre Veyron and Roger Labric, now in a T57G "Tank" with a T57S chassis and 3.3-litre engine. Jean-Pierre Wimille and Robert Benoist would command the second "Tank". Accompanying the two "Tanks" were a T57S of d'Edrez and Leoz and a T44 of Kippeurt and Poulain.
The Bugatti pilots started first and second in front of a Lagonda 4.5 litre, a supercharged Alfa Romeo 2.9 litre, and a Talbot 4 litre. Within a short while, Wimille took a commanding lead - and by the end of his final shift, at 18h30, he had already lapped every car. The Bugatti "Tank" ultimately won the race with an average speed of 136.99 km/h (84 mph) and a total distance of 3,287.938 km (2,043 miles).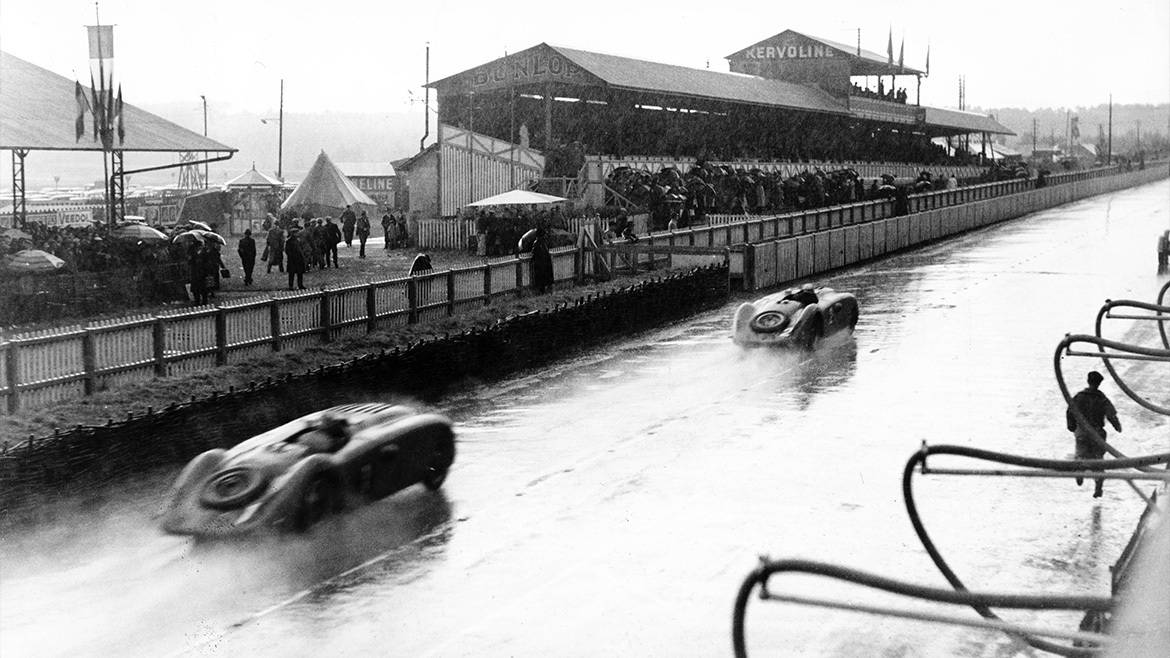 Jean-Pierre Wimille / Robert Benoist leads Roger Labric / Pierre Veyron (both Bugatti T57G) past the grandstands during the 1937 24h Le Mans. Image Courtesy: Motorsport Images
---
Following the 1937 victory, Ettore Bugatti declared that he wouldn't return until another marque bettered his record for that year. In 1938 a Delage took the victory at a lower average. Jean had to convince his father, with Bugatti stating they would participate only under the following condition: The company would only enter one car:
As Ettore Bugatti said, "As there is never more than one winner, one car only must be enough."
One car only, against all the others. They included six Talbot's, three of them of 4.5 litres, plus 8 Delahaye (six 135MS), two Delage 3 litres, an Alfa 2500SS coupe, and two Super Lagonda V12 4.5 litres, designed by a confident W.O. Bentley.
Bugatti entered a lone Type 57C for Wimille and Veyron. It was different from the 1937 model, although similar in appearance - this time, it was supercharged on a standard touring frame.
The body, weighing less than 60 kg, was lightened and, together with the piano-wire wheels of the T59, a stunning combination. The hydraulic brakes were amply ventilated, with generous air extractors behind the bonnet, at the sides of the body.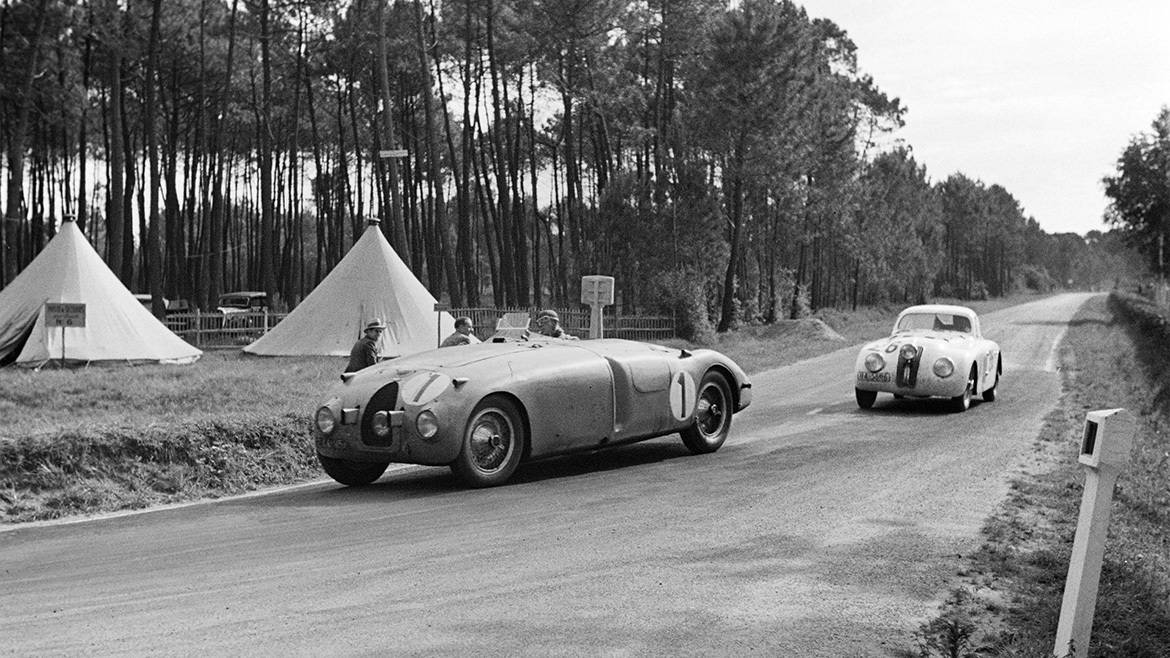 Jean-Pierre Wimille / Pierre Veyron in Bugatti T57C leads the 1939 24h Le Mans. Image Courtesy: Motorsport Images
---
During the second practice session, the engine failed. While Wimille, Veyron and Jean Bugatti discussed withdrawing, chief mechanic Robert Aumaître called Molsheim.
The factory sent eight new pistons to Paris, where Robert was waiting in his T57. New pistons in hand, he streaked to Le Mans. There, a local metal worker prepared the block for the new internals. By Saturday, the new pistons were mounted and ready for the race.
At the start, Louis Gerard's Delage seized the lead. Wimille and Veyron, their engine now overheating, followed. Then, a wheel broke, dropping Wimille back to sixth! By Sunday morning, Gerard was five laps ahead of the Bugatti, but his Delage was now falling back with at least two broken valve springs.
At 13h00, the "Tank" was two laps ahead and on to victory! Afterwards, Jean Bugatti claimed that the bonnet was never opened during the race, while the "Tank" had set a top speed of over 255 km/h.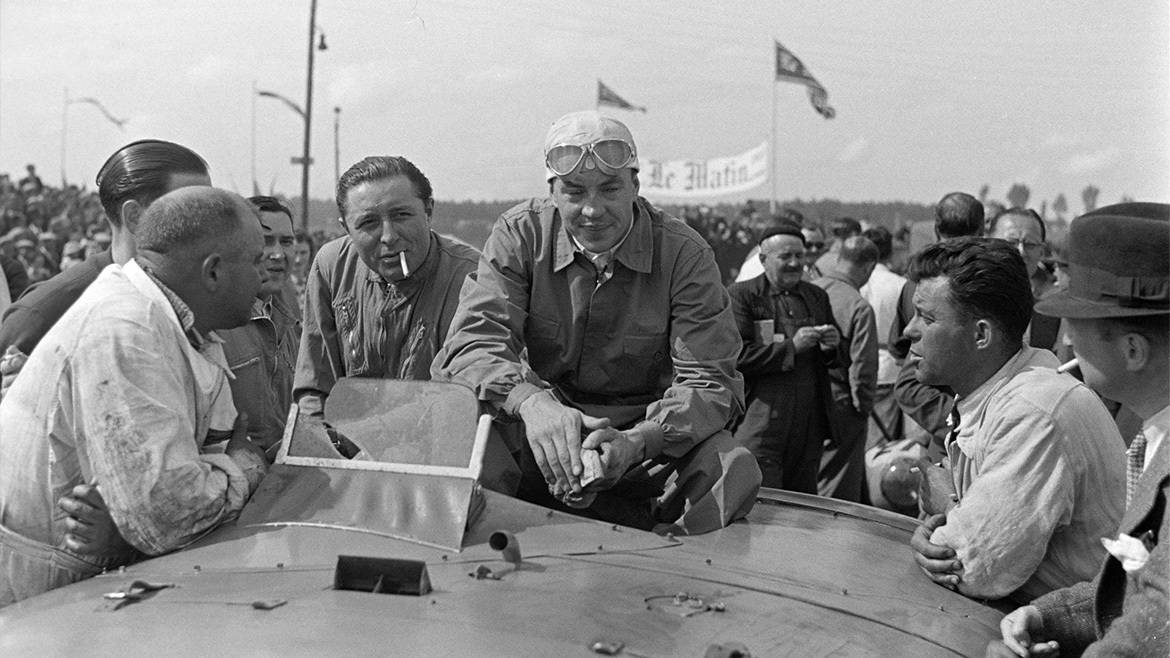 Pierre Veyron and Jean-Pierre Wimille on top of their Bugatti T57C at the 1939 24h Le Mans. Image Courtesy: Motorsport Images
---
Only a few weeks after Wimille and Veyron's spectacular victory, on the evening of August 11, 1939, Jean Bugatti died after a testing accident in the same car. Within weeks, the terrors of war put Europe in darkness; a heartbroken Ettore Bugatti was never to return to glory.
Bugatti's engineering prowess and passion for speed shone through in the performance of his creations, as Bugatti's success unsettled what many customers believed to be better creations.
History would later witness Bugatti's enduring philosophy adopted by his rivals, as they emulated Ettore's racing success as a sales catalyst for their brands.
Click the button below to read more stories from the 100 years of 24h Le Mans and discover our celebratory poster collection in cooperation with the Automobile Club de l'Ouest.