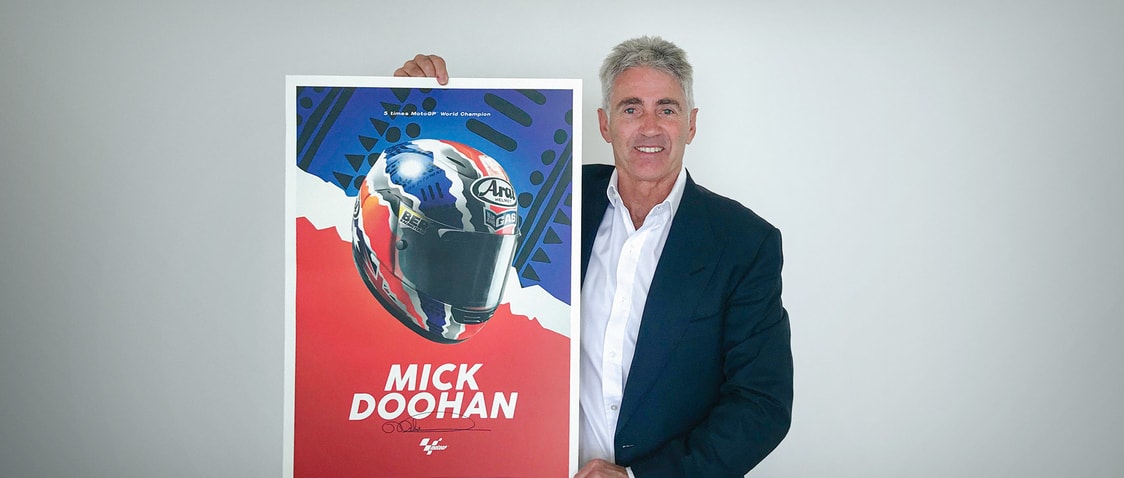 Automobilist's official licensed design poster, the first MotoGP expansion to the signature Helmet Collection, commemorates the legacy of Mick Doohan, 5 times 500cc World Champion.
Mick Doohan made his Grand Prix debut for Honda on an NSR500 two-stroke motorcycle in 1989, and won his first race in 1990. His true dominance began in 1994 when he won his first World Championship by more than 140+ points.
Throughout his whole career, spent solely with Honda and totaling 95 podiums, 58 poles, 54 wins and 5 consecutive Championship titles (94, 95, 96, 97, and 98), Doohan's iconic Arai striped helmet kept him secure on the circuits. Designed by Aldo Drudi, the patterns pay homage to Doohan's motherland of Australia.
SPECIAL OFFER from 12/08/2019: First 50 Mick Doohan poster orders will receive a poster HAND SIGNED BY MICK HIMSELF. Only 50 in stock, buy while supplies last! 10 pieces remaining as of 01/10/2019.