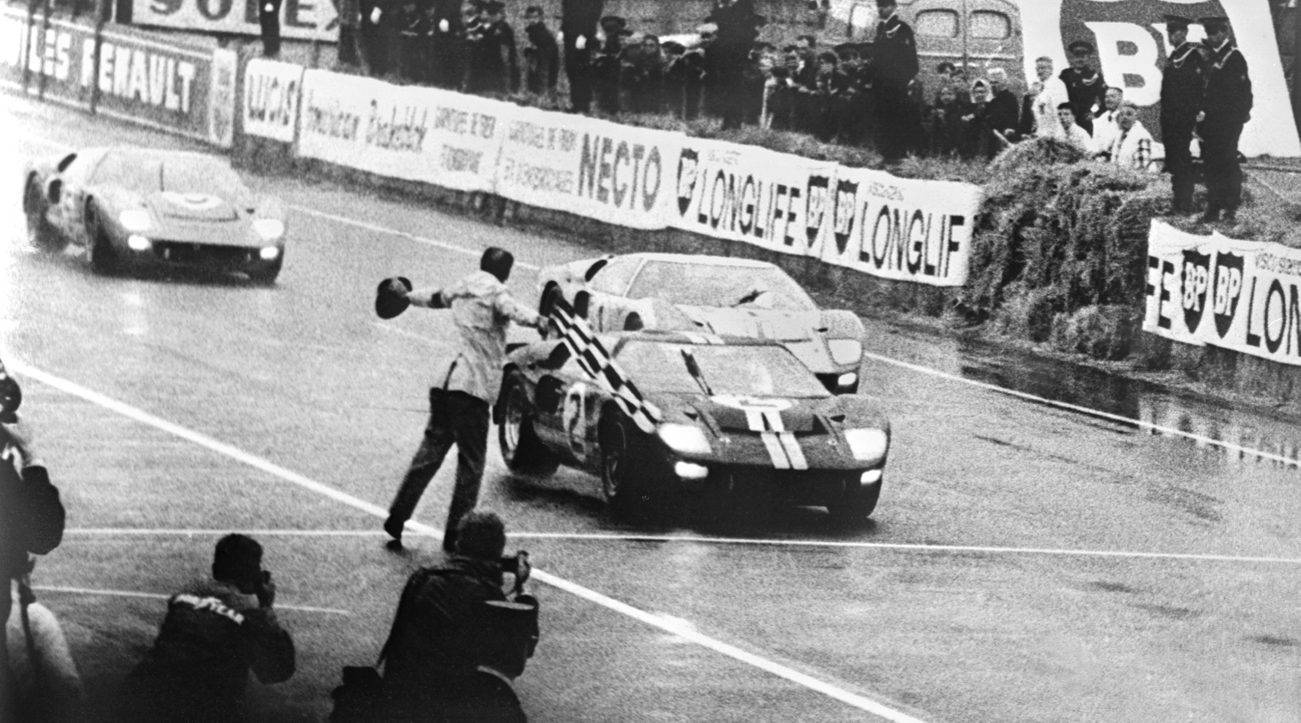 Ford v Ferrari: Reliving Le Mans 1966
---
Ford v Ferrari: Reliving Le Mans 1966
---
It is one of the most riveting stories in motorsport's history – "The 24-Hour War" of Le Mans 1966. After three years of testing and development, on June 19, 1966, Ford Motor Company became the first American car manufacturer to triumph at the world's most famous 24-hour endurance race, beating Ferrari in its own backyard.
That epic tale has now come to the silver screen in "Ford v Ferrari," starring Matt Damon as the visionary American car designer Carroll Shelby, and Christian Bale as the fearless British-born driver Ken Miles. To help relive this remarkable racing drama, we're reissuing four collector's edition prints depicting the infamous Ford GT40, as well as a stunning digital recreation of the Le Mans' "photo finish."
At Automobilist, we've been looking forward to the film premiere for months. Now that it's finally here, join us in commemorating Ford's historic victory, and its ultimate revenge.
In 1963, Henry Ford II and Enzo Ferrari were in talks to combine manufacturing forces. Ford, needing to compete with both Chevrolet and General Motors, sought to purchase Ferrari to expand his sports car line and to stay competitive. But as negotiations were coming to a close, Ferrari abruptly ended talks. Ford, furious at being humiliated in the boardroom, announced his intention to beat the Italian at his own game, investing a reported $10 million to develop a car that could win at Le Mans. He assembled a team that would build the Ford GT40, modelled on the British Lola Mk6. It had one mission: to beat Ferrari.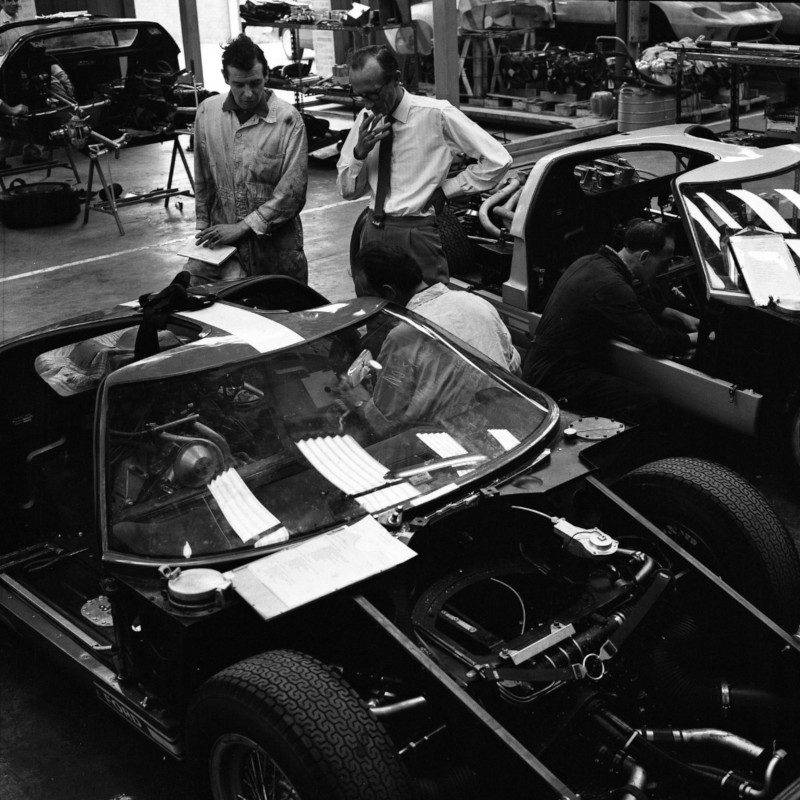 After disappointment at Le Mans in 1964 and again in 1965, Ford accomplished his goal in 1966. The Mark II version of the GT40 dominated the endurance race that year, occupying six of the race's top-10 starting positions, and finishing first, second, and third – 16 laps ahead of the closest competitor. Ford also dominated in terms of entrants: eight GT40 Mk II's were driven by Ford teams. Ferrari, which had won the five previous endurance races, entered just two cars; neither of them finished. Most remarkably, the GT40 went on to win Le Mans – beating Ferrari and the rest of the field – three more years in a row.
Despite a commanding victory for Ford, the 1966 outcome was not without controversy. Miles, driving the blue #1 with Denis Hulme, was leading the race when he received an order to slow down and let the other two GT40s catch up for a staged photo finish. After the cameras flashed, Miles and Hulme were announced winners. But, as they prepared to approach the podium, race officials corrected their statement. The black #2, driven by Bruce McLaren and Chris Amon, had actually covered the most distance during the 24 hours and were declared the winners. The slowdown cost Miles the win and, having won endurances races at both Daytona and Sebring that year, the elusive endurance triple crown. No driver has ever won the Triple Crown in the same season. Rumor has it, it was the Italian rivals who pointed out the mistake to officials.
Still, the failed "photo finish" was perhaps the only tarnish in the American's commanding victory over their Italian foes. Three years after declaring war, Ford's triumph over Ferrari was complete.
To commemorate Ford's 24-hours of dominance at Le Mans in 1966, we created a series of limited-edition prints, including one depicting the black Shelby American GT40 that was driven by McLaren and Amon, and another portraying the blue GT40 driven by Miles and Hulme. We're also proud to present the visually stunning "Fords and the Furious" artwork, an awe-inspiring piece recreating the staged "photo finish" ordered by the Ford team.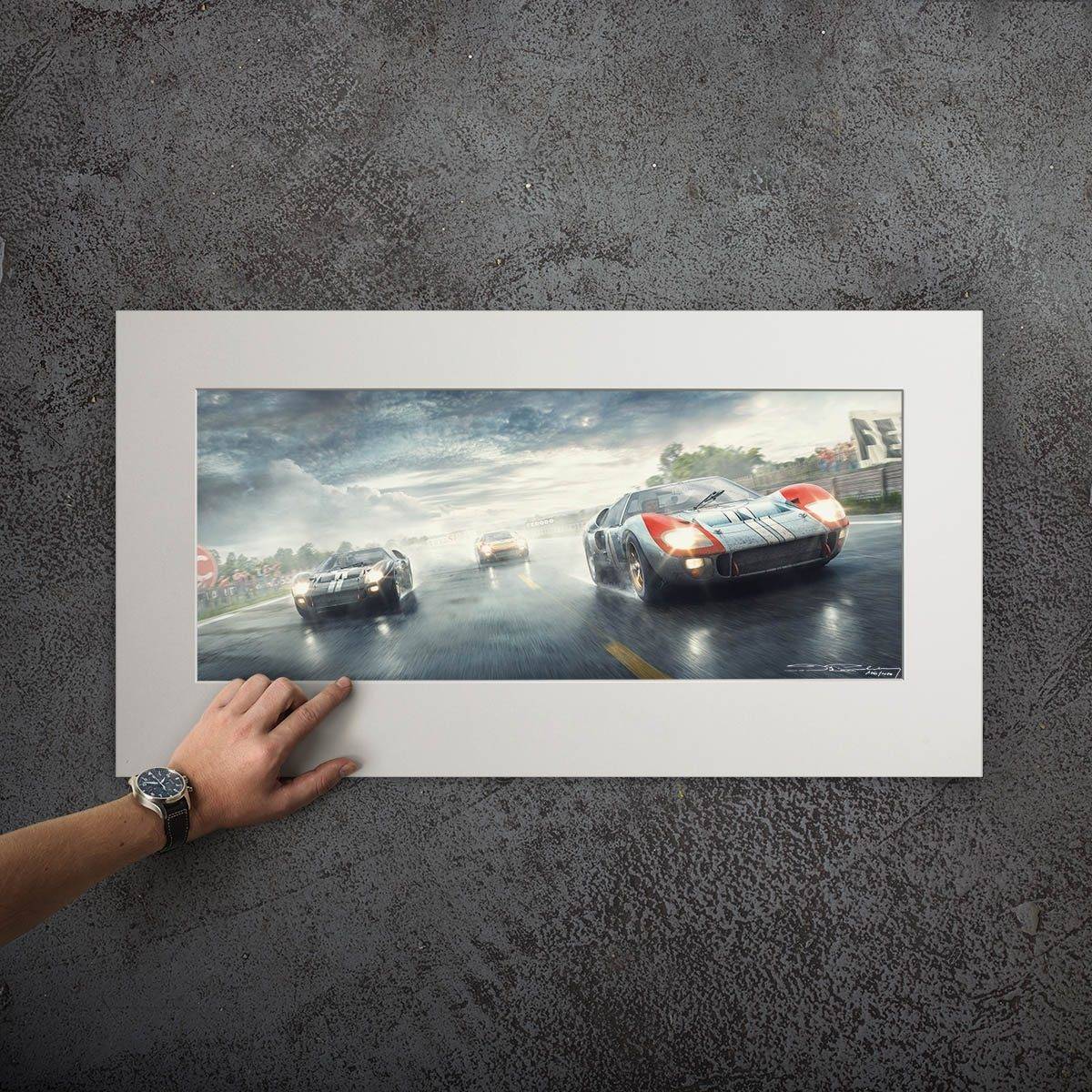 Each one of these prints began in the archives, with our researchers poring over photographs, videos, and technical documentation to build the GT40s in 3D. After a concept conversation to choose angles, we then developed digital "molds" of the cars with design software (including Autodesk 3ds Max), producing models akin to computerized clay. With these as our starting blocks, we then began to texture the race cars – placing graphics, stickers, color patterns, and oil smudges on the chassis. This was followed by lighting (shadows and reflections) as well as background features, which were then rendered into a final product.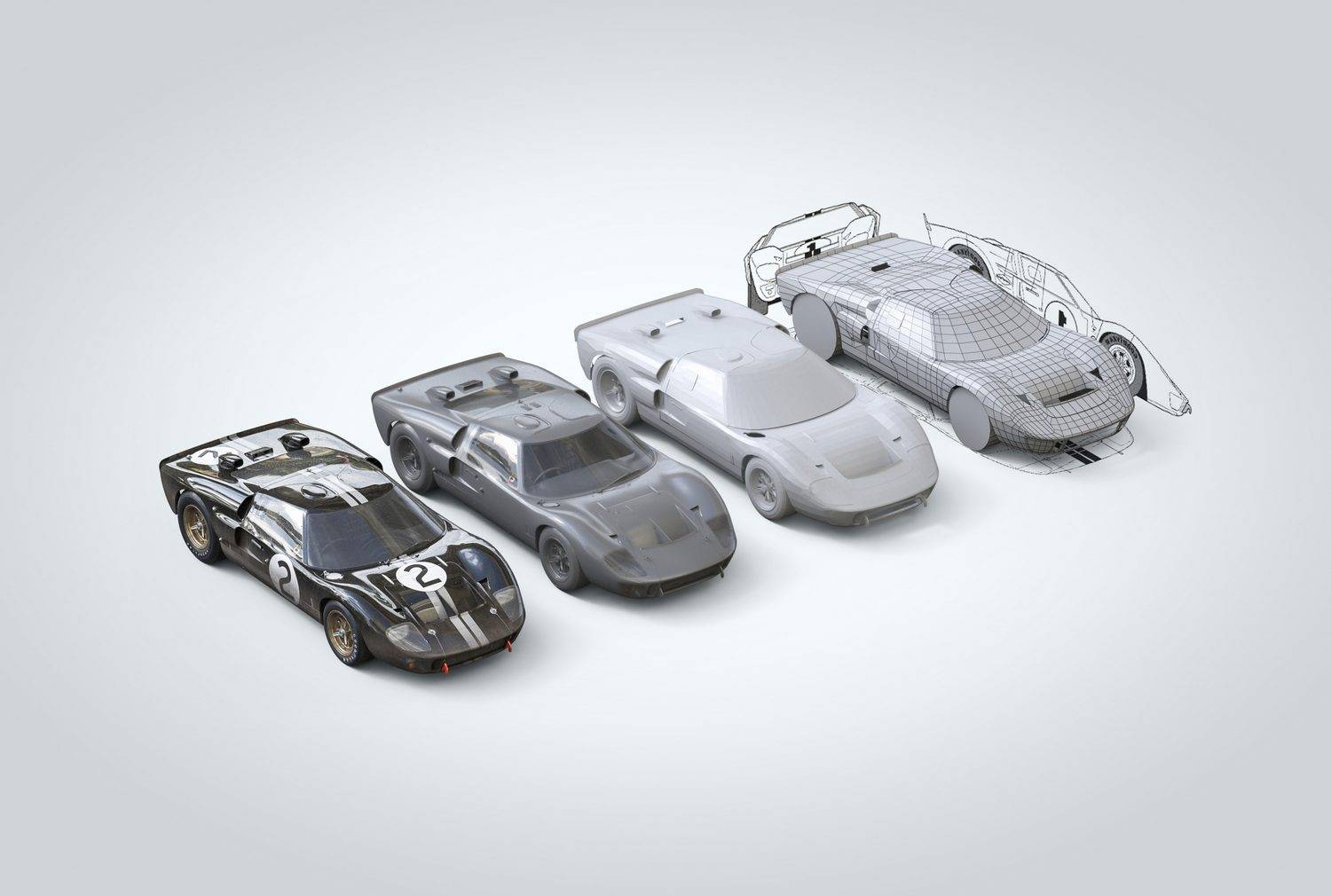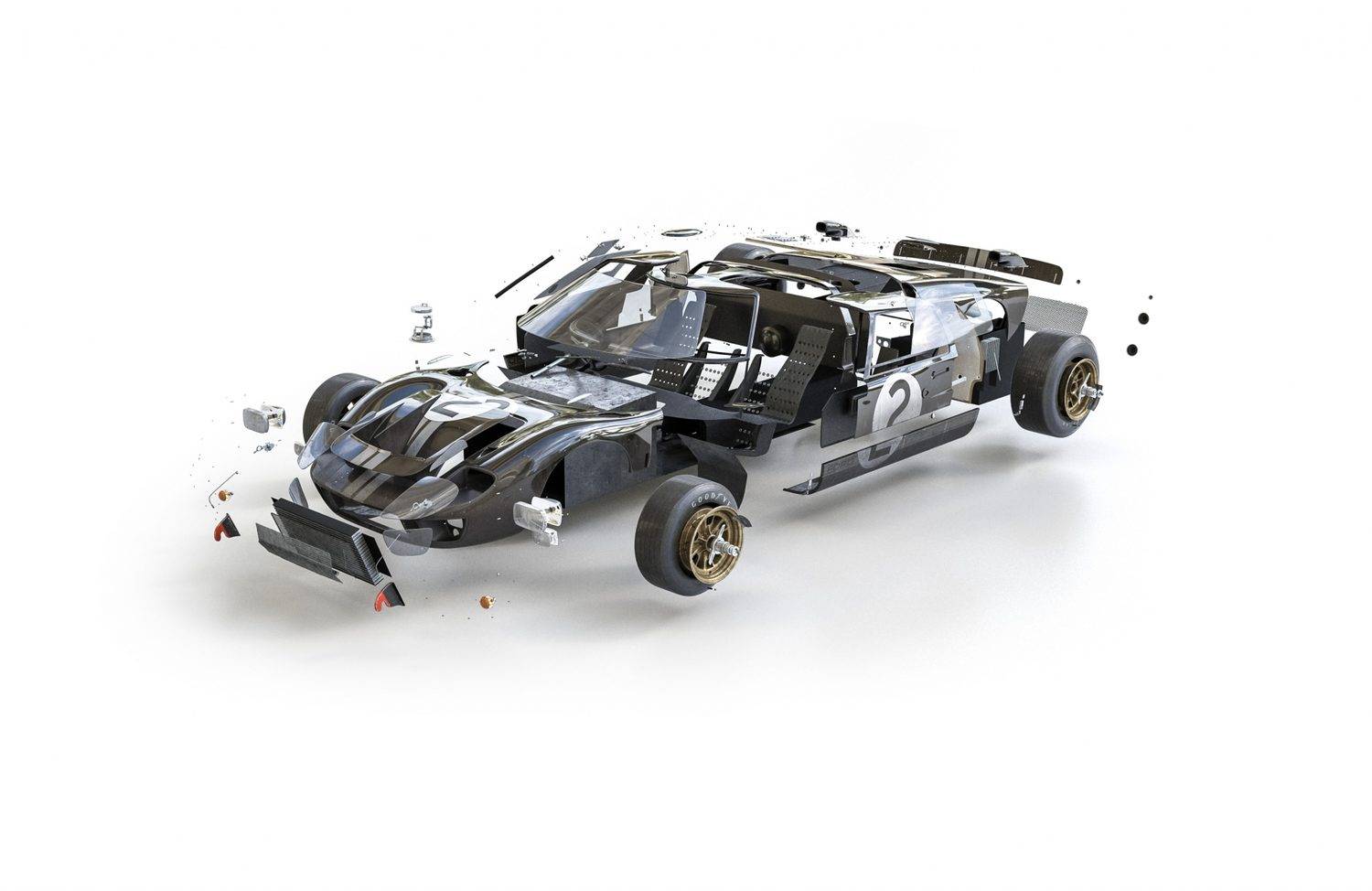 Additional elements were brought in to create the Fords and the Furious artwork. For instance, to achieve the perfect road glare following a weekend of rain at Len Mans, we did a photoshoot in a water-soaked parking lot and hired actors to pose as fans and drivers. These photos were then used to help us design a print that captured the race's final, confused moments with historical precision.
All told, the prints in this series took more than 1,000 hours to produce. They are created using high quality off-set printing, premium paper, and vibrant color reproduction to stand the test of time – just like the moments they capture.