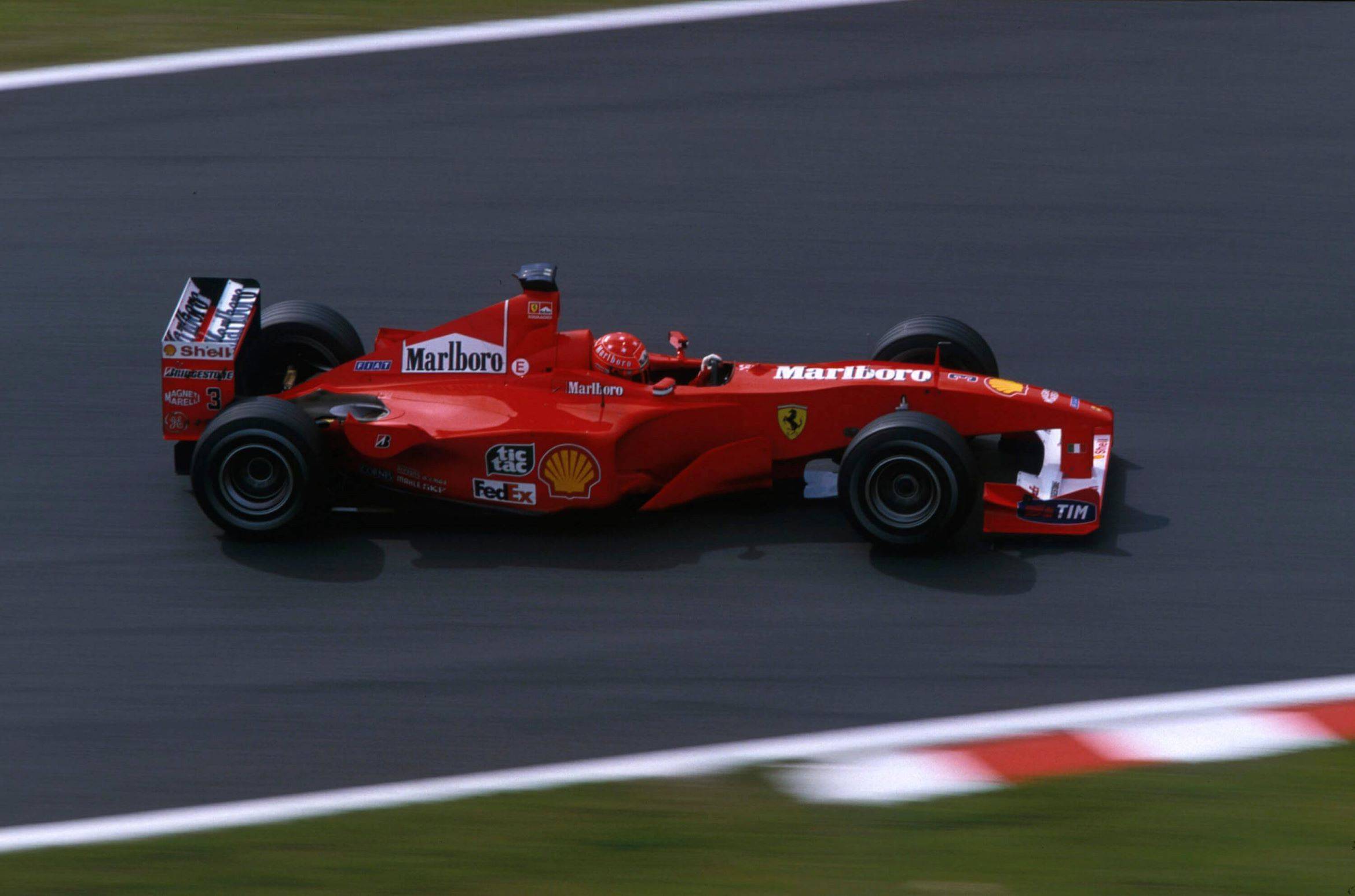 Schumacher's Success at Suzuka:
Crossing the Line, Raising the Bar
---
Schumacher's Success at Suzuka: Crossing the Line, Raising the Bar
---
It has been 21 years since Michael Schumacher ended a 21-year wait for a title for Ferrari. Having joined Ferrari in 1996 Schumacher set about becoming the team's first World Champion since Jody Scheckter in 1979.
But uncompetitive machinery in 1996, last-round disasters in 1997 and 1998, followed by a leg-breaking setback in 1999, all meant Schumacher endured four years without success.
It had been a long road for the sports' most famous marque and the first step was taken in mid-1993, when Jean Todt first appeared on the Ferrari pit wall at the French Grand Prix in Magny Cours. Ferrari President Luca di Montezemolo, who had once led the F1 team himself in his younger days, knew that drastic measures were required to stop the Prancing Horse wallowing around in the middle of the pack. And could there be anything more drastic than appointing a non-Italian to be team principal for the very first time in the team's history? Todt, whose motor sport career had begun as a rally co-driver, moved from Peugeot, which he took to four World Rally Championship titles, four wins on the Paris-Dakar and two victories at the Le Mans 24 Hours. Eventually, before the Frenchman moved on to his current role as President of the FIA, under his stewardship, Ferrari would win 14 Formula 1 World Championships and Michael Schumacher would secure five of his titles from 2000 to 2004.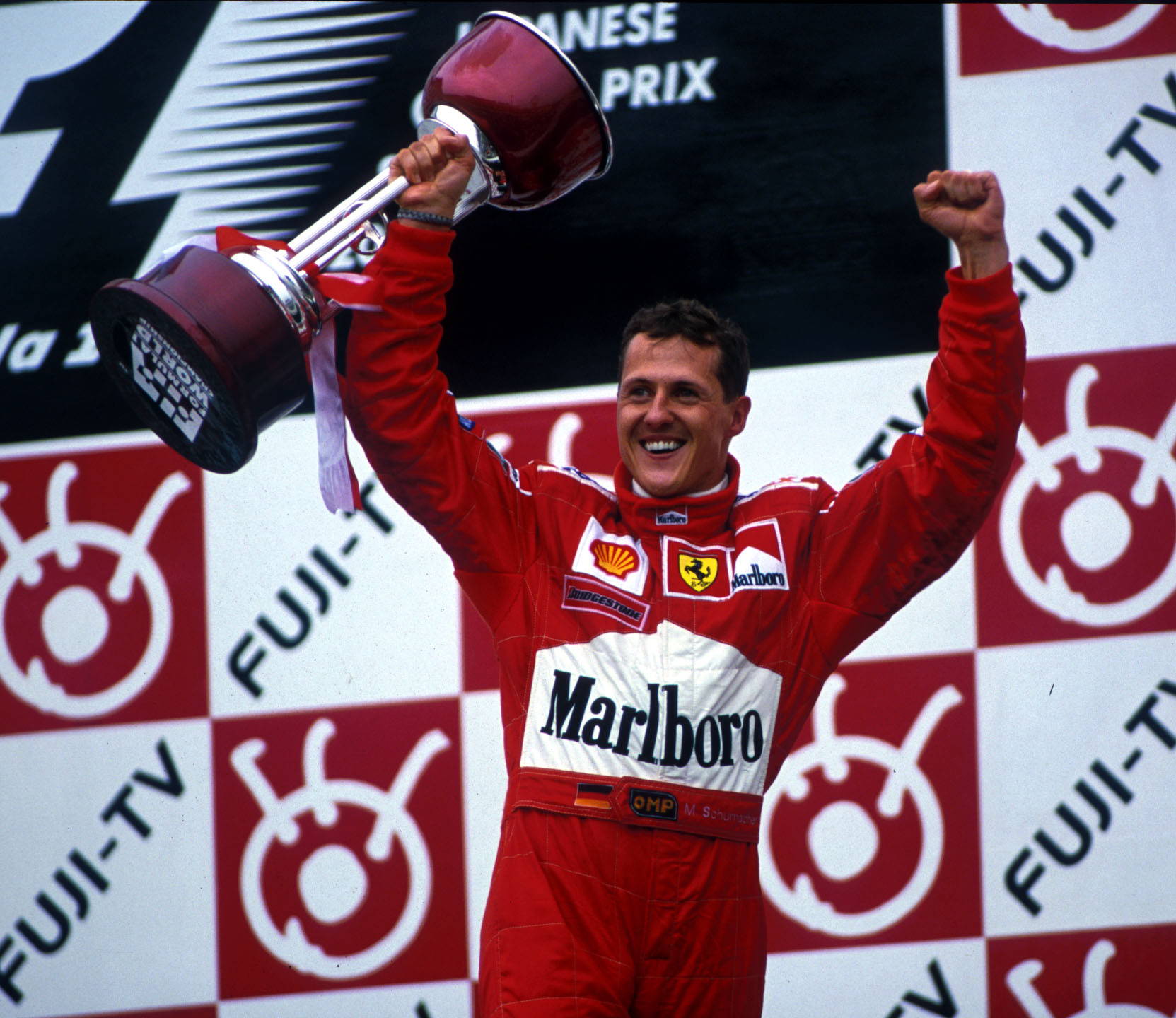 Michael Schumacher on the podium, celebrating the race win and Championship title. Image courtesy hoch-zwei
---
When Schumacher moved from Benetton to join Ferrari in 1996, results were immediate, with three wins that year, but real progress began the following season, after Ross Brawn and Rory Byrne the technical architects of Schumacher's championship wins with Benetton also moved to Maranello. Todt, Schumacher, Brawn and Byrne: it was the dream team, like McLaren in the late Eighties or Mercedes today. In 1999, Ferrari won the Constructors' crown and would have taken the Drivers' too if Schumacher had not broken his leg on the opening lap of the British Grand Prix.
The 2000 season proved to be yet another battle between Schumacher and the man he respected most throughout his career, McLaren's Mika Hakkinen. The German dominated the early part of the year before the Finn got the upper hand mid-season. But by the penultimate round in Japan, one of the most demanding tracks on the calendar, the advantage had swung back to Schumacher, who led his rival by eight points. The two men were soon in a league of their own, a few seconds ahead of the pack.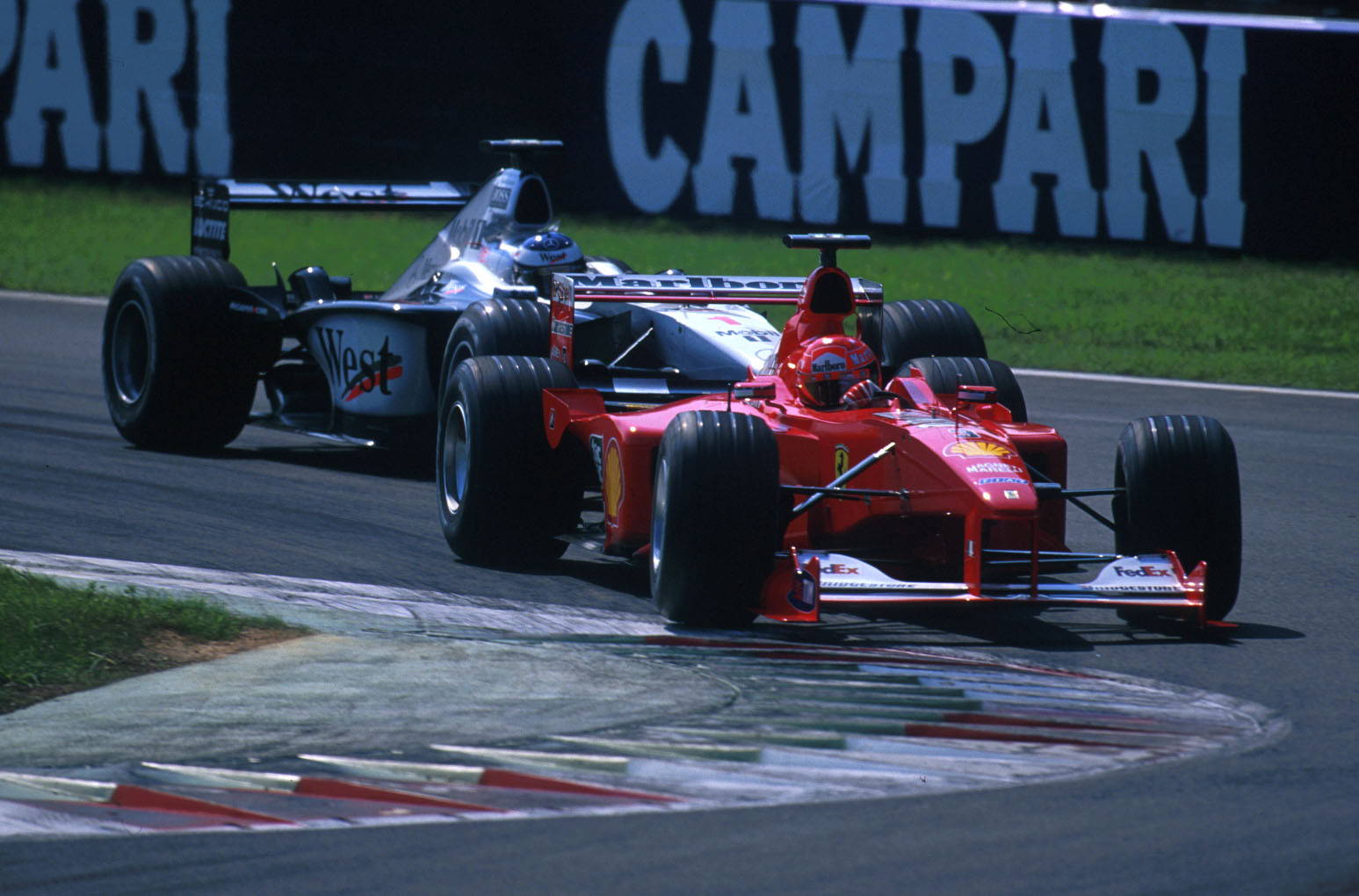 A titanic tussle with fellow double World Champion Mika Hakkinen as the pair traded blows through an enthralling campaign in 2000. Image courtesy hoch-zwei
---
After the first pit stops, the track got greasy as light rain began to fall and this was when Schumacher got the upper hand, to emerge in the lead after he and Hakkinen made their second and final tyre stops. "All my life, I will never forget that radio signal from Ross [Brawn]," recalled the German in conversation with "Autosport" magazine. "I was driving down the pitlane after my second stop, and he said over the radio: 'It's looking good, it's looking good.' I was very tense, and fully expecting him to say: 'It was looking good,' but suddenly he said: 'It's looking bloody good!' I realised immediately that I had emerged from the pitlane in the lead, that if I made no mistakes and there were no problems with the car, then it was in our grasp, because overtaking is almost impossible at Suzuka.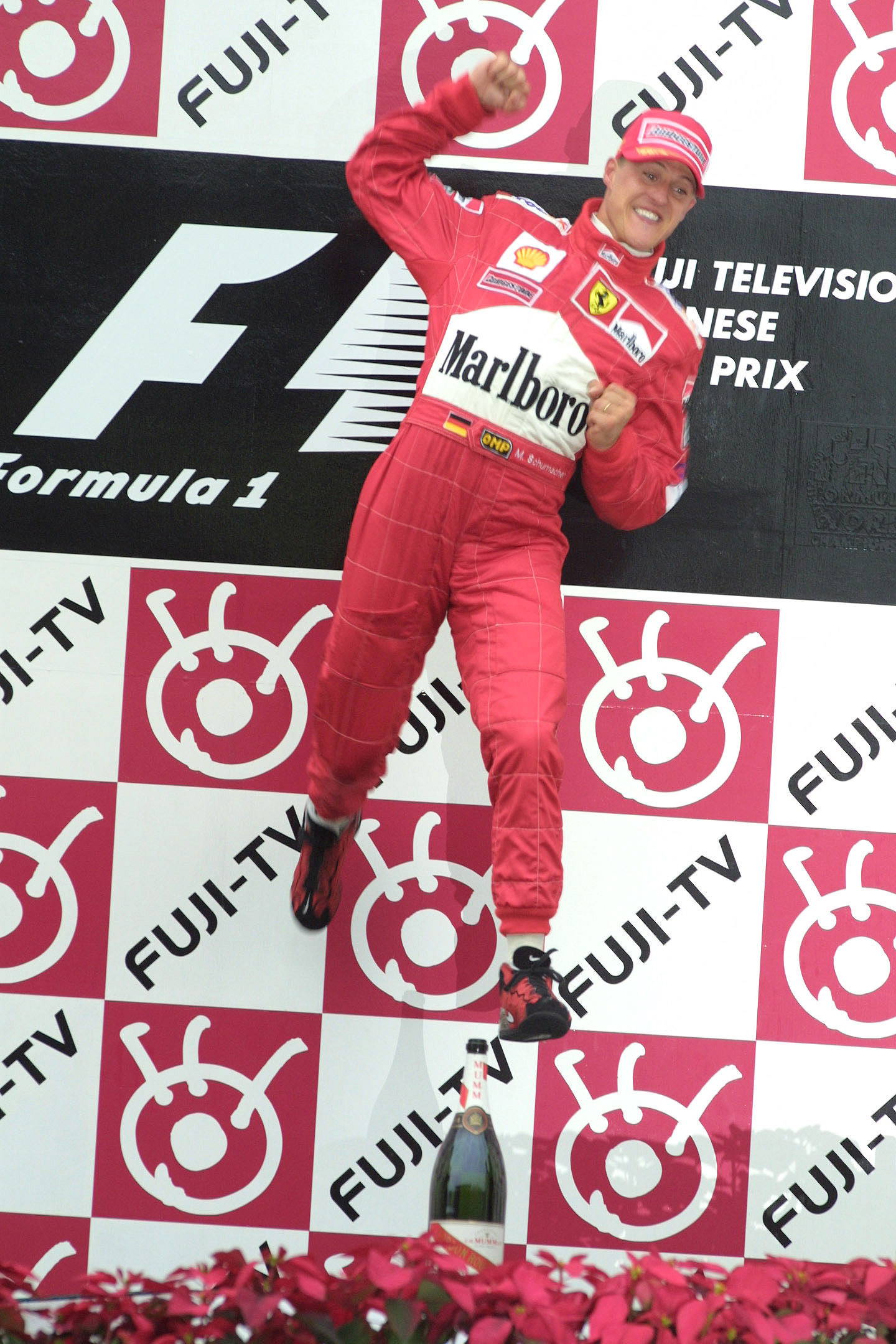 "And then the moment when I crossed the line - crazy!
Up to then I hadn't dared feel any joy, because I wanted to be absolutely sure and get that finishing line behind me.
Later I was repeatedly asked what my predominant feelings were at that moment, and on no single occasion was I able to find the right words.
I didn't know what to do with this happiness. I suddenly felt trapped in the car, trapped in my Ferrari, as if I was about to burst. "
Michael Schumacher,
talking about the winning moment in Suzuka, year 2000
There was one more round to go in Malaysia, but Schumacher's points total was now out of Hakkinen's reach. The party that followed in the paddock and later on in Suzuka's infamous Log Cabin bar, was the stuff of legend. As was Michael Schumacher's career. He would go on to win the next four world titles to make him the most successful Formula 1 driver of all time.
MAKING OF THE FINE ART PRINT

Automobilist has created a series of unique fine art prints and posters for Scuderia Ferrari and the Keep Fighting Foundation, and this special Fine Artwork was created to mark Michael Schumacher's 50th Birthday in 2019. State-of-the-art techniques of composing 3D models and digital photography were part of a process that took several months and over 400- man-hours of work, and included 3D-scanning Michael Schumacher's F1-2000 F1 car and helmet at Michael Schumacher's Private Collection in Motorworld, Cologne.
Breakdown: Ferrari F1-2000 Michael Schumacher - Crossing the line, Raising the bar Artwork
---
THE CHARITABLE SPIRIT LIVES ON

No matter what the circumstances are and remain, the spirit of Michael Schumacher and his unique devotion to charity lives on via the Keep Fighting Foundation, which graciously gave its permission and support in the creation of this stunning artwork. Whilst a one-off large Fine Art Print was auctioned to further assist the cause and work of the charity, a percentage of proceeds from every sale of this Fine Art piece are also handed over by Automobilist to the Keep Fighting Foundation for the values and the superhero it stands for.
Images courtesy Motorsport Images / Hoch Zwei / Automobilist