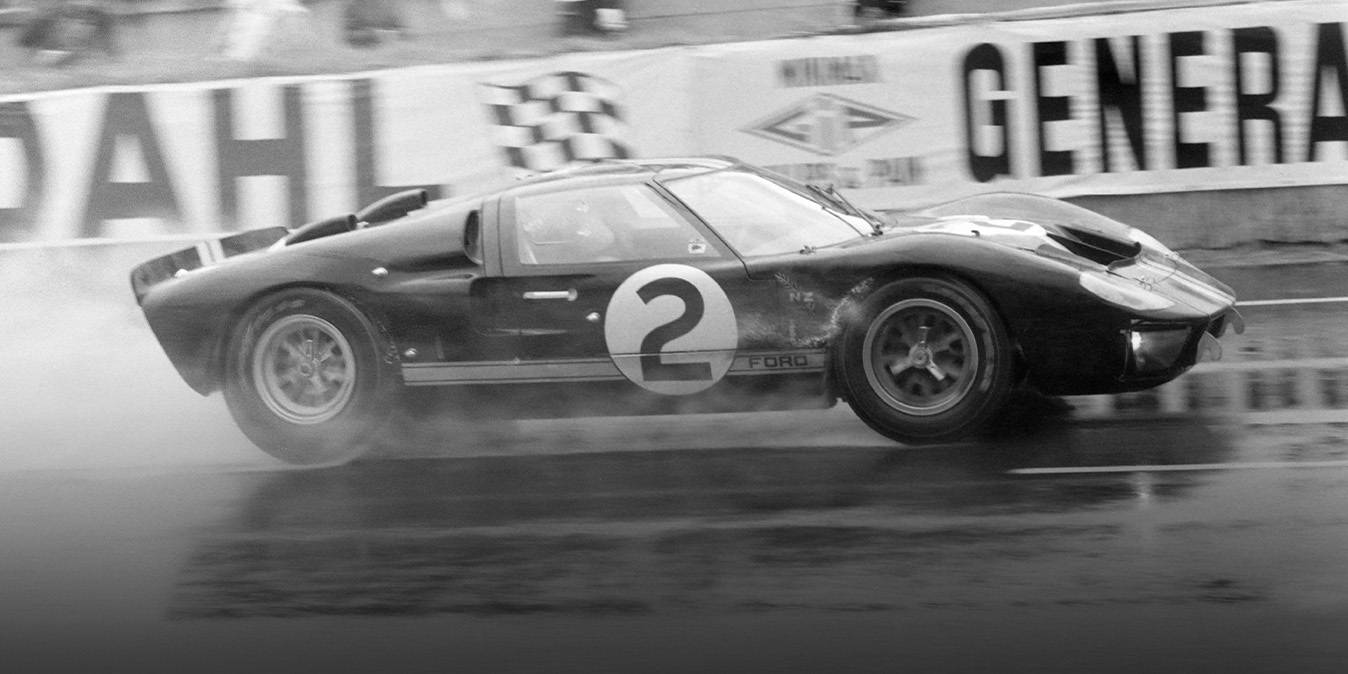 The Ford GT40 was born out of motorsport's most infamous vendetta. After months of painstaking negotiation, Ford was on the verge of purchasing Ferrari. The US automotive behemoth wanted to go endurance racing and recognized Enzo Ferrari held Le Mans magic.
By May 1963, Ford was ready, offering Ferrari significant investment in exchange for proven ultra-competitive racing technology. But when Ford's legal team clarified that Enzo would also lose his cherished independence, he put the Americans back on the plane to Dearborn.
Henry Ford II was not amused. He called in Ford's point man, Don Frey and made it clear – "Go to Le Mans, and beat his ass." Or so witnesses claim…
With that sentence, the racing world changed forever.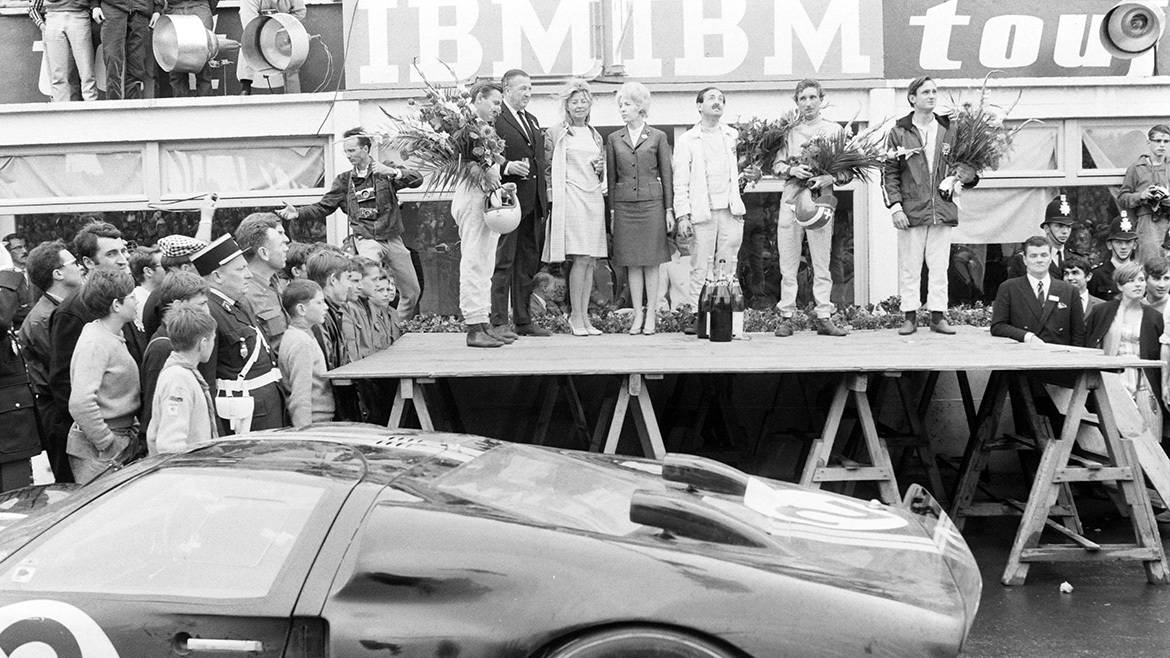 Henry Ford II and his wife Maria on the podium with the winners of 1966 24h Le Mans Bruce McLaren / Chris Amon and Colin Davis / Jo Siffert (P2.0 class). Image Courtesy: Motorsport Images.
---
Ford became the first mainstream US automotive manufacturer committed to a significant racing effort on the international stage. Their new corporate model provided money and internal R&D resources while farming the actual racing management to professional race teams.
A half-century later, Ford's effort remains the model at Le Mans and in Formula 1, NASCAR and other forms of motorsport.
Their Ford GT40 was the first prototype sports car to take full advantage of a mid-engine design and science-based aerodynamics, downforce and handling. The "40" represented its height of 40 inches (1.02 m), measured at the windshield, the minimum the rules allowed.
Despite those innovations, the new John Wyer-lead team struggled in 1964. In the off-season, Ford corporate turned the GT40 program over to Carroll Shelby, the former champion driver turned designer, who had also earned Enzo Ferrari's wrath by beating him at Le Mans in 1959 as a driver in the Aston Martin DBR1/2.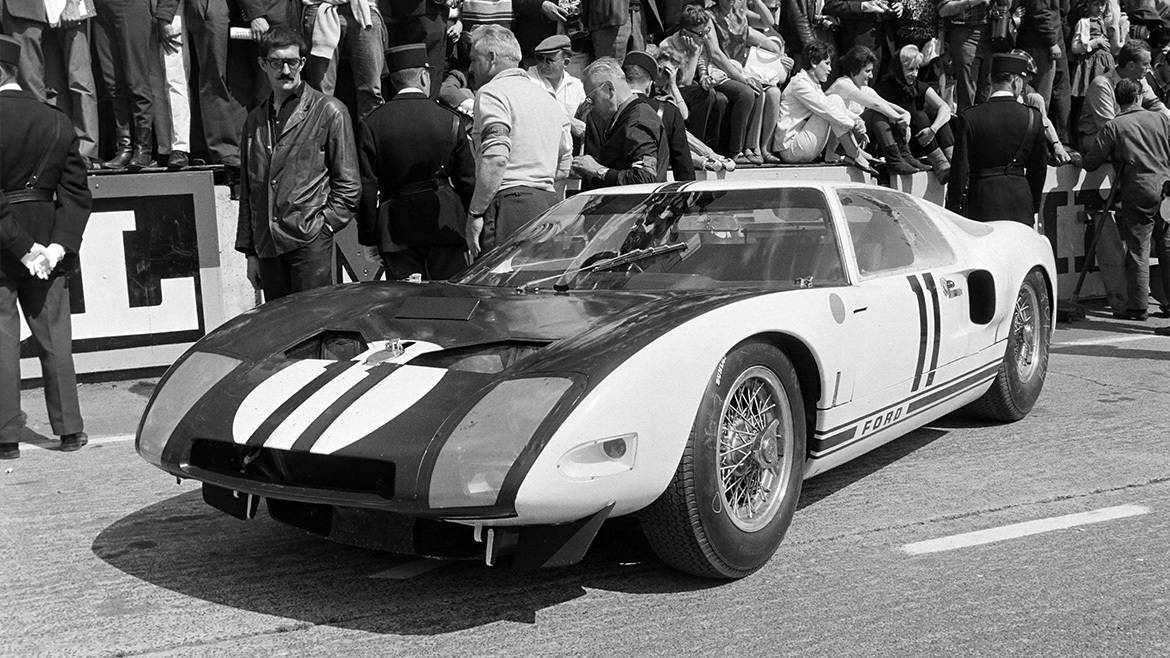 Richie Ginther / Masten Gregory, Ford GT40, at the 1964 24h Le Mans. Image Courtesy: Motorsport Images.
---
In 1965, the Shelby-led Ford team at Le Mans, introduced a new version of the GT40 called the Mark II. Shelby bet Ford's large but under-stressed, 7.0-litre V-8 street car engine with Holley four-barrel carburetors could win against the most exotic motors in the world.
Ford started strong against Ferrari, only to have its cars forced out of the race by mechanical failures. It was a humbling defeat.
The Shelby-Ford's 1966 strategy – ample piston displacement, easy-to-manage driving dynamics, plus laboratory-proven testing – finally proved the perfect combination that snapped Ferrari's six-in-a-row victory streak at la Sarthe.
Shelby's preparation included running a development engine on a dyno for 48 hours of simulated laps at La Sarthe, gearchanges and all, while 12 engines were race-prepared.
Ford assembled a proverbial army for Le Mans that year – 100 personnel, nine cars (including a spare), seven spare engines, and 21 tons of spare parts.
This time, the GT40 Mark II beat Ferrari and obliterated its storied dominance, taking first, second and third.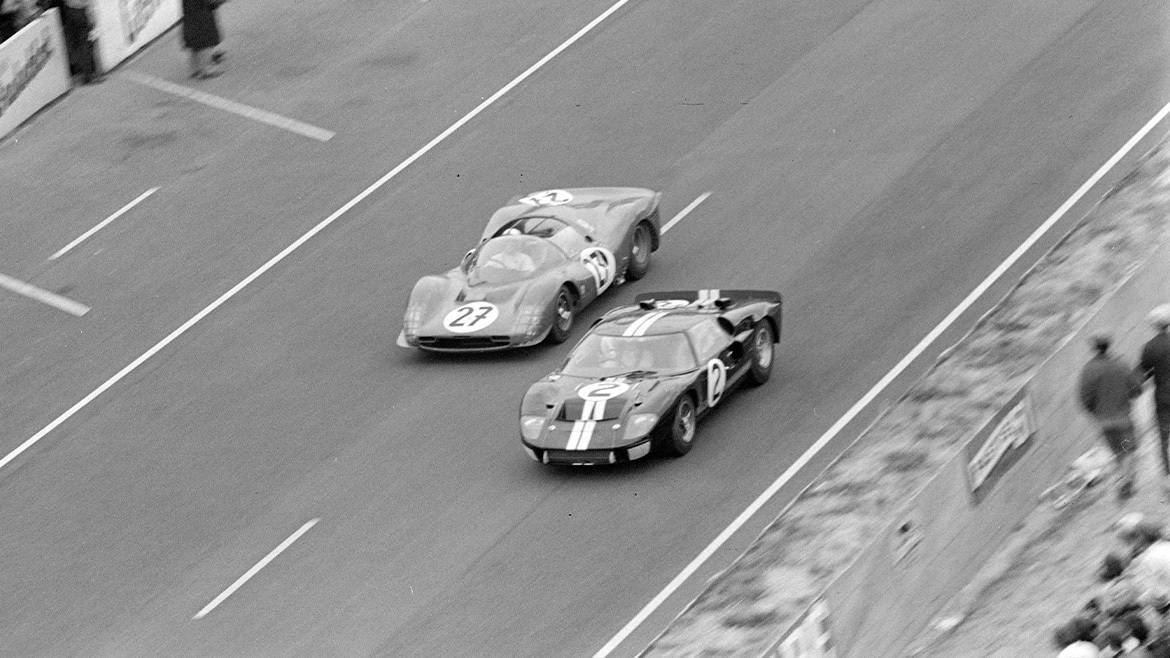 Bruce McLaren / Chris Amon, Ford GT40 Mk.II, battles with Richie Ginther / Pedro Rodriguez, Ferrari 330 P3 Spyder at the 1966 24h Le Mans. Image Courtesy: Motorsport Images.
---
The GT40 Mark II had doors cut into the roof to speed driver changes. The door sills were wide and full of fuel. Ford's thundering Ford 7.0-liter V-8, located inches behind the driver's helmet, produced 463bhp.
The cockpit was surprisingly comfortable, with a liberally ventilated seat and panoramic windshield. The tall shifter was mounted inside the sill, with the brake and accelerator pedals designed for never-miss heel-and-toe shifts.
The drivers reported mild understeer turning into tight bends and predictable neutrality with liberal doses of throttle on exit. Drivers had no difficulty approaching 200 mph down the Mulsanne straight lap after lap.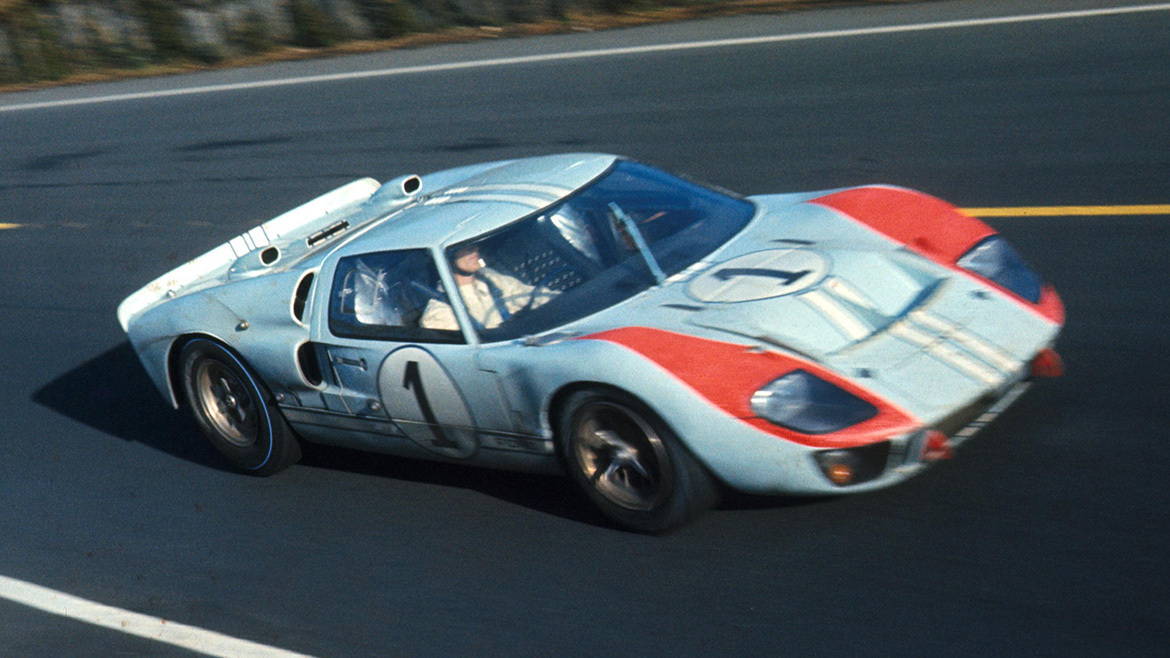 Ken Miles / Denny Hulme, Ford GT40 Mk.II, leads the 1966 24h Le Mans. Image Courtesy: Motorsport Images.
---
Henry Ford II was there and center stage, anticipating a memorable return on his by now considerable investment; in fact, he gave Leo Beebe, head of Ford's racing programs, a business card inscribed with a simple message: "You better win." Beebe kept it in his wallet for the rest of his life.
Beebe did, but not without controversy. Pouring rain eliminated the Ferraris overnight, allowing the GT40s such a commanding lead that Ford ordered the front-runners to reduce their pace from the low 3m 30s to 4.00 minutes.
The world would remember the finish for the bungled Ford-staged photo finish allowing Chris Amon and Bruce McLaren the victory, rather than Ford racing stalwart Ken Miles. The French officials announced the Amon / McLaren car had started slightly further back and covered a greater distance at the finish.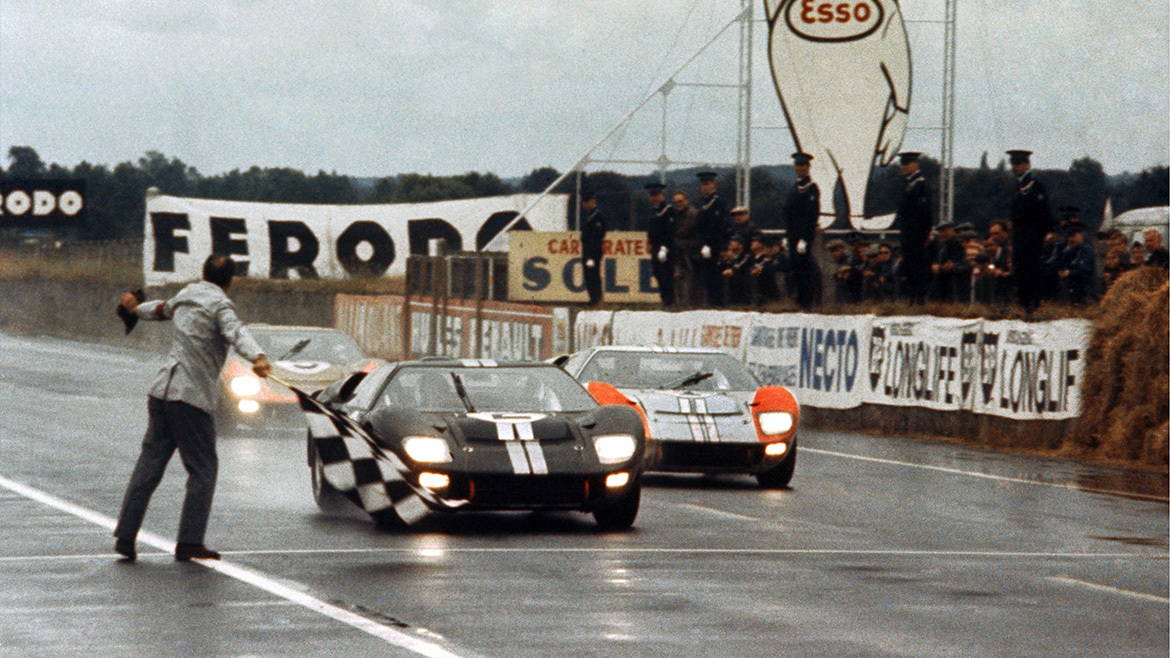 Bruce McLaren / Chris Amon Ford takes the chequered flag to win just ahead of Shelby American Inc. team mates Ken Miles / Denny Hulme at the 1966 24h Le Mans. Image Courtesy: Motorsport Images.
---
Ford and his top lieutenants didn't care: they had their Le Mans victory at last, all the sweeter because the highest-placed Ferrari languished in eighth, a distant 47 laps behind. And with that win, Ford stepped away from Le Mans and cast its eyes toward Formula 1.
For '68, John Wyer resurrected his race team and secured sponsorship from Gulf Oil. With FIA rule changes effectively reversing the GT40 back into contention, Pedro Rodriguez and Lucien Bianchi took another Le Mans victory.
The GT40's final triumph came in 1969, with Jackie Oliver and Le Mans' rookie Jacky Ickx scoring one of the most significant race victories ever. In the year that Porsche's 917 debuted: Ickx led Hans Hermann's Porsche 908 across the finish line, a mere 120m ahead of the German after 372 laps.
Incredibly, Ickx was driving the same chassis that had won the 1968 race – the legendary GT40P/1075. And with that, the evergreen Ford GT40 cemented its LeMans glory forever.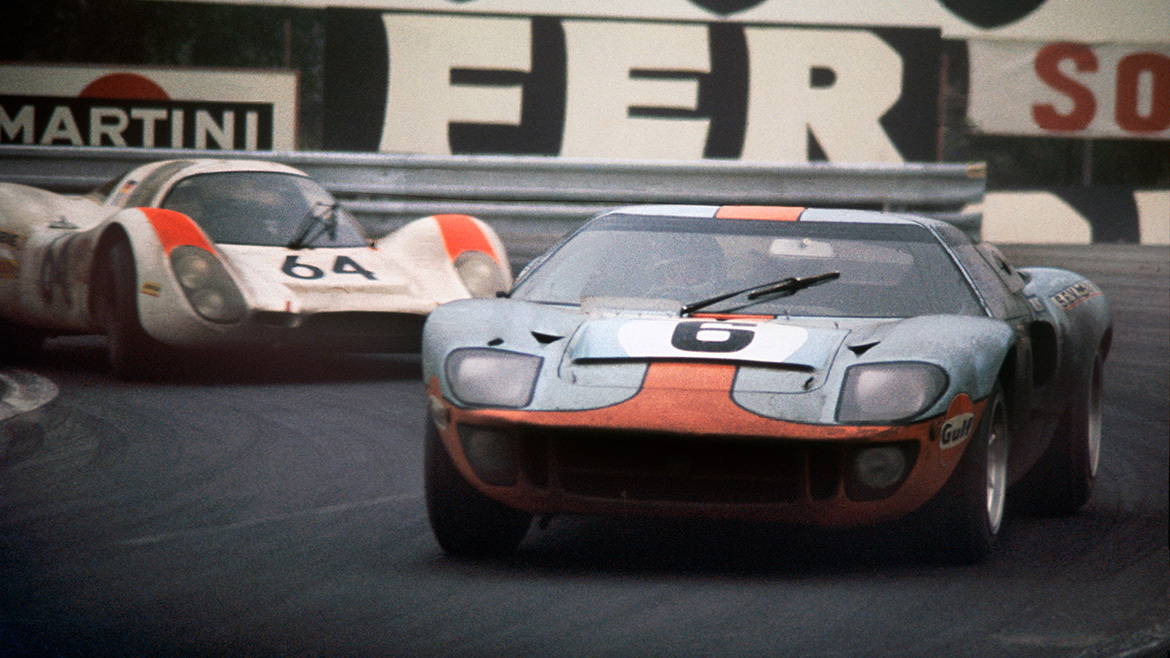 Jacky Ickx / Jackie Oliver, Ford GT40, leads Hans Herrmann / Gerard Larrousse, Porsche 908, at the 1969 24h Le Mans. Image Courtesy: Motorsport Images.
---
Click the button below to read more stories from the 100 years of 24h Le Mans and discover our celebratory poster collection in cooperation with the Automobile Club de l'Ouest.