3D artwork
Created From Scratch
What you see is not a photograph. It is a 3D artwork featuring authentic renderings, all designed and built in 3D from scratch. This is how we capture and recreate moments from modern and historic motorsport in an artwork like never seen before.
Before
After
Recreating moments from modern and historic motorsport, Automobilist is highly recognised for their sophisticated 3D artwork.
Story behind
James Hunt at Fuji
James Hunt had already experienced many ups and downs that year, but it was when disqualified points from the Spanish Grand Prix were reinstated that he really began to believe he could do it. At the decider in Fuji, Mario Andretti took pole position; Hunt was second on the grid; and long-term friend and rival, Niki Lauda, started third. With heavy fog and running water on parts of the track, some drivers debated whether the race should even go ahead at all – and Hunt was one of them. But despite the risks, the race went ahead and Hunt took the lead from the start. It looked like an easy win, but as the track began to dry, everything changed. Hunt lost several places. Following a puncture, a delayed pit stop and confused team messages, Hunt didn't even know his race position – or the fact he'd slipped out of a title-winning spot. He just knew he had to overtake as many cars as he could, passing anyone in his way. In the final few laps of the race, Hunt sensationally fought his way into third position – and to his surprise, won enough points to secure the title.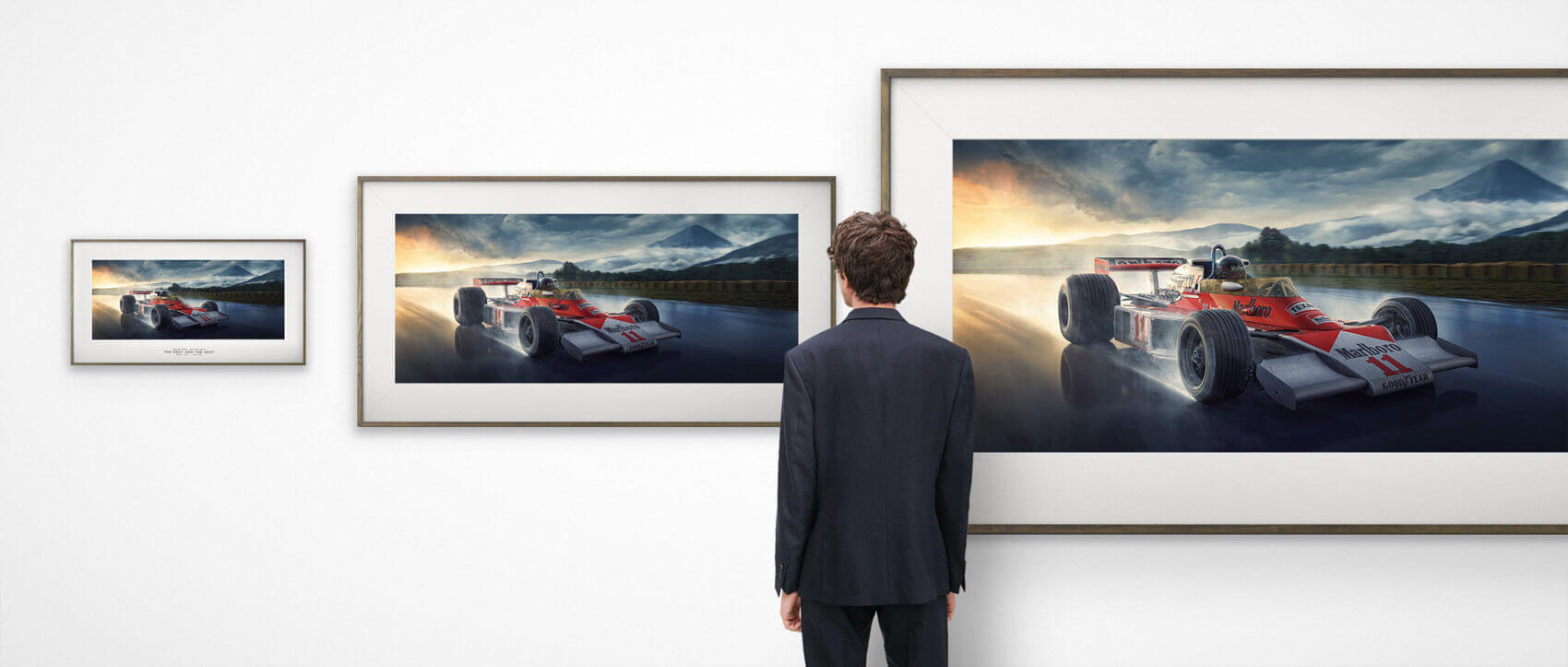 Configurator
Build Your Own
Hunting For Victory - McLaren - James Hunt - Fuji - 1976
---
Join now and start earning points for different actions, and turn those points into awesome rewards!
SKU: PROD01000893
Product description
Automobilist x James Hunt
40 years ago, one of the most talented and charismatic Formula One drivers of all time won the World Championship at Fuji in Japan. As the climax to one of the most controversial seasons on record, the race had it all: excitement, drama, heavy rain and, of course, the crowning of a new Champion.
Technology
3D modelling and CGI compositing
Production
High-quality offset print
Material
Premium heavyweight 175 g/m2 paper
Officially Licensed Product


How it's done
The Magic Behind
We design each print using a world-unique combination of 3D renderings and CGI technology allowing us to re-create each car to precise coats of paint and scratches with a level of detail never seen before.
About
Automobilist
We are a team of artists, creative thinkers, solution finders, automotive and motorsport aficionados, and perfectionists dedicated to design anything automotive. Creating premium 3D artwork for automotive enthusiasts around the world since 2012.