Fine Art Print
Swap For Sweep
BMW 328 - Fritz Huschke von Hanstein - Mille Miglia - 1940
Build your own
3D artwork
Created From Scratch
What you see is not a photograph. It is a 3D artwork featuring authentic renderings, all designed and built in 3D from scratch. This is how we capture and recreate moments from modern and historic motorsport in an artwork like never seen before.
Before
After
Recreating moments from modern and historic motorsport, Automobilist is highly recognised for their sophisticated 3D artwork.
Story behind
Fritz Huschke von Hanstein at Mille Miglia
Three 328 roadsters and two coupes entered the race and by the end of the first lap, one of the two coupes was way ahead of his closest competitor. The driver was no other than Fritz Huschke von Hanstein, an official driver entered by the SS and ordered to take home the trophy. Adolf Hühnlein – head of the NS Motor Corps – asked co-driver, Walter Bäumer, to remain on the passenger seat in order to avoid taking any risk by a driver change. Throughout the course of the race von Hanstein steadily increased the lead and decided to ignore his orders. 30 km before the end he stopped the car and switched seats with Bäumer who then drove the Touring Coupe across the finish line to claim overall victory with an impressive 15 minutes gap to the second place finisher. The remaining BMWs finished in third, fifth and sixth place. BMW, to this day, considers their triumph at Mille Miglia its greatest auto racing success.
Configurator
Build Your Own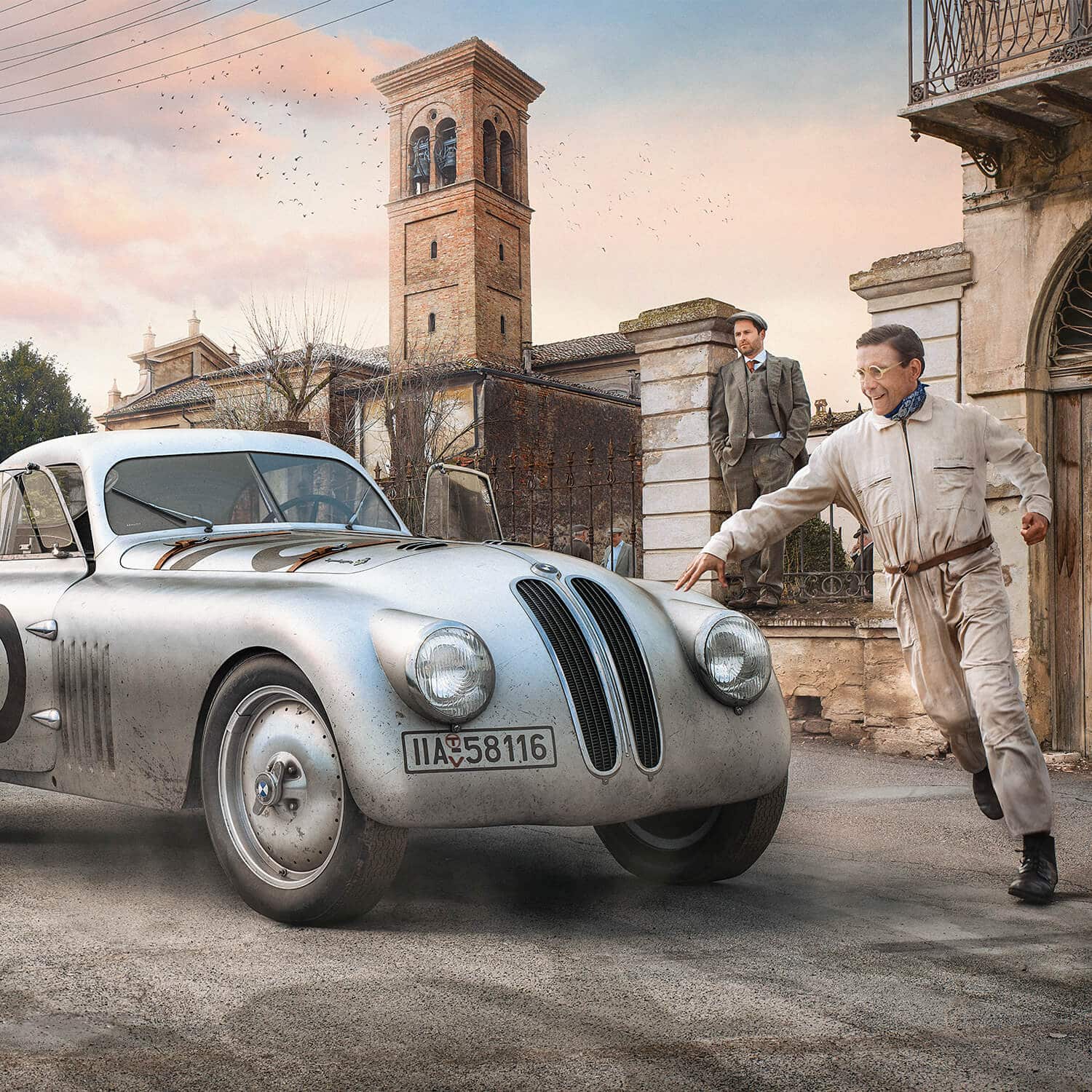 Swap For Sweep - BMW 328 - Fritz Huschke von Hanstein - Mille Miglia - 1940
---
Join now and start earning points for different actions, and turn those points into awesome rewards!
SKU: PROD01000929
Product description
Automobilist x Fritz Huschke von Hanstein
After temporary suspension due to a rash of accidents in 1938, the Mille Miglia was brought back to life in 1940. With a new triangular course between Brescia, Cremona and Mantua and a new name – the 1st Gran Premio Brescia delle Mille Miglia – all eyes were on Italy that spring and BMW made it their mission to win the race.
Technology
3D modelling and CGI compositing
Production
High-quality offset print
Material
Premium heavyweight 175 g/m2 paper
How it's done
The Magic Behind
We design each print using a world-unique combination of 3D renderings and CGI technology allowing us to re-create each car to precise coats of paint and scratches with a level of detail never seen before.
About
Automobilist
We are a team of artists, creative thinkers, solution finders, automotive and motorsport aficionados, and perfectionists dedicated to design anything automotive. Creating premium 3D artwork for automotive enthusiasts around the world since 2012.