3D artwork
Created From Scratch
What you see is not a photograph. It is a 3D artwork featuring authentic renderings, all designed and built in 3D from scratch. This is how we capture and recreate moments from modern and historic motorsport in an artwork like never seen before.
Before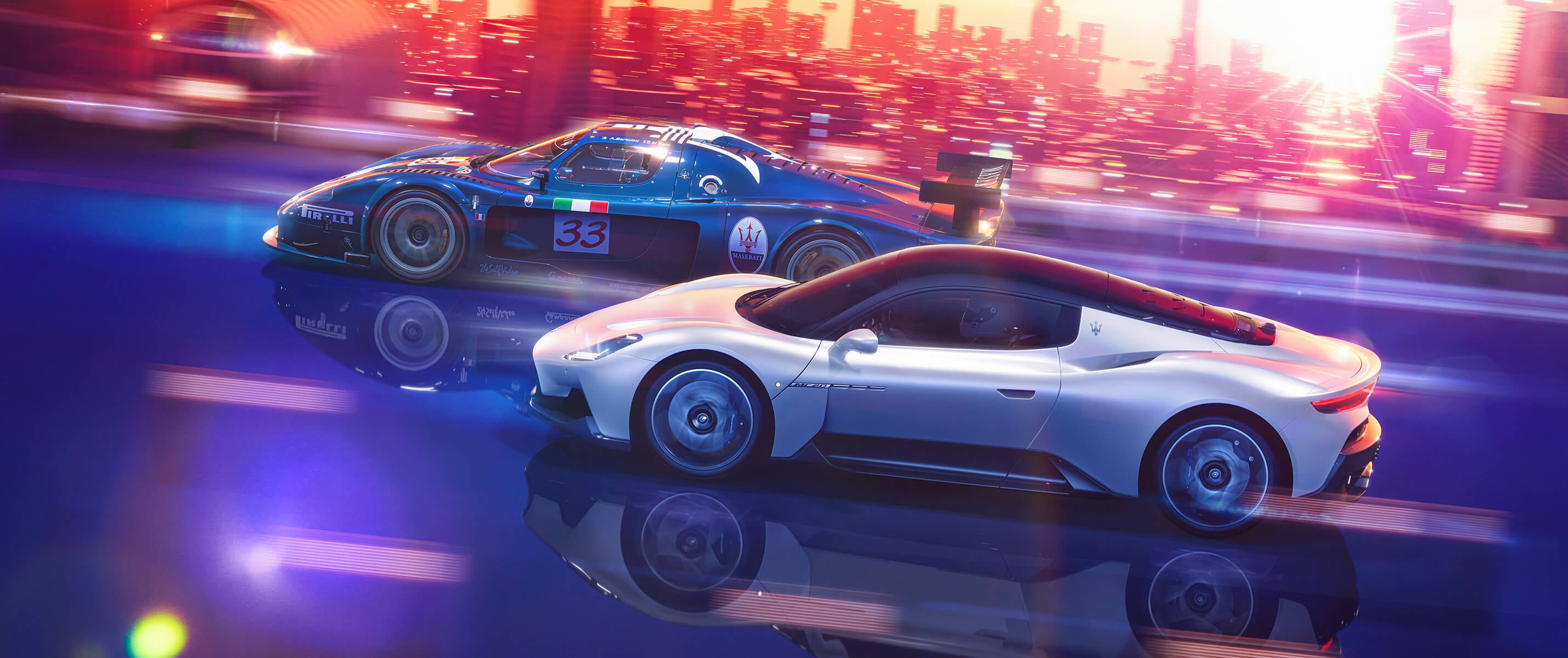 After
Recreating moments from modern and historic motorsport, Automobilist is highly recognised for their sophisticated 3D artwork.
Story behind
Maserati MC12 and MC20
Featuring both the legendary Maserati MC12 and MC20, the cars are depicted racing on a track against the backdrop of a futuristic cityscape. The entirety of the artwork was modelled using the latest 3D technology, allowing to capture the raw power and speed of these iconic cars, while highlighting the evolution of motorsport towards a more luxurious future. Thanks to creating the Fine Art Print in close cooperation with Maserati, we had the opportunity to visit their Headquarters in Modena and talk to Andrea Bruno, Maserati's Lead Exterior Designer.
Configurator
Build Your Own
Time To Be Audacious - Maserati MC20 & MC12
---
Join now and start earning points for different actions, and turn those points into awesome rewards!
SKU: PROD01002415
Product description
Automobilist x Maserati
Introducing our newest Fine Art Print in collaboration with Maserati! From MC12 To MC20. The original Maserati MC12 brought the Modenese Trident to the winner's circle on circuits worldwide. Only 62 units across 2 variants were ever produced and the MC12 now serves as inspiration for the Maserati MC20. Its successor has been developed for another reason - to be a beacon of luxury. Its remarkable design and ferocious engine have made it a must-have for any automotive aficionado. A beautiful sight of what is to come. From a motorsport legend to an icon for the foreseeable future. Relive the moment when raw power meets futuristic luxury with our newest Fine Art Print.
Technology
3D modelling and CGI compositing
Production
High-quality offset print
Material
Premium heavyweight 175 g/m2 paper
Officially Licensed Product

How it's done
The Magic Behind
We design each print using a world-unique combination of 3D renderings and CGI technology allowing us to re-create each car to precise coats of paint and scratches with a level of detail never seen before.
About
Automobilist
We are a team of artists, creative thinkers, solution finders, automotive and motorsport aficionados, and perfectionists dedicated to design anything automotive. Creating premium 3D artwork for automotive enthusiasts around the world since 2012.