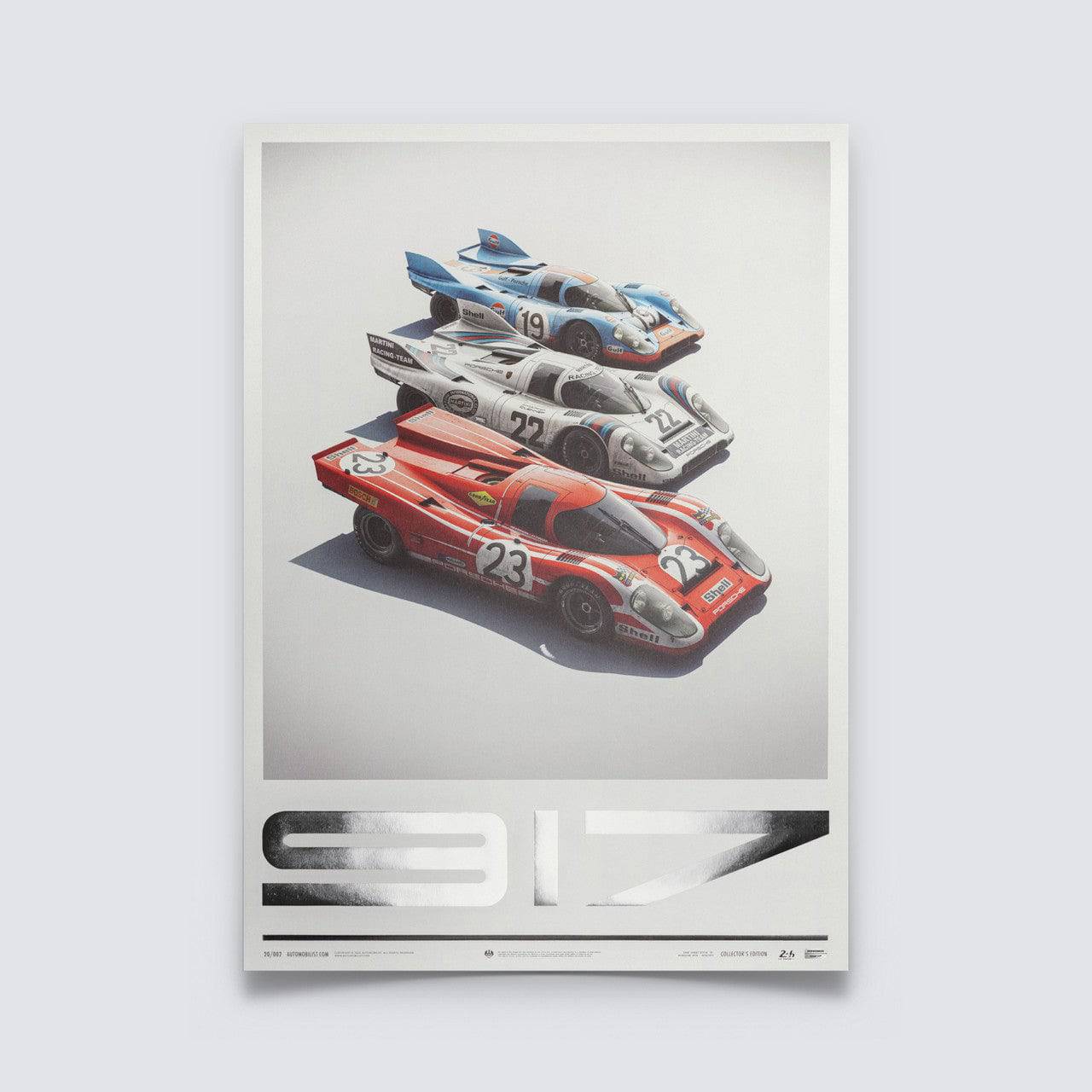 Porsche 917 - Salzburg & Martini & Gulf - 24h Le Mans | Collector's Edition
---
SKU: PROD01000846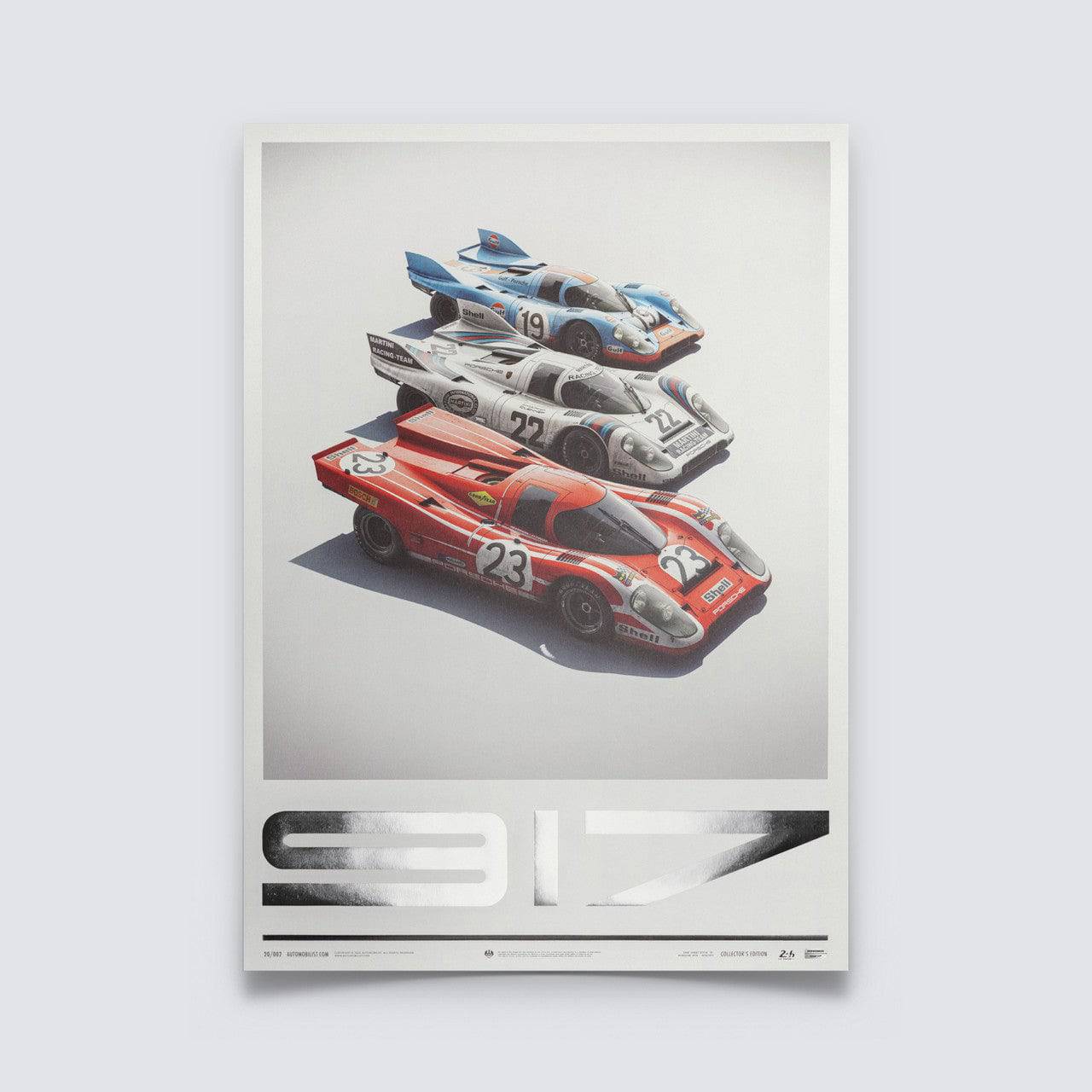 Product description
Automobilist x 24h Le Mans
Uniquely designed and created by Automobilist's team of artists. Exclusively limited to only 917 pieces. Collector's Edition featuring a silver pressed layer. Uses the latest 3D modelling technology to rebuild each iconic car from scratch.

Global Shipping from Europe, delivered rolled in a protective tube. Frame is not included.
Technology
3D modelling and CGI compositing
Production
High-quality offset print
Material
Premium heavyweight 175 g/m2 paper
Story behind
Porsche 917 at 24h Le Mans
If someone were to make a list of the greatest race cars of all time, the Porsche 917 would almost certainly be on it. Our Porsche 917 Family poster features the Salzburg, Gulf, and Martini – three iconic cars that competed at Le Mans. The car gave Porsche its first overall wins at the 24 hours of Le Mans in 1970 and 1971, and became revered for its high power output with speeds in excess of 220mph. So iconic was it, that the car played a leading role in Steve McQueen's 1971 film, 'Le Mans'. To commemorate the 917's place in automotive history, Automobilist has produced the "Porsche 917 Family" Collector's Edition Design Poster, featuring the Salzburg, Gulf, and Martini –depicts three of the most successful – and most visually distinctive – 917s ever built and competed at Le Mans. To make this poster truly unique, it is embossed with a layer of silver foil, a tribute to the 917's racing quality. Each officially-licensed poster is exclusively marked with a limited-edition production badge, ranging from 001 to 917.
Officially Licensed Product

Discover more
Collector's Edition
Our most exclusive range of our prints. Designed to perfection, and reproduced on high-quality print paper they feature special finishes including metallic embossing, iridescent light-capturing or fluorescent glowing techniques.
View all
Edition of 100
Embossed
Sold out
Edition of 100
Embossed
Sold out
Edition of 1000
Embossed
Sold out
Edition of 1000
Embossed
Sold out
Edition of 100
Embossed
Sold out
Edition of 100
Embossed
Sold out
Edition of 100
Embossed
Sold out
Edition of 1000
Fluorescent
Edition of 200
Embossed
Sold out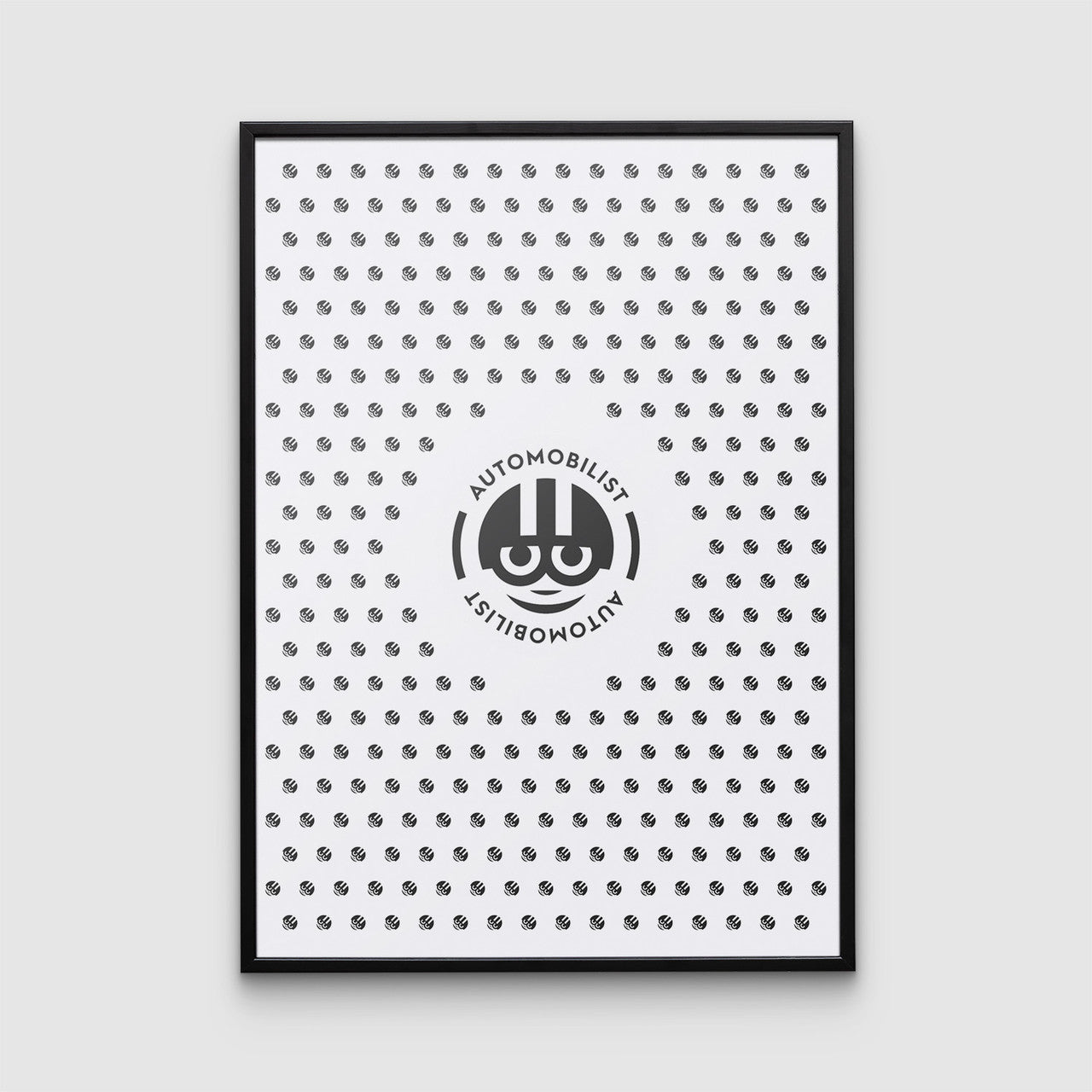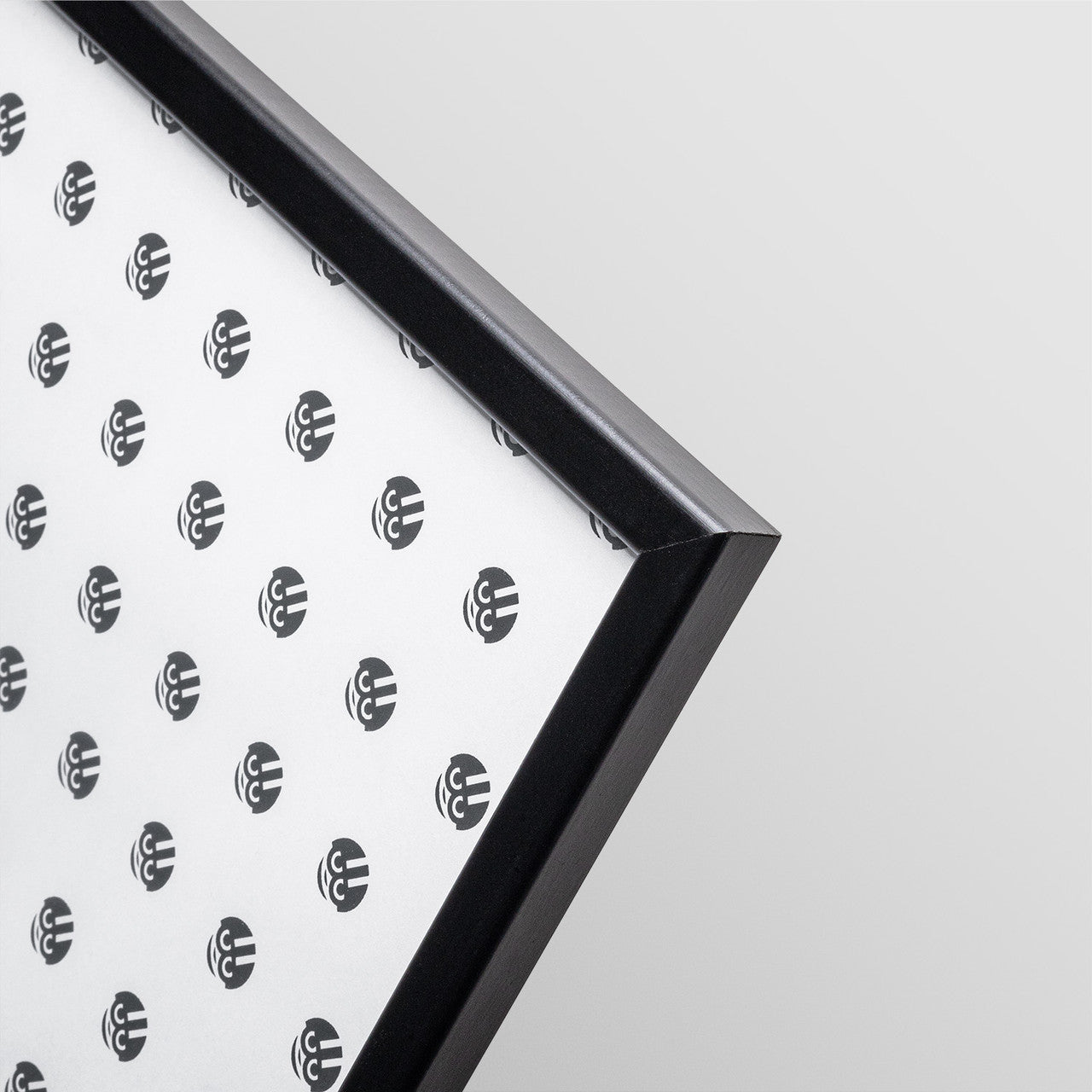 Quality frames
Perfect for your posters
Display your posters on the wall in a quality frame in slim and contemporary design. Our frames are made of pine wood with a quality surface finish to suit all homes and styles.
Pick your frame
How it's done
The Magic Behind
We design each print using a world-unique combination of 3D renderings and CGI technology allowing us to re-create each car to precise coats of paint and scratches with a level of detail never seen before.
About
Automobilist
A team of artists, creative thinkers, solution finders, automotive and motorsport aficionados, and perfectionists en route to build a global automotive hub for every automotive fan and consumer's interests and requirements.
Poster Collection
Latest releases
View all
Edition of 100
Embossed
Sold out
Save 50%
Save 50%
Save 29%
Save 50%